What's the point of paying for service if you then have to do the work yourself?
The service industry – the engine of the British economy – is turning into the non-service industry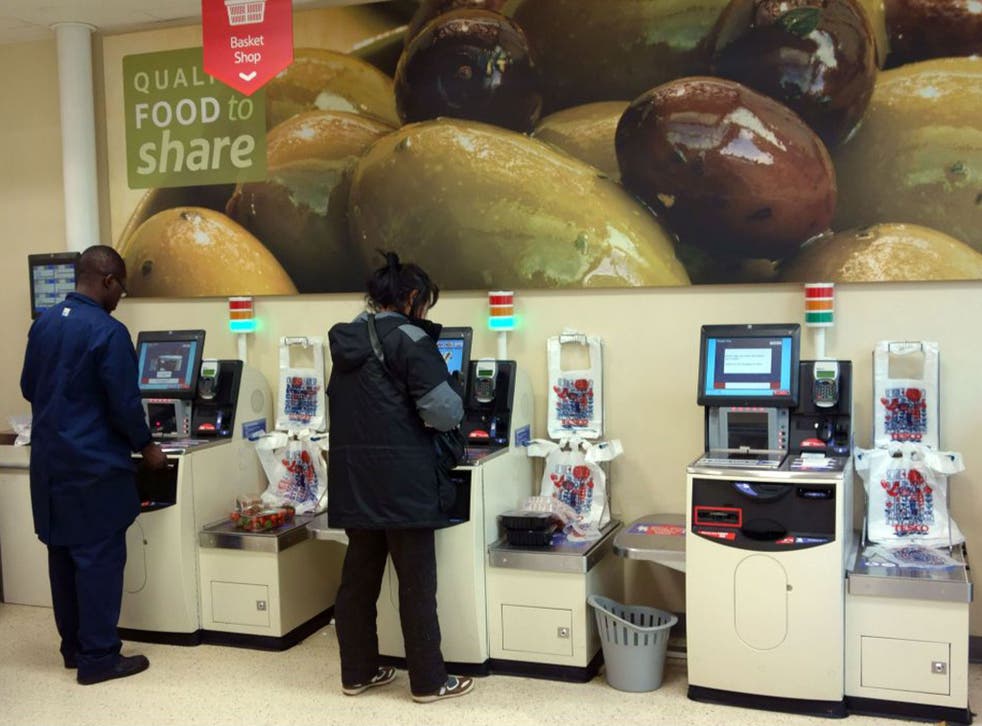 Standing at the Norwegian Airlines check-in desk at Gatwick I waited for my suitcase, which I'd just heaved on to the weigh-in scales, to do that reassuring jolt backwards on to the main conveyor belt and on its way to the plane. But instead it just sat there. A woman in a fluorescent vest loitered, so I called her over. "Is there something wrong?" I asked her. "Yes, you have to scan the label yourself."
Perhaps it was because I'd had only two hours sleep, or perhaps because I'd already had to do everything myself – from checking in at a machine (where I had to get a member of staff to help me), to working out which way the sticky bit went on the luggage label (again, where I had to get a member of staff to help me) – that I suddenly wailed, "What next, do you want us to fly the bloody plane ourselves?"
It wasn't just me – there was (literally) a plane-load of confused passengers bound for Helsinki being forced to do all the work and having to ask staff from both Norwegian and Gatwick for help, meaning that the whole process took far longer than if there had been a normal check-in desk operated by people who knew how to do luggage-label origami.
In Scandinavia, where it's assumed people are generally happier, they love this kind of do-it-yourself service: at the petrol station, you have to pay by card at the pump, working out how much a tank will cost you before filling up – the stress of a long queue forming behind us compounded by a failure of arithmetic as we tried to work out whether we needed €80 or €100 worth. Back in the UK, we drove into a Sainsbury's petrol station looking forward to some old-fashioned customer-retailer interaction only to find the same DIY pay-first procedure has arrived in this country.
The service industry – the engine of the British economy – is turning into the non-service industry, and I don't like it. Self-service check-outs (which I refuse to use) have been in supermarkets for ages, but this habit is spreading. Airlines and retailers must assume they are "empowering" the customer by giving them control over their flying and shopping, but it is actually a way to just keep staff costs low while the tills keep ringing.
There are now restaurants where you can make your own meal – such as Steak & Co in London, which promises you can "cook your own steak to your liking". Actually, my liking, if I'm paying to eat out, is for a proper chef to cook it. If I wanted to fumble over a stove, or indeed make my own cocktail – as customers of the Rebel Dining Society have to – I'd stay at home for a fraction of the price.
It is not just the service industry but the public sector too: when I turn up at my GP surgery for an appointment I have to check myself in at a computer, including touching the screen where it says "Arrive Me" – a travesty of grammar as well as service. My local library is one of those where you have to scan the books you want to take out, marking the end of the return-by stamp. If cutting staff costs means keeping the library open, then that's welcome, but it still means people have lost their jobs.
And for the customer, the concept of service is dying out. Bad service can be appalling, but good service is a joy to experience. Customer-service staff are at a company's front line, and can show how a firm is doing in a way that no computer can. When so much of our lives is conducted in the digital world, face-to-face interaction with another human being is precious – and increasingly rare.
Parks are for rich and poor alike
The think tank Policy Exchange published a report yesterday calling for more value to be placed on our public parks, including the idea of council-tax rebates for residents who volunteer as rangers or litter wardens, as well as "ecotherapy" for overweight and unfit patients who would attend fitness classes in their local park, part-funded by the NHS.
Both are attractive proposals designed to ensure that our public spaces are kept in good repair. But a third proposal – to impose a levy on people who live near parks – would surely only lead to them becoming exclusive playgrounds of the middle class.
In most cities, the greatest parks are bordered by both rich and poor areas and should remain free to everyone. Conservative-controlled Wandsworth council in south London has repeatedly tried to impose a charge on a local playground, despite widespread public anger. Parklife should be a right, not a privilege.
Register for free to continue reading
Registration is a free and easy way to support our truly independent journalism
By registering, you will also enjoy limited access to Premium articles, exclusive newsletters, commenting, and virtual events with our leading journalists
Already have an account? sign in
Register for free to continue reading
Registration is a free and easy way to support our truly independent journalism
By registering, you will also enjoy limited access to Premium articles, exclusive newsletters, commenting, and virtual events with our leading journalists
Already have an account? sign in
Join our new commenting forum
Join thought-provoking conversations, follow other Independent readers and see their replies