When I'm offered my OBE – and it's 'when' not 'if' – I'll grab it with both hands
Those who refuse an honour inevitably follow it up with a worthy fuss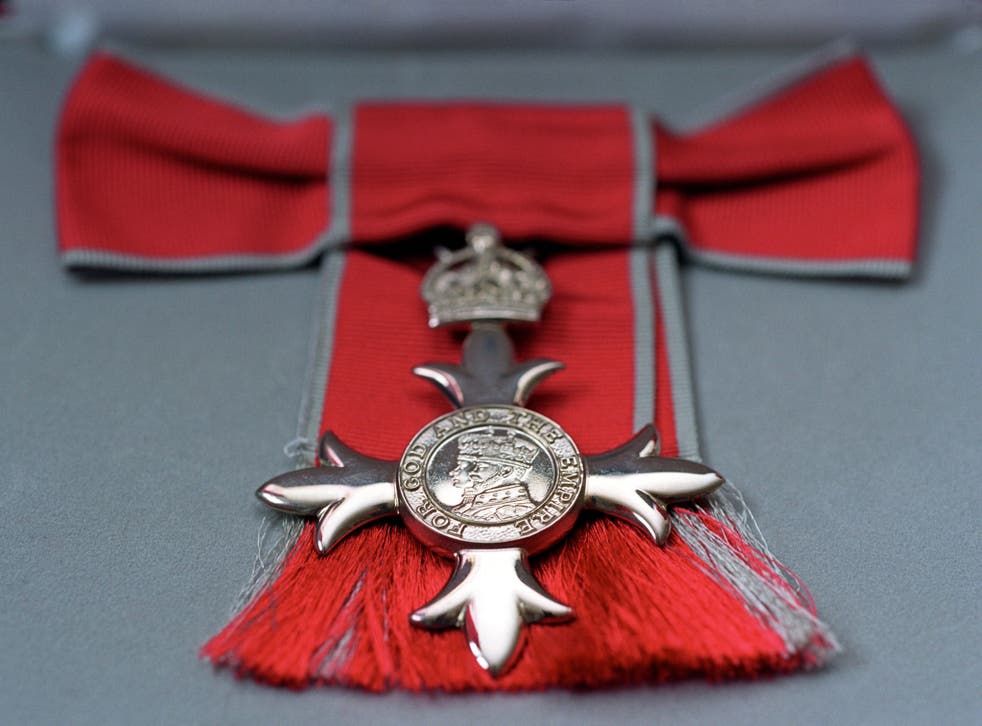 I write this epistle while recovering from my Queen's New Year Honours "snub". Please accept my commiserations on your "snub" also. In keeping with British tradition, there is no airy-fairy middle ground with the dispersal and reporting of end of year gongs. One is either "on the list" or one has been humiliatingly and passive-aggressively "snubbed".
David Beckham "snubbed". No luck, Goldenballs! Andy Murray "snubbed". Nothing to smile about there, indeed. We love the crucial inference that the Queen was actually handed a piece of paper with our names on, which she scrumpled promptly into a ball then propelled into an open fire while laughing loudly, displaying the royal tonsils. This is clearly what happened to my gong.
Obviously, I've done nothing of any merit this year to deserve a New Year Honour – or any other year for that matter – what with life being a largely hollow husk spent battering my chimpanzee-like fingers against a cereal-strewn keyboard, checking the word count and hoping a weeping sub-editor can decipher the Vogan Poetry I call Opinion Editorial.
But let's be frank, achieving very little isn't a massive calamity in the Honours race. Kevin McCloud, God bless him, was slung an MBE this year for those C4 programmes where he encourages stoic middle-class numpties to build homes from twigs and soot, and to power the heap solely on hamster-driven turbines and the steam from human compost. Well done Kev.
Also on the list, Angela Lansbury was suddenly bestowed with a Damehood. Why now, we don't know. Perhaps the Queen has discovered obscure digital channels and imagines Angela actually solved all those murders across America from 1984 to 1996. Perhaps the Queen recognised the value in Pete Tong – now an MBE – of playing music on the radio for many years which subliminally cajoled people into planning big belting weekends out taking drugs. Perhaps Her Majesty is eternally tickled by the image of Michael Crawford – now a CBE – rollerskating behind a bus. The process of the Honours list is far from transparent, so we'll never truly know.
Do not arise, Sir Beckham: David misses out on knighthood
Here – it shouts – is a list of special names which seem to be wholly arbitrary (Katherine Jenkins OBE!), or at times divisive (Ruth Jones MBE but James Corden "snubbed") and in places shameless in its ability to provoke. For example, remember that senior physician Sir Marcus Setchell who led the team who delivered the Duke and Duchess of Cambridge's baby and mopped the brow of Kate's during her extreme morning sickness bout in early 2013, and assisted with the Duchess of Cornwall's downstairs troubles in 2007? Well, he's been made a Knight Commander of the Royal Victorian Order! I'm not even a Republican but simply writing about the notion of giving an individual medic special honours for keeping VIPs healthy is making one of the veins in my neck throb with rage.
But still, I could never argue for these end-of-year gongs to be banished. As long as there are Queen's awards, there is the fun of observing people toadying away publicly in the hope of recognition. Yes I do mean you Gary Barlow, deftly firing out hit songs during 2012 despite your vision being obscured by Her Majesty's bum crack. And more seriously, while we have Queen's Honours we still retain some respect for everyday non-celebrity acts of greatness such as Barry and Margaret Mizen – now both appointed MBEs – who've worked tirelessly to help other young people since the murder of their 16-year-old son. Or to pay tribute to the work of Trevor Jarvis, the Ambassador for Dementia within the Alzheimer's Society; to Christina Selby, who founded Hats4Heroes and has sent 10,000 knitted hats, each containing a chocolate bar, to the British forces in Afghanistan mainly to cheer soldiers up.
In the rush for us to examine why Beckham and Murray – men bestowed daily with praise, wealth and respect – were "snubbed", not many people stop to examine what the 74 per cent of the honours given to charitable ventures were awarded for. Just last week, Iain Duncan Smith publicly accused the Trussell Trust – a body which has dispensed 500,000 emergency food parcels to the since April – of being little more than troublemakers, so I can't condemn royal efforts to honour selflessness or the art of being a Good Samaritian.
And of course when I'm offered my OBE – and it's "when" not "if" because let's face it some of the whimsical observations I make about reality television and pop-culture in broadsheet newspapers are pretty bloody world-changing – I'll grab it with both hands for two reasons.
First, refusing an OBE then inevitably making a worthy fuss about it has a habit of making one look like Rick from The Young Ones. And second, and more important, it would make my mother really really happy. And curiously, as time marches on, I realise that her happiness is more important than anything. I'd be there By Maternal Appointment.
Register for free to continue reading
Registration is a free and easy way to support our truly independent journalism
By registering, you will also enjoy limited access to Premium articles, exclusive newsletters, commenting, and virtual events with our leading journalists
Already have an account? sign in
Join our new commenting forum
Join thought-provoking conversations, follow other Independent readers and see their replies