Why do British feminists care more about sexist adverts than abortion rights in Northern Ireland?
Northern Irish women are being denied the rights which all other women in the UK have had access to since the sixties, and it's hard not to feel let down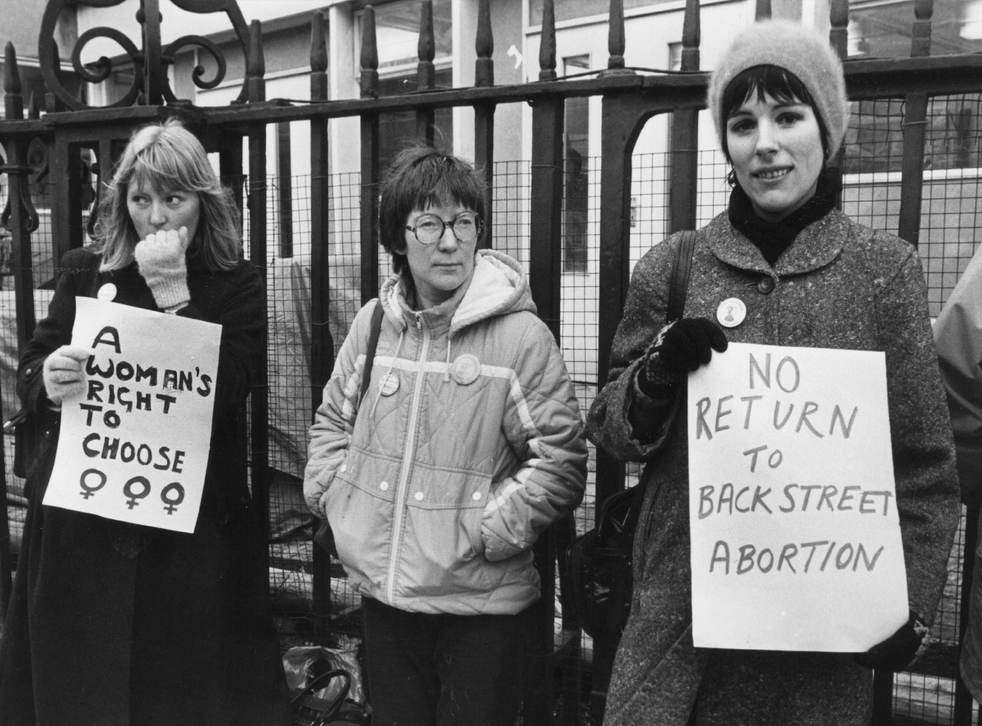 A rape victim forced to give birth to her attacker's child. A woman forced to go through labour to give birth to a severely malformed foetus which has been brain dead for months.
In Britain, such scenarios form part of painful memories of life before the 1967 Abortion Act, a period which most are relived to consign to the history annals of history. But in Northern Ireland, they are part of the existence that many women face on a daily basis. According to Amnesty, the country's abortion laws are the harshest in Europe.
For most of us, the struggle for reproductive rights is something many will know only through black and white photos, or older relatives' traumatic memories. But it's an ongoing struggle in Northern Ireland. Unlike the rest of the country, the 1967 Abortion Act does not apply here. The rights that British women fought hard for and secured 48 years ago are yet to be secured here in the farthest flung region of the UK.
Last week, I and many other Northern Irish feminists waited with baited breath to hear the results of a major commission's review of the current total ban on abortion. It represented the first time in almost a hundred years that the laws were so closely examined with an eye to potential reform; the closest chance of change for close to a century.
The result was the smallest of concession. The male government minister announced that he would propose a small change in the law to allow women to have access to an abortion if the foetus suffered from such a severe deformity or condition that it could not survive outside the womb upon birth. But, he confirmed, women will still be denied the choice of an abortion if they are the victim of rape or incest.
Yet in feminist media this week, the main news was the ongoing row over adverts on the London Underground for weight loss supplements, captioned "Are You Beach Body Ready?". Feminists quite rightly argued that women need to have control over their own bodies, and that such products are actually unhealthy. However, I couldn't help but feel pained at the widening gulf between feminism on the two islands.
Women in Northern Ireland are being denied the rights which British women have had access to since the sixties. Generations have passed since then and with this, countless boat trips have been taken by frightened women from Irish harbours to English clinics, while immeasurable and needless trauma and despair has occurred.
Yet feminism in England, Scotland and Wales seems to have forgotten about us. With the exception of Laurie Penny, I can't remember the last time a notable British feminist spoke out in support of Northern Irish women's struggle for choice.
The women who are shaping our world

Show all 27
I'm reluctant to tell any feminists what does or doesn't count as a "worthy" cause. When anti-feminist trolls attempt to derail the feminist movement, the most common criticism is to tell feminists that they're focussing on "trivial things" and should "go talk about something properly important like FGM". They're wrong: it's perfectly possible to care about "beach ready bodies" as much as it is about state-controlled ones.
But living in Northern Ireland, it's still easy to feel we've been let down by the feminist movement. Perhaps they worry that it's not their place to get involved. Perhaps its been so long since Britain debated abortion rights that they think it's something that only happens in history books, not NHS hospitals in 2015. Perhaps they feel we're so backward that we're a lost cause.
However, we desperately need the support of the feminist movement over in the mainland. We need them to speak out for us. We need them to continue to push this issue with British political parties and feminist campaigns.
To be female and Northern Irish is to effectively have no voice. The Stormont parliament is stacked wall-to-wall with greying men who ridicule, disparage or downright ignore any call for equality. Sadly, we're all too used to the fact that our calls for reproductive rights are ignored by male politicians here, so please: don't let them be ignored by feminists in Britain too.
Register for free to continue reading
Registration is a free and easy way to support our truly independent journalism
By registering, you will also enjoy limited access to Premium articles, exclusive newsletters, commenting, and virtual events with our leading journalists
Already have an account? sign in
Join our new commenting forum
Join thought-provoking conversations, follow other Independent readers and see their replies