Why islanders are feeling shirty over Kate Middleton's costume gaffe in the Solomon Islands
Royal visits take meticulous planning. No end of protocol and decorum has to be considered. Our diarist notes a largely ignore recent mishap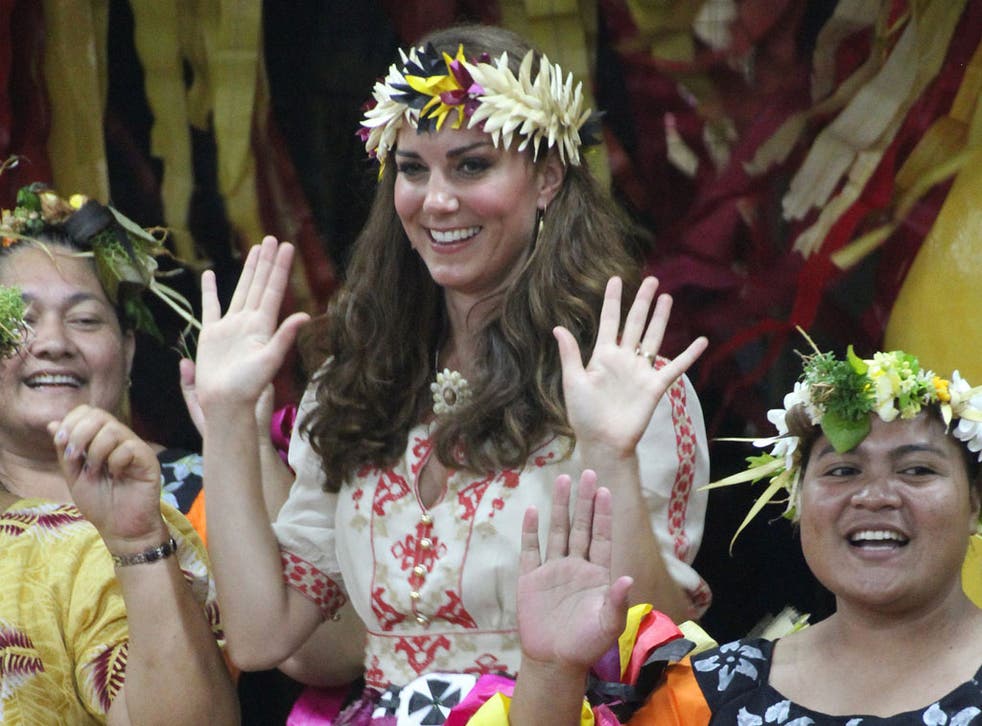 There was ample coverage in this country of the occasion when the Duke and Duchess of Cambridge met topless dancers in the Solomon Islands last week, but somehow the volcanic row that has erupted about the clothes the couple wore at a state dinner in the evening has not made the British news.
The visit was intended to celebrate the culture of Solomons, an archipelago where more than half a million people live, most of them descendants of people who arrived there in the Stone Age. To the horror of their hosts, instead of coming to the state dinner dressed like Solomon islanders, William and Kate turned up in clothes from the Cook Islands, almost 3,000 miles further out in the Pacific.
Weeks of meticulous preparation and negotiation went into the dinner. The agreement between Clarence House and the Solomons' government was that William would be presented with two gorgeous shirts tailor-made locally, while his wife would wear a summer dress she had brought with her. The shirts were duly laid out in their hotel room. But at the last minute, an over-keen member of the welcoming committee, Kethie Sunders, nipped into the couple's room to leave a number of extra gifts. When William and Kate arrived, they found a handsome blue shirt and a brightly-coloured dress laid out on their beds and put them on, little knowing what offence they were about to cause.
A press release issued by Government House said: "We are incredibly frustrated that this situation has come about and see Kethie as entirely to blame. It was completely inappropriate for her to go to Their Royal Highnesses' room, which she filled with various things, causing confusion."
***
French beat a royal retreat
But the royals have chalked up one success. A new issue of Closer, the French magazine which carried the sneaky shots of Kate topless, has hit newsstands. It has no pictures of the Duchess, no mention of the court action, nor even a picture of Pippa Middleton, whom it has featured almost every week since her sister's wedding.
***
Hague defends whipping-boy
William Hague was doing the rounds of broadcasting studios yesterday defending the Chief Whip, Andrew Mitchell. That sort of firefighting is usually the job of the Conservative Party chairman, but he was nowhere to be seen. If he had popped up anywhere, he would have been asked about his strange double life as Grant Shapps, pictured, Tory MP, and Michael Green, internet entrepreneur, and how he could claim to have been born in both London and in Hertfordshire. This month's reshuffle has landed the Tories with a Chief Whip who is clinging to his job and a chairman who has gone into hiding.
***
Governor rolls up the red carpet
One of the more interesting decisions made by the Coalition in these austere times was to allocate £250m to build an airport on the world's most remote inhabited island. St Helena's nearest neighbour is Ascension Island, 700 miles away in the southern Atlantic, and its main link with the world is a boat that sails periodically from Cape Town, 1,948 miles away. Lord Ashcroft, the billionaire whose money kept the Tories afloat during their darkest years, is an enthusiast for the St Helena airport.
In the long run, the construction is supposed to save the UK Government money by creating a tourist industry that will make the island self- sufficient. At present, its 4,000 inhabitants receive £25m a year in UK aid. Whether they are ready to have their islands invaded by large numbers of visitors is an open question. One of the top attractions is Plantation House, the home of Jonathan, pictured, a giant tortoise who is about 180 years old. It is also the residence Governor Mark Capes and his wife. This week, they annoyed some of those people planning ahead to boost the tourist trade by announcing that there will be no more tours of the house this year because they have guests.
Register for free to continue reading
Registration is a free and easy way to support our truly independent journalism
By registering, you will also enjoy limited access to Premium articles, exclusive newsletters, commenting, and virtual events with our leading journalists
Already have an account? sign in
Register for free to continue reading
Registration is a free and easy way to support our truly independent journalism
By registering, you will also enjoy limited access to Premium articles, exclusive newsletters, commenting, and virtual events with our leading journalists
Already have an account? sign in
Join our new commenting forum
Join thought-provoking conversations, follow other Independent readers and see their replies