Xenophobia in Italy bodes ill for migrants right across Europe
Today's battleground is on the right to citizenship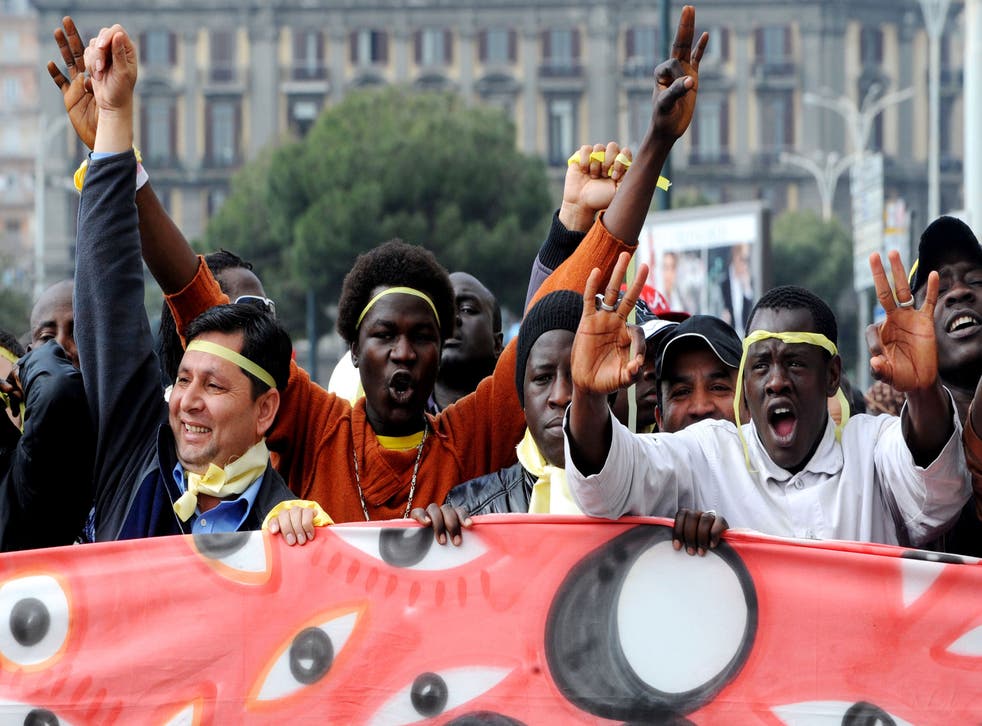 He passed me one time, cap in hand, but the second time I asked him to sit down and ordered us both cappuccinos. Austin is one of the newest residents of Udine, a gracious town in north-eastern Italy whose former domination by the Venetian Republic is indicated by a column in the piazza surmounted by a winged lion.
This is small-town Italy at its most sleekly prosperous and Austin does not really fit in: a short, gaunt Nigerian with large bright eyes and crisp, chiselled English that reminds me of Kofi Annan, he tells me that he arrived here recently from Sicily. Born and raised in Benin city, college educated, he arrived in the island of Lampedusa in a leaky boat four years ago with his wife. Like many others, he was propelled out of Africa by hopelessness, lured to Europe by rumours of opportunity.
Today, the cool, moneyed elegance of Udine mocks him: there is nothing for him here, not even small change. Sicily must have been just as bad: his wife had their daughter there, but somewhere along the line they split up and now they are out of contact. He doesn't want to go into details, but the misery is etched in his face. He's renting a room in Udine, paying for the gas and electricity and all that – "but there's no work," he says. And the Udinesi? Are they generous? He sighs. "It's hard," he says. "It's so hard."
Italy is in great confusion these days, and its attitude to immigrants is part of that. When I moved here 10 years ago, coloured faces were still a novelty and Italian simpatia was to the fore: every Italian knows someone who emigrated, and there was natural empathy for newcomers struggling with the language, the spaghetti, the bureaucracy. Filipinos were especially favoured, being Catholic and docile and making excellent maids and cleaners. It was with the arrival in large numbers of Romanian gypsies that the empathy curdled and the Northern League turned racist.
Today, the battleground is on the right to citizenship. Liberals have long campaigned for the adoption of jus solis, citizenship for those born in Italy, but the forces opposed to that are increasingly raucous. With the centre-left now in harness with Berlusconi's rightists, the newly appointed Minister of Integration, Congo-born Cecile Kyenge, the first African to hold ministerial rank, has had an uphill task from day one. Even Beppe Grillo, generally assumed to be closer to the left than the right, whose Five Star Movement received 25 per cent of the vote in February's elections, is against the children of immigrants obtaining citizenship easily.
The result is a large and rapidly swelling population of young people whose native tongue is Italian, who know no other country or language, who are completely at home in Italy, understanding Montalbano in the original, knowing their stracciatella from their cassata and their parmigiano from their pecorino, but to whom the door of full integration is firmly barred. Austin's daughter will be one of those.
The growing hostility to outsiders is part of a national mood which sees tens of thousands of young Italians fleeing to London and elsewhere in search of a future. Yesterday's economic news from Italy contrasted starkly with Britain's gleams of hope: Italian gross domestic product continues to shrink; the austerity medicine administered by Mario Monti has done no good; unemployment continues to climb. Berlusconi's latest stunt, abolishing a housing tax, will give only the illusion of relief: as the Mayor of Udine told me, it will leave a gaping hole in the town's budget.
I was in town to hear George Soros impart his views on the eurozone crisis. Germany's refusal to allow the EU to act jointly to bail out Europe's banks, he said, had forced each country to solve its own problem, and now it was like after the Conference of Versailles: Europe was breaking up into winners – or rather a single winner – and a group of ever surlier, more desperate losers, extruding vile new racist parties. It's not a good moment to be an African in what they still call, for so many good reasons, il Bel Paese.
Sharif: a man India can trust
"The message to my friends in India," Nawaz Sharif told an Indian journalist before his Pakistani election triumph, "is that we have a lot of love and affection for you. We must become good friends and hold each other's hands… Let us make a new beginning."
Any Indian listening to this gush would have had good reason to pull a face. Last time Sharif was in power, he set off six nuclear tests – to trump India's five – and later presided over a sneaky mountain war, the object of which was to liberate Kashmir from Indian control.
But Sharif was bounced into that war by his army chief, Pervez Musharraf, who later bounced him out of power. Both India and Sharif have excellent reasons to mistrust the man now languishing under house arrest at Mr Sharif's pleasure.
In between the nuclear tests and the Kargil war, Sharif did make an effort to bury the hatchet with India, inviting Atal Bihari Vajpayee to Lahore and allowing him to ramble poetically. The mood between the journalists of these feuding neighbours who came to report the event was like a family reunion. If, now, Sharif can put both the army and the jihadis back in their box, it could happen all over again.
Join our new commenting forum
Join thought-provoking conversations, follow other Independent readers and see their replies