You won't hear the Chancellor boasting about the biggest drop in living standards since the war
The young have been hurt the most by the recession. They don't vote Tory and can't buy a house, so who cares?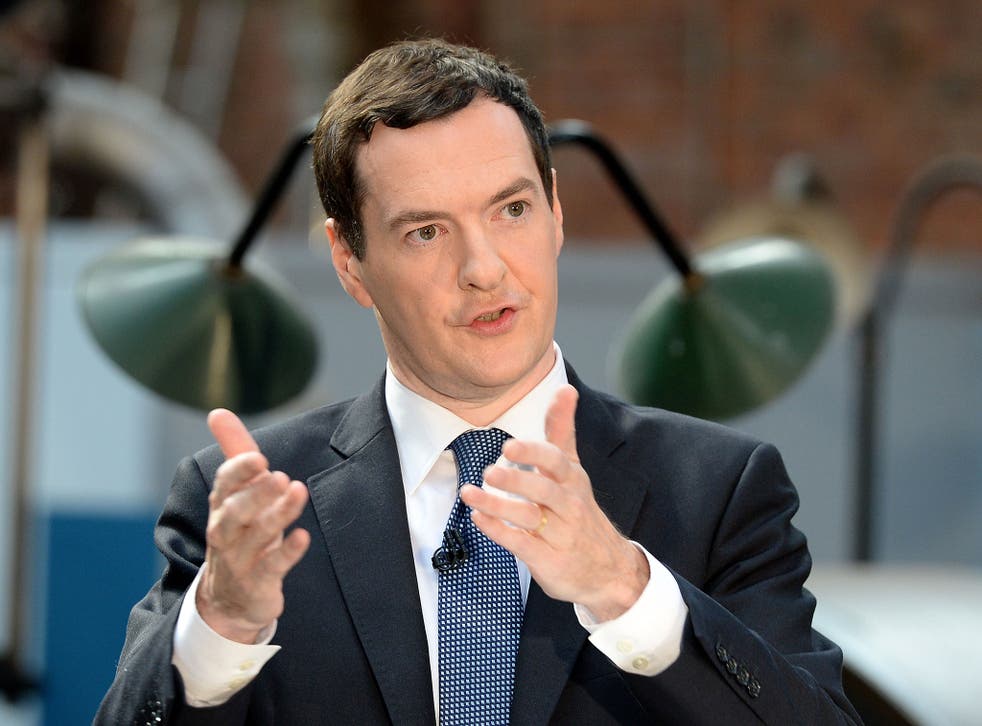 Last week I appeared on Iain Dale's LBC radio show to discuss an interview he had just conducted with the Chancellor George Osborne on a trip to the South-west. Iain managed to get Osborne to repeat the dumbest statement that I have ever heard from a Chancellor – that is 'four years ago the country was close to bankruptcy'. Such a claim that the country was broke is unequivocally false. A big fat pork pie.
In the quarter the Coalition took office in 2010 the economy grew by 1 per cent, which is the fastest quarter of growth since 2007. The economy grew by an average of 0.6 per cent a quarter from the final three months of 2009 to the third quarter of 2010 compared with an average of only half of that in the fourteen quarters since then. The UK – with its own central bank and currency – has been able to borrow at historically low rates throughout the recession under both Labour and coalition governments and was never anywhere close to being insolvent. Imagine if the chief executive of any of the biggest 500 companies in Britain declared that their company was close to bankruptcy when it wasn't – or even if it was – they would be relieved of their duties.
As I have frequently predicted in these columns, real wages continue to plunge. The latest ONS data showed that. Average weekly earnings were £478 a week, down from £479 in December 2013 and exactly the same as observed in April. Pay was up 0.3 per cent over the last twelve months, which is the lowest ever, and exactly zero in the five months that we have data for since the start of 2014. We have now had monthly estimates of £478 in January, February, April and May and one of £476 in March so there isn't much growth there. In contrast the Retail Price Index grew 2.6 per cent over the last year, so real wages are currently falling at more than 2 per cent per annum. The AWE is up by 6.5 per cent since May 2010 while the RPI is up 14.6 per cent. So real wages are now down 8 per cent and that drop has no chance of being restored by election time. I do recall the Bank of England's ex-chief economist Spencer Dale explaining at the last inflation report press conference that the MPC was fully expecting real wage growth in the second half of 2014, a claim recently repeated by Governor Carney who is headed back to the drawing board.
Elsewhere the news is little better. There was new evidence from a recent study published by the Department for Work and Pensions* showing how Iain Duncan Smith's much hated bedroom tax had further hurt living standards of the vulnerable. The study found there was widespread concern that those who were paying the tax were making cuts to other household essentials or incurring other debts in order to pay the rent. More than half reported cutting back on household essentials and a third on non-essentials in order to pay their shortfall. A quarter said they had borrowed money, mostly from family and friends.
The UK's younger workforce is struggling as well. The unemployment rate of those age 16-24 was 18 per cent compared with 5 per cent for those ages 25-49 and 4 per cent for those 50 and over. A report by the Institute of Fiscal Studies** confirmed that the young have been hurt the most by the Great Recession. They don't vote Tory and have little or no chance of buying a house. So who cares? Actually, I do. I went back to Cardiff University to accept a Fellowship at the Business School graduation last week; my MSc thesis there in 1981 was about the scourge of youth unemployment.
The authors of the IFS Report noted that the recession and its aftermath have been much harder on the young than the old. The employment rate of those in their 20s has fallen, while employment among older individuals has not and real pay among older workers has fallen much faster than among older workers. As a result young adults' real incomes have fallen much more than any other age group. Comparing 22 to 30 year-olds in 2013 with 2008, median household income fell by 20 per cent when housing costs are included. This compares with a fall of only 11 per cent for those aged 31 to 59. The fall in income for young adults since 2008 is entirely accounted for by lower employment and sharp falls in real pay for those employed.
The earnings falls among young workers, the study found, are partly due to lower hours of work including more part-time work – some of which is involuntary, as indicators of 'under-employment' have risen. Older workers want fewer hours young people want more. However, the hourly wages of youngsters have fallen particularly sharply. Median hourly wages fell by 11 per cent in real terms for employees aged 22–30 between 2008 and 2013, and by just 3 per cent for those aged 31–59. Just over a quarter of people aged 22 to 30 live with their parents, and this proportion rose by 2 percentage points during the Great Recession the study found. So fewer youngsters have been able to strike out on their own than in the past; a fast growing house price bubble has made that task even more difficult especially in the South-east and London.
Despite steady falls in the unemployment rate, living standards for the vast majority continue to drop like a stone. Indeed, the Coalition has another record, it is responsible for the sharpest deterioration in living standards of any post-war government. But you won't hear the Chancellor boasting about that.
* 'Evaluation of removal of the spare room subsidy' DWP, July
** 'Living standards, poverty and inequality in the UK, 2014,' IFS
Join our new commenting forum
Join thought-provoking conversations, follow other Independent readers and see their replies