Robert Fisk: The Children of Fallujah - families fight back
Special Report day three: Abandoned and afraid, the parents of Iraq's suffering children wait in vain for help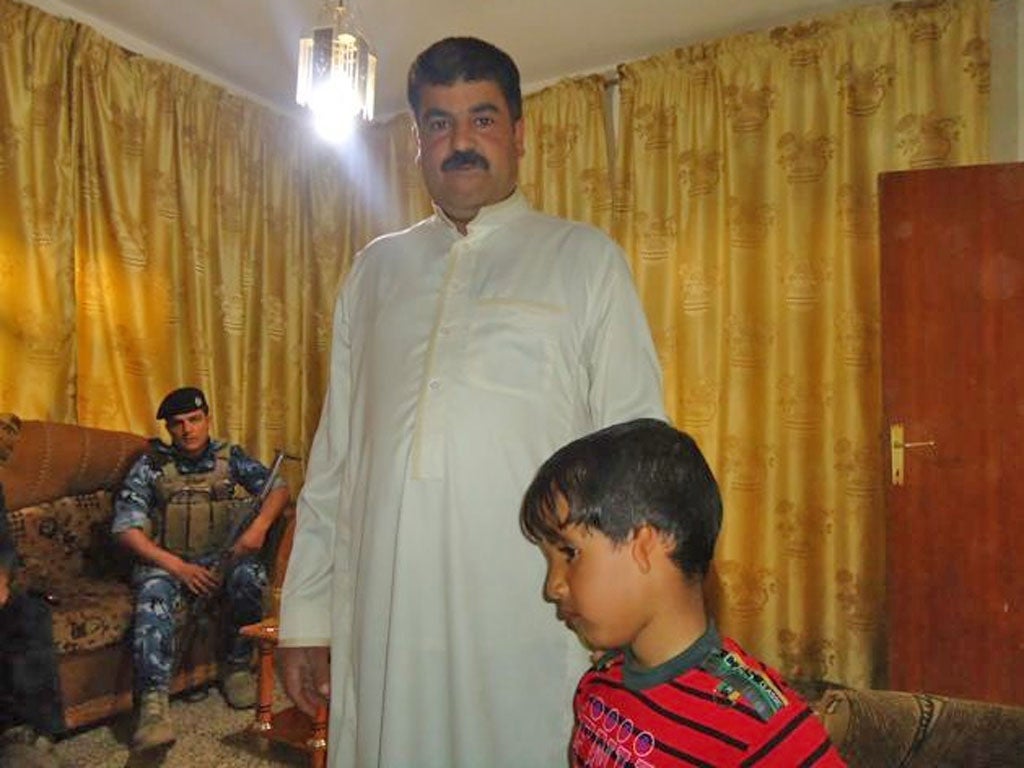 "He needs multiple surgery outside Iraq. It's a dysfunctional problem. He has no hearing in his left ear. They told me he has to be six before they can remove cartilage from his chest wall to put in his ear. All operations have to be outside Iraq to beautify the ear and give him his hearing."
And all the while his father talks, five-year-old Sayef Ala'a sits obediently on the sofa beside us, doing as his father tells him, moving his head to show us the scrappy bit of flesh that constitutes his left ear, tipping his head to one side so we can take pictures of it. Compared to other children with birth deformities, Sayef Ala'a is lucky. He can see, breathe, walk, run, play and listen to his father and friends with his right ear. And he is a little boy of much courage.
"He hasn't learnt much yet – that's because he hasn't been to school," his father says. "I'm worried he would be bullied at school. He's a child, but sometimes he comes to me and says he knows he has a deformed ear; but it doesn't matter, he says, because he has no other problems. He is shy but he doesn't mind seeing you." And here the father points at us as we sit beside his son on the sofa. "But no other foreigners come to see him."
Like others in Fallujah, Sayef Ala'a's father, who is a businessman, hopes that NGO officials will turn up at his door one day and offer the boy a foreign visa, medical treatment abroad, education. It is a dream that will never be realised – not so long as even the Iraqi government takes no interest in the deformed children of Fallujah.
Sayef Ala'a has a three-year-old brother who has no health problems – but then Sayef Ala'a was conceived in 2006, two years after the battles of Fallujah, his brother two years after that. Sayef Ala'a's mother is his father's first cousin but the families had no history of congenital anomalies. "It's the result of chemical weapons used by the Americans in Fallujah," the father says. He has seen other, much worse abnormalities than that from which his son suffers. All the other families say the same thing.
"Yes, my son's case is a bit trivial compared to the rest. But he only has half his hearing. I have got myself and my son a passport" – and here Sayef Ala'a's father produces the documents for our inspection – "because some day a charity organisation will knock on my door and take him outside Iraq."
Yet, remarkably, when I ask him who is to blame, Sayef Ala'a's father says almost exactly the same words uttered by the father of 14-month-old Sayef Mohamed, who has an outsize head and is blind and paralysed. He replies at once. "I do believe in God, so I leave things to God – I don't believe any human being is going to help. Yes, I was concerned before we had our second child in case he had similar problems, but I decided to leave things to God because I wanted this second child."
The family have consulted two Baghdad professors – one of them with a diploma of medicine from Glasgow University – and they have a sense of perspective that others may lack in Fallujah.
Sayef Ala'a's grandfather claims that the RAF dropped mustard gas on their distant relatives, in the town of Diyala, in 1917, during the First World War – and that there were deformities even then. Of course, it may be easy for a family – fearful of shaming their "honour" by admitting their child suffers birth anomalies – to blame the weapons of Fallujah's American enemies for their misfortunes.
But in that case, why did the US first deny using phosphorus in built-up areas of the city in 2004 – and admit the truth only when a video-tape clearly showed phosphorous being fired into housing concentrations? And why does no one from outside come to examine Sayef Ala'a's scratch of an ear?
Back story: The evidence was clear, but no one cared – except you
It's the same old story. Know nothing. See nothing. Say nothing. When children died in a plague of cancers in southern Iraq after the 1991 Gulf War, the Americans and the Brits didn't want to know about it. Nor, of course, did Saddam Hussein. If children had been poisoned by our depleted uranium munitions, then Saddam would lose face, wouldn't he? Independent readers contributed $250,000 for medicines for the children we met in Iraq who were suffering from cancers and leukaemia after that war.
Margaret Hassan of Care – later murdered by unknown killers months after her kidnapping, following the "liberation" of Iraq – helped us distribute the medicines from our readers across the country. No thanks from Saddam, of course. And all the children died. And not a word from our masters, armaments manufacturers and jolly generals.
It's the same again in Fallujah today. The doctors talk of a massive increase in child birth deformities. The Americans used phosphorous munitions – possibly also depleted uranium (DU) – in the 2004 battles of Fallujah. Everyone in Fallujah knows about these deformities. Reporters have seen these children and reported on them. But it's know nothing, see nothing, say nothing. Neither the Iraqi government nor the US government nor the British will utter a squeak about Fallujah. Even when I found in the Balkans a 12-year-old Serb girl with internal bleeding, constant vomiting and nails that repeatedly fell out of her hands and feet – she had handled the shrapnel of depleted uranium munitions after a Nato air strike near Sarajevo in 1995 – Nato refused to respond to my offer to take a military doctor to see her.
Already, I had discovered that up to 300 Serb men, women and children who had lived close to the Nato target in the Sarajevo suburb of Hadjici, had died of cancers and leukaemias over the five years that followed the bombing. As for southern Iraq after the 1991 Gulf War, the less said, the better.
I met Ali Hillal in 1998, when he was just eight, in Baghdad's Mansour hospital. He lived next to factories and a television station in Diyala, the repeated targets of US and British aircraft in 1991, the fifth child in a family with no history of cancer. Now he had a brain tumour. Latif Abdul Sattar had non-Hodgkin's lymphoma. Youssef Abdul Raouf Mohamed from Kerbala had gastro-intestinal bleeding. There was Cherou Jassem in her party dress – she wanted her picture taken – who had acute myloblastic leukaemia.
And so it went on as I met each child 14 years ago. Dhamia Qassem, 13, suffered heart failure during treatment for acute leukaemia. Ahmed Walid, a baby during the 1991 Iraq bombings, developed chronic myeloid leukaemia in 1995. Many of the parents were with their children during the raids and some spoke of strange smells, of insecticide and flowers. Western diplomats – who otherwise chose to remain silent – wondered if the children might have been stricken by the smoke from Saddam's bombed chemical warfare factories.
In Basra, I found Dr Jawad Khadim al-Ali who had drawn maps of the clusters of the new child and adult cancer cases across southern Iraq, some of the children from the very battlefields in which US tanks fired DU munitions at Saddam's armoured forces. Even when I visited these sites I found farming families with new cancers. This, the doctors attributed to DU, of course, not phosphorous, although some researchers have suggested DU was also used at Fallujah in 2004.
What was astonishing, however, was the response. While The Independent's readers gave generously for medicines for the children, the British government's reaction was pitiful. Lord Gilbert at the Ministry of Defence, in a letter dripping with sarcasm, said that my account of a possible link between DU ammunition and children's cancer – "coming from anyone other than Robert Fisk" – would be "a wilful perversion of reality". Particles from DU warheads became difficult to detect, he wrote, "even with the most sophisticated monitoring equipment".
Yet when an Atomic Energy Agency official wrote to the Royal Ordnance in London in 1998, he said that the spread of radioactivity and toxic contamination would be "a risk to both the military and the civilian population" if not dealt with in peacetime.
In December 1998, Doug Henderson, then the British minister for the armed forces, wrote – in a letter that may soon have to be repeated over Fallujah – that while the government was aware of reports linking DU with "alleged [sic] deformities, cancers and birth defects, the government has not seen any peer-reviewed epidemiological research data on this population to support these claims and it would therefore be premature to comment on this matter".
And so it went on. The authorities had nothing to say since there had been no "peer-reviewed epidemiological data" – which there would not be, because no such research would be carried out. Now, too, the same is happening in Fallujah where DU ammunition may also have been used in 2004, and where white phosphorous certainly was used. But there has been no "peer-reviewed epidemiological data". So goodbye to the children of Fallujah, their brave parents and any chance of finding out the truth.
Unless, of course, some worthy NGO steps forward with the money and resources and training to do what neither the Iraqi government nor the Americans have shown any interest in doing: cataloguing the increase in birth deformities in a city where US forces fought their toughest battles since the Tet offensive in Vietnam. Phosphorous can be used to identify targets – but if used as a weapon in civilian areas, it would breach the 1980 Convention on conventional weapons. Which is probably why no one outside Iraq wants to hear the name of Fallujah.
Robert Fisk
Join our commenting forum
Join thought-provoking conversations, follow other Independent readers and see their replies