Grace Dent: Andy dangles from a rope and we all yawn. It's time to downgrade this expensive blowhard
He's not vaguely a celebrity and his social circle is more of a risk to our reputation than butt-naked Prince Harry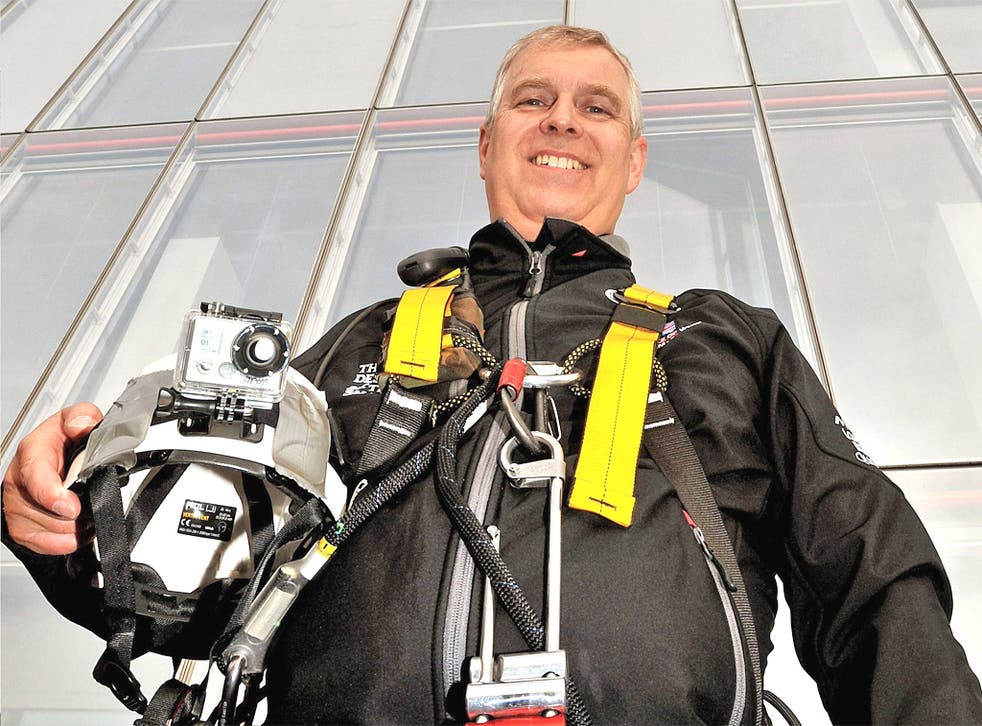 As Prince Andrew "Airmiles Andy", fourth in line to the throne, dangled precariously this week on abseiling ropes from a 1,000ft drop at the top of the Shard, Britain was wholly underwhelmed. We didn't really care. Crowds of commoners did not amass on the South Bank with supportive banners, posies of flowers and hot sweet drinks to soothe his post-descent shock. Traffic-calming tactics were not necessary. No comedy video of "dangling Andy" lit up the worldwide web, like when Boris was momentarily caught on a zip-wire causing several newsrooms to down tools helpless in mirth. No #andyonarope hashtag topic trended on Twitter. There was no emoticon available to express how little we could be arsed. Andy came, Andy rappelled, Andy went home again to carry on whatever it is he bloody does. He's 53 next February and still neither he nor we are sure.
Perhaps this was the moment for us to take stock of the usefulness of Prince Andrew Albert Christian Edward, Duke of York. Andrew's not much of a Royal, he's not vaguely a celebrity. Interest in him among the public is negligible. Locate me one solitary soul coming through Heathrow Airport who knows his name and demands to see him, and I'll placate them with Lord Frederick Windsor or the Duchess of Cambridge's naughty Uncle Gary, if he's not at Casa de Bang Bang.
Prince Andrew is expensive to keep and his social circle is more of a risk to our reputation than butt-naked Prince Harry being a slight silly by a billiard table. In fact, let's politely look the other way about the matter of Andy's chum Jeffrey Epstein and Epstein's chum Virginia Roberts and a number of other young women, and the FBI's attitude to Epstein's friendships with these women. Everyone else has now.
Let's just think about the Shard and Andy's pointless plunge and consider that perhaps it's time Prince Andrew – just like the Royal Yacht – was decommisioned. A little light royal culling. Goodbye, Andrew, thanks for all your fantastic trade links. Here's a small flat for you in Dudley. Enjoy. I'm sure the town council won't be troubled by adoring crowds.
In this time of austerity and "aren't we're all in this together", well the monarchy downgrading him to commoner would be a gesture of goodwill. I'm not calling for Prince Andrew's head, crikey, no, I'm not a savage, but I'd be happy to see him using his supposed first-class business skills to just live as plain old Andrew. That said, I've always felt Andrew, who is very good at business, has the air of one of those men who enter the quiet carriage of a train, spread all the paperwork of their regional photocopier supplies sales figures on the table before you, pull out their mobile phone and boom "Hello, Sheila! Yes, just on the 9.30 into the office, and just thought I'd use the journey to touch base on a few figures. Yes. Grab a pen!" And you really want to say, "Look, mate, we ALL have jobs. Your job isn't more important than anyone else's. We could all make this carriage into an office, we're just choosing not to."
Because some people are brilliant workers, exemplary at forging links and pushing things ahead. And some blowhards – like Prince Andrew for the past two decades – spend years being professionally "professional". Much of what Andrew's achieved in this time doesn't bear close scrutiny – his meddlings with oligarchs in North Africa, the Middle East and the former Soviet Union have had the Government clutching their heads in woe. I'm not a staunch Republicanist. I've a soft spot for Prince William and thought his mother was dippy, much-put-upon and charming. I like the Queen's attitude to corgis and non-necessary hugs, I like Prince Philip's attitude to ducking out of tedious family get-togethers. I like Zara, the one with the tongue-piercing and the wild sense of derring-do who married the rugby player and wins silver medals. As we stand, right now, these royals serve some worth. For Prince Andrew, however, the only entity one can place beside the Shard and make the building seem comparatively useful, in keeping with the national mood of "streamlining" the royal firm for "full taxpayers efficiency", it might be time to go.
I'd rather have cat bugs than be no-cat crazy
Yesterday's Independent front page linking cat ownership with mental illness infuriated me so much I was tempted to resign on a point of principle. Thankfully, the enormous vet bill pinned to the fridge covering the last time one of my furry-faced sociopathic numbskulls ate a bumble bee prevented rash financial decisions.
I love cats. I'm a fan. I like cats more than a lot of people. I love their slinky, self-serving, heat-seeking, couldn't-give-a-damness. I'd take an hour watching my cat shouting pointlessly at squirrels without any intention to chase them, over an hour of listening to your planning permission problems any day. There are no cat training schools and no train-your-cat TV shows for a good reason: cats don't live by your rules. If cats knew they might be carrying a bug that kills you, well, sure, they'd be a bit sad.
But, on another level, they'd find it bloody funny. If your cat was suddenly 100kg bigger within 24 hours, it would've got a bit over-excited, forgotten it's manners, dragged you behind the telly and killed you anyway. I've written 13 books and a thousand newspaper columns with something trying to warm it's face on the laptop, accidentally cutting copy and decreasing the brightness on the screen with it's whiskers.
And all those great free gifts? The dead stuff, the unidentified headless rodents, the disembodied tails and entrails. Well, it keeps me alert. And I didn't like that armchair anyway; it looks much better distressed with a pot plant emptied on it.
But if there's a tiny risk they might make me insane with bugs – the same bugs are found on salad – then I'll take it. I've lived without pets and it's miserable. I'm a damn sight crazier without them.
Register for free to continue reading
Registration is a free and easy way to support our truly independent journalism
By registering, you will also enjoy limited access to Premium articles, exclusive newsletters, commenting, and virtual events with our leading journalists
Already have an account? sign in
Join our new commenting forum
Join thought-provoking conversations, follow other Independent readers and see their replies