Jimmy Burns: How football can rebuild a nation
Far from being a failed state, this is a country that can do great things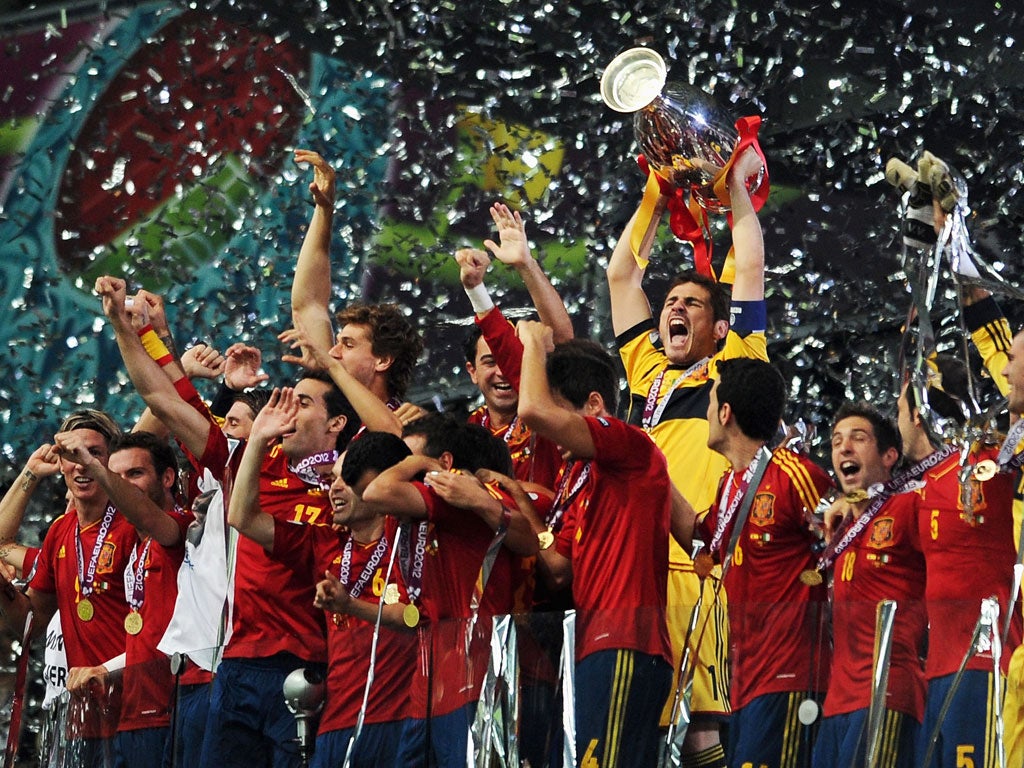 Spain's self-confidence may have been badly damaged by being at the begging end of the euro crisis, but its Euro 2012 victory should act as a reviving tonic. The conquest in Kiev confirmed the Spanish team's status as the best in the history of football, and a glowing example to present and future generations of fans and players. But beyond a sporting achievement, La Roja (The Red One) – as the Spanish squad is called – provides a role model for a debt-ridden country struggling to define its national interest.
The colour red is the colour usually worn by the national squad as long as most Spaniards can remember. But until relatively recently, politics seemed to get in the way of a broader acceptance of the word, like the Azzurri in Italy or Les Bleus in France. That is because during the Spanish Civil War, the colour took on a political identity. To be a Rojo was to be a communist and anti-Franco.
The perception stuck during the Franco years when football was manipulated for propaganda purposes by a fascist regime that contaminated and distorted the nature of Spanish nationhood. Franco favoured and promoted a virile and aggressive style of play known as the Furia Espanola (Spanish Fury), which became part of the regime's militaristic nomenclature.
Hardly surprising the Spanish national team was shunned by Catalans and Basques, even after Franco's death, with fans channelling their political passions into the intense rivalries that developed between Real Madrid (representing the centre) and clubs like FC Barcelona and Athletic Bilbao, de facto Catalan and Basque squads.
Things changed in 2008, when the then Spanish coach of the national squad Luis Aragonés felt that enough water had flowed under Spain's political bridge for Spaniards to call a team's shirt by its proper colour. Since then La Roja has come to be equated with a cultural phenomenon – football played with such finesse and artistry that commentators have drawn analogies with ballet and poetry in motion.
Sunday's victory celebrations had Basque and Catalan players waving their regional flags, and an Andalucian Real Madrid player flourishing a bullfighting cape, and fans from all areas of Spain paying tribute to Iniesta, Xavi, and Jordi Alba, some of the Barcelona stars of La Roja – all showing that you can take pride in being Spanish while having a sense of regional identity.
To La Roja's current coach, Vicente Del Bosque, a wise and conciliatory man from Salamanca, must go the credit for reminding us that Spain, far from being a failed state, is a country capable of doing great things when finding a sense of common purpose.
Jimmy Burns is the author of 'La Roja: A Journey through Spanish Football' (Simon & Schuster)
Join our commenting forum
Join thought-provoking conversations, follow other Independent readers and see their replies