Stefan Stern: Civil Service buckling under strain of Coalition
Staff turnover at all levels is high... and that lack of continuity is harmful in a Coalition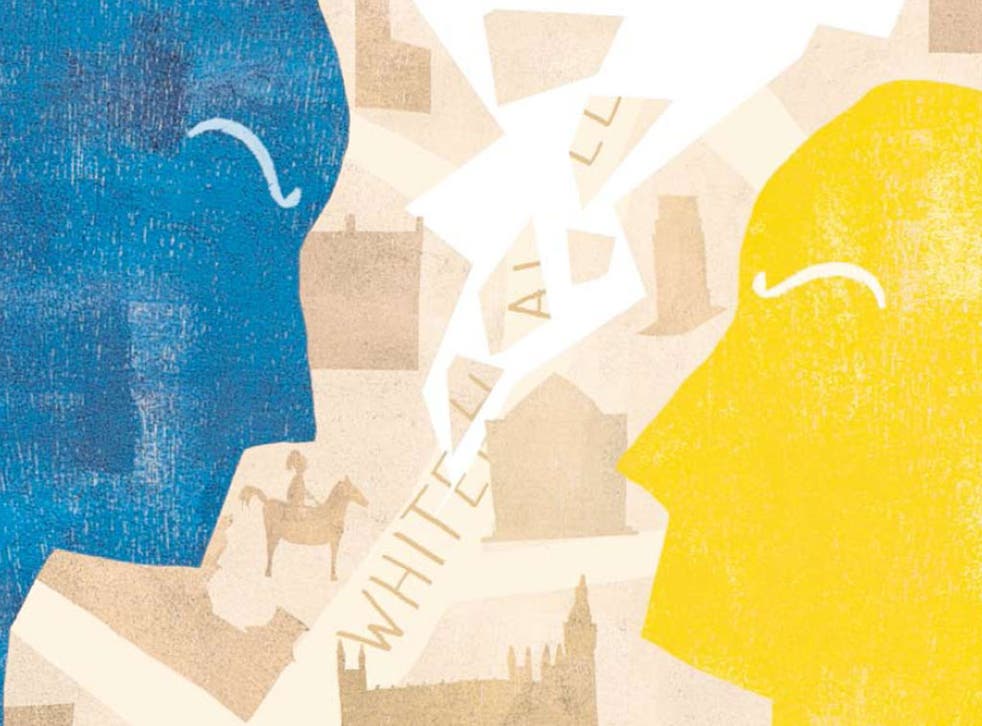 The grand buildings of Whitehall may suggest permanence and solidity. But stirrings at the heart of government this summer tell a different story. All is not well in the Civil Service. Ministers are unhappy. Engine trouble is afflicting the "Rolls-Royce machine".
There is a weary inevitability to the life-cycle of politicians' relationships with civil servants. The euphoria of the Cameron/Clegg Downing Street press conference of May 2010 seemed to be reflected in initial murmurs from officials. The new Government was a pleasure to deal with, it was said, a breath of fresh air. But before too long – after less than a year in office, in fact – the Prime Minister was criticising civil servants as "enemies of enterprise" who "concoct ridiculous rules and regulations that make life impossible". This was a clear echo of Tony Blair's complaint – that he bore scars on his back from the attempt to change the way civil servants operate. Yesterday, there was new speculation over an apparent desire among senior civil servants to form closer links with Labour before the next election.
Staff turnover at all levels in the Civil Service is high, notwithstanding job losses due to budget cuts. Remarkably, only two top civil servants remain at the head of the departments they were running when the new Government came into office. Some changes were to be expected. But, in just over two years, only the Treasury and the Department for Culture, Media and Sport have the same Permanent Secretary in charge. In the context of a Coalition government, which brings its own complications with it, that lack of continuity is harmful.
There is nothing new in the agonising over the relationship between politicians and their officials. With an independent civil service, tension is built in. The question is whether it is creative or destructive. Harold Wilson had a far more benign view than some of his successors. "The idea that a change of government means sabotage from the Civil Service is, I think, nonsense," he said before taking office in 1964. Three years later, he had not changed his mind: "Civil servants do what is required once they get a clear lead." As Prof Kevin Theakston of the University of Leeds has argued, Wilson "subscribed to the robust 'Attlee view', arguing that 'if a minister cannot control his civil servants, he ought to go'."
Years of creative and destructive interplay between "here today, gone tomorrow" politicians and "unaccountable" civil servants inspired the TV show Yes, Minister, which captured some timeless truths about these relationships. Of course, life in Whitehall is rather different today, with mobile phones and rolling news channels changing the feel of the place. But for a magisterial (and up-to-date) display of Sir Humphreyism, you could do no better than study the evidence given by Jonathan Stephens, one of the two afore-mentioned remaining Permanent Secretaries (at DCMS), during the Leveson Inquiry.
Stephens invited us to believe two seemingly contradictory things at the same time. The Secretary of State's special adviser, Adam Smith, had been (in the words of the letter the Permanent Secretary had written accepting his resignation) "undoubtedly one of the best and straightest" he had seen in his 30 years as a civil servant. He was "well-tuned to the Secretary of State's thinking". Regrettably, however, Smith had – without the Secretary of State knowing about it – overstepped the mark badly in his dealings with NewsCorp's Fréd Michel "far beyond what could be considered appropriate". The brilliant adviser who knew his minister's mind intimately had to go. Normal (civil) service would be resumed.
If Leveson was a storm to be ridden out, then the general election result of May 2010 was an earthquake to which the Civil Service also had to respond. And yet in the middle of great financial and economic uncertainty, a Coalition government was formed in five days, providing a degree of assurance in troubling times.
With hindsight, the seeds of many of the Government's current difficulties were sown then. Politicians were convinced by officials that our finances needed instant radical surgery. The Government still holds fast to that policy, in spite of the growing evidence that "austerity" is proving counter-productive. May 2010 must have been an enormously stressful time to be a top official. The country (and the world) had only just got through the financial crisis. The shock of the moment may have thrown even the finest Treasury minds off course.
In fact, the Civil Service is, I suspect, still coming to terms with an even bigger shock to its collective nervous system: the Iraq war of 2003. Lord Butler's report into the government's use of intelligence in the run-up to the war, published in July 2004, is worth reading with this thought in mind. Butler had been Cabinet Secretary and head of the Civil Service under Margaret Thatcher, John Major and Blair. No one knew better how government should function. In finely polished "mandarin", his words hit home.
He refers to the "frequent but unscripted occasions when the Prime Minister, foreign secretary and defence secretary briefed the Cabinet orally". Note "unscripted": civil servants should have helped with the scripts. "Excellent quality papers were written by officials, but these were not discussed in Cabinet or in cabinet committee. Without papers circulated in advance, it remains possible, but is obviously much more difficult, for members of the Cabinet outside the small circle directly involved to bring their political judgement and experience to bear on the major decisions for which the Cabinet as a whole must carry responsibility." This is devastating. He is effectively saying that Britain went to war without due government process. Key civil servants, and some ministers, were sidelined. I am not sure the Civil Service has fully recovered from this.
The current Government recently published a White Paper proposing further reform, in particular trying to introduce greater accountability for civil servants in their relationships with ministers. But something more fundamental needs to be done: a complete reappraisal, from first principles, of the relationship between ministers of the crown and the independent Civil Service, which recognises the different and conflicting pressures both are under. It looks now as if it may fall to the next government to carry this out. It is a rather important task.
Join our new commenting forum
Join thought-provoking conversations, follow other Independent readers and see their replies