Ruth Davidson telling the Tory party to 'man up' proves that there's no such thing as a liberal Conservative
I suppose Davidson feels she can say whatever she wants, because she's a woman and she's queer, and therefore in her eyes she's not like those other party members. But she's just as bad as her male colleagues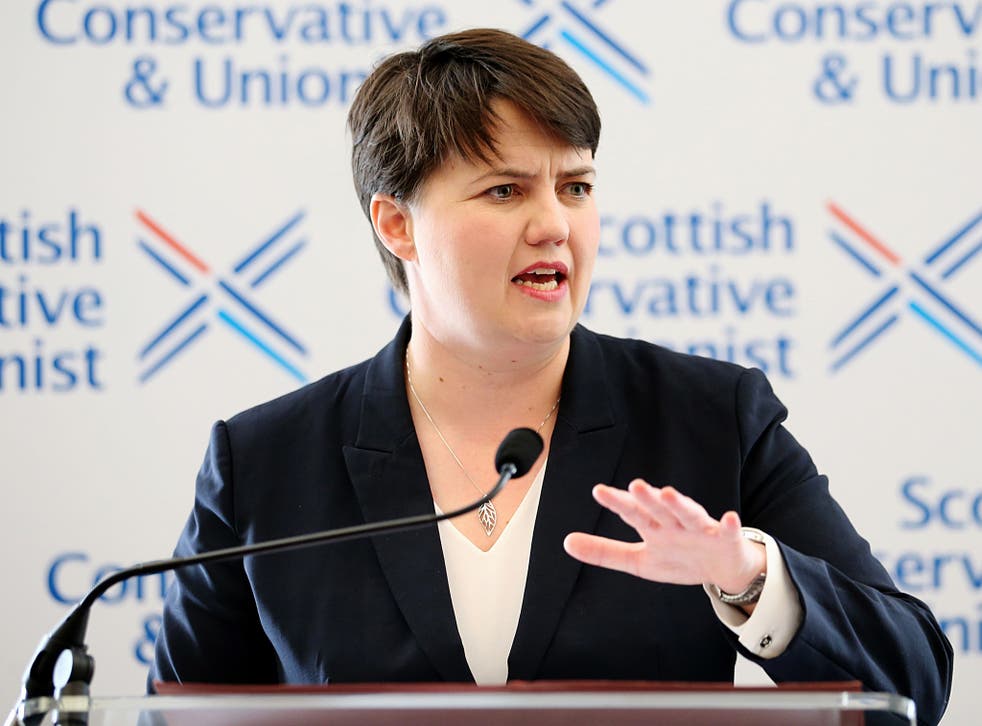 Today, at the Tory Party Conference, Ruth Davidson proposed the solution that would end all of the Conservative Party's problems.
"What is this magic solution?" I hear you ask. Ditching Theresa May? Sacking Boris Johnson? Ending austerity? Abandoning everything the party has ever stood for and standing back to allow Jeremy Corbyn and Caroline Lucas to take over from here in glorious coalition?
No, none of these things. Ruth Davidson's solution to the current mess that is our Government is that the party needs to "get over its current nervous breakdown" – and I quote word for word – "and man up a little bit".
Nicola Sturgeon clashes with Ruth Davidson over a second independence referendum
Yes, that's right, hailed "feminist" and "liberal" Conservative Davidson has managed to be both sexist and ableist in one neat little sentence, that proves one thing: no matter how "liberal" she pretends to be, she's still a Tory.
Let's start with the sexism. Davidson has spoken many a time about feminism before, from her proud ownership of the label to her various spats on social media. She even once took it upon herself to tell the Labour Party how to do feminism. I suppose they should just "man up" as well?
I'm not saying that Labour – or indeed any political party – is free from sexism, or any other form of discrimination. But criticising another party seems a bit rich coming from Davidson, who's own party doesn't particularly hold a great track record on gender equality, and neither does she.
The Scottish Tory leader earlier this year dismissed the rape clause as a box-ticking exercise while domestic and sexual violence charities and survivors fought for its overhaul. Ruth Davidson, the "feminist", apparently doesn't care about people being forced into abortions because of Tory welfare cuts. Ruth Davidson, the "feminist", also believes Theresa May has "helped women at every turn" despite May's appalling voting record on women's and LGBTQ issues, the fact that she oversaw the closing of 34 domestic violence refuges and the abuse of women and children at Yarl's Wood during her time as Home Secretary.
I guess Davidson's solution to those struggling with child benefit, coming to terms with being sexually assaulted or at risk of being deported might just be to "man up" as well?
Then there's her reference to the Conservative Party having a "nervous breakdown". I don't even really know where to start with this. Is she implying that mentally illness makes you incompetent? Is she saying that in order to get over mental health issues we all need to simply "man up"? Is she suggesting that someone having a nervous breakdown is unfit to continue with their job?
World news in pictures

Show all 50
I guess as well as slating mental illness, it's also OK for her to support racist counsellors? And I suppose she feels she can say whatever she wants, because she's a woman and she's queer, and therefore in her eyes she's not like those other party members.
No, Ruth, I don't think being "womanly", outside the gender binary or "mentally ill" is your party's problem. It's just full of people like you – people who, even under the guise of caring, don't. You claim to stand for the rights of minorities, whilst simultaneously slapping us in the face. That's the Tory problem.
Join our new commenting forum
Join thought-provoking conversations, follow other Independent readers and see their replies