Corbyn has agreed to sing the national anthem in future. Brace yourself for the hypocrisy accusations
Poor Jeremy Corbyn has found himself in a political situation where he's damned if he does, damned if he doesn't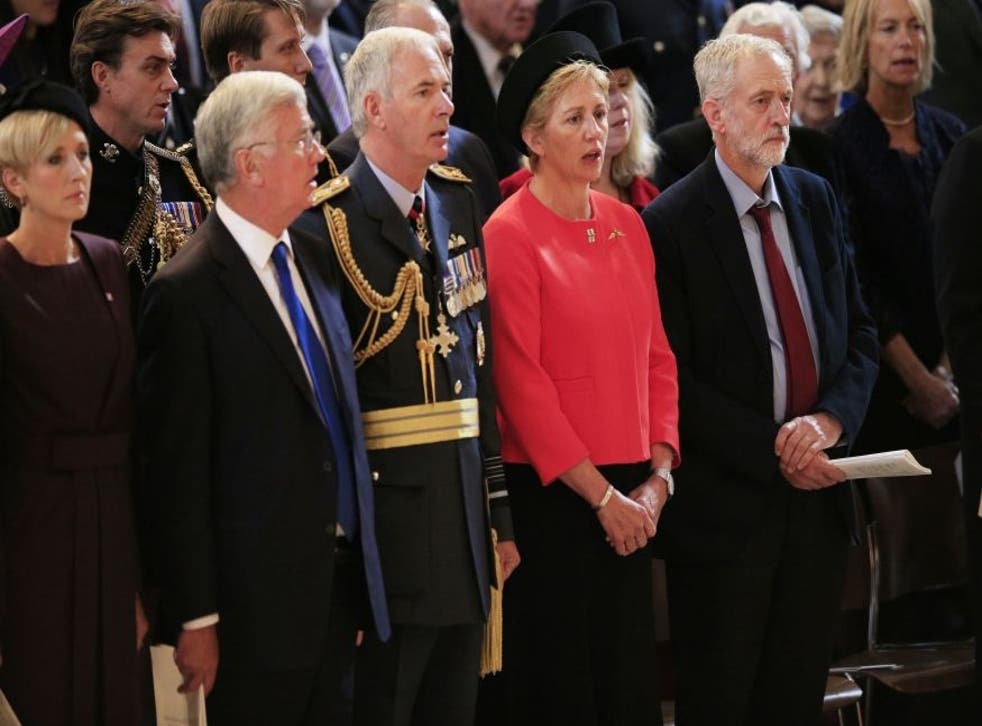 Poor old Jeremy Corbyn. Damned if he does, for being a hypocrite. Damned if he doesn't, for being unpatriotic.
He could have compromised and mimed the national anthem on his first public appearance as party leader, but he's made of sterner stuff. I respect that. Against my better judgement I once agreed to take part in an amateur choir performance of The Messiah. In fact, it was quite a serious choir – Tiffin Boys' School in Kingston, made up of parents and pupils and under the watchful eye of the then music master, Simon Toyne.
I was late for rehearsals. My pal – I still think he did it deliberately – had bagged us places on the front row, directly under the gaze of Mr Toyne. Already, I could sense a creeping dread. No sooner did we begin than the choirmaster called a halt. Someone in the first four rows was out of tune. Mr Toyne asked those rows to sing again. The offender was in the first three, he said. We duly sang again. In the first two, he said. By this time, I was perspiring visibly: being bald means there's nowhere for sweat to hide. The back of my neck was soaking.
Mr Toyne levelled his gaze at me, briefly, but just long enough to tell me he knew, then called a halt and said it was time to get on with the practice. After that, whenever the going got tough, I mimed. On the night itself I have a recollection of joining in the "Hallelujah Chorus", but that was about all. Afterwards, when we were being congratulated on our note-perfect singing, I lapped up the acclaim while feeling a total fraud.
Jeremy was right not to mime. After all, a microphone would have picked up his silence, and then he'd be accused of faking, and hell would similarly break loose.
Mr Corbyn did not have to attend the RAF commemoration service at all – he could have said he wasn't going. But that was a step too far, that would have shown complete disrespect for the brave pilots and their families, and as he made clear, he had an absolute regard for them and for others that served, among them his mum as an air warden and his dad in the Home Guard. "Like that whole generation, they showed tremendous courage and determination to defeat fascism. The heroism of the Royal Air Force in the Battle of Britain is something to which we all owe an enormous debt of gratitude," said Corbyn.
No sign of contempt there. So why not sing the national anthem?
Mr Corbyn chairs the Stop the War Coalition, and is opposed to armed conflict. "The loss of life – both civilian and military – should be commemorated so that we both honour their lives and do all that we can to ensure future generations are spared the horrors of war."
But this was not why he did not join in. George Monbiot's argument, that by not participating, Corbyn was also paying tribute to those who sacrificed their lives to prevent fascism, to enable future generations to have the freedom to choose whether to sing, or not sing, is also a stretch too far.
No, it's because Corbyn is an avowed republican; he wishes to abolish the monarchy. It's true, this is the same Jeremy Corbyn who has agreed to lead Her Majesty's Opposition and has accepted an invitation to become a member of the Queen's Privy Council. But the simple truth is that the new Labour leader is a life-long opponent of the monarchy. As such, however, if he wants to succeed in exerting any political influence at all, even in seizing power, he still has to play by the rules. He could choose to go down another route, by launching some form of coup, but that would almost certainly get him nowhere, apart from jail.
In our society, what's a republican to do? Having probably never thought he stood any chance at all, he becomes leader of Her Majesty's Opposition. It's not the title he would select, but it's a lot better than being cast out into the political wilderness with the other republican voices.
He's on the inside now. Unfortunately, with that job come other obligations. He could always refuse, but the hue and cry would be enormous, not least from his own party. So he becomes a Privy Councillor, he must attend national memorials, and he will have to lay a wreath at the Cenotaph. He may have to visit troops in the field.
This, and more, he must do, in the name of democracy, due to having risen to the top of our system. That's how it's been constructed.
If he wishes to obtain security briefings, for instance, he can only do so under the aegis of the Privy Council. That was made clear to him by officials when he asked for a different avenue to be found. They refused, and so he will have to kneel before the Queen and kiss her hand while promising to be her "true and faithful servant" while all the time wishing her post would be scrapped.
So now we're told that, in future, Corbyn will sing the national anthem. Perhaps the Labour flunkies who have no doubt convinced him of the merits of this position think once he starts warbling, the media will go away; there will be no more fuss. Except that's not right, either. The Privy Council meets in private, but singing the national anthem is a public affair. He will be pictured singing again and again. As a republican, he will be accused of being two-faced.
Poor Jeremy Corbyn: damned whenever he does; and damned if he doesn't.
Register for free to continue reading
Registration is a free and easy way to support our truly independent journalism
By registering, you will also enjoy limited access to Premium articles, exclusive newsletters, commenting, and virtual events with our leading journalists
Already have an account? sign in
Register for free to continue reading
Registration is a free and easy way to support our truly independent journalism
By registering, you will also enjoy limited access to Premium articles, exclusive newsletters, commenting, and virtual events with our leading journalists
Already have an account? sign in
Join our new commenting forum
Join thought-provoking conversations, follow other Independent readers and see their replies