Virtual nativity plays are necessary – but it's the end to 2020 I didn't need
Of all the awful things that have happened this year, not being able to see my daughter's play pales in comparison. But the news has tipped me over the edge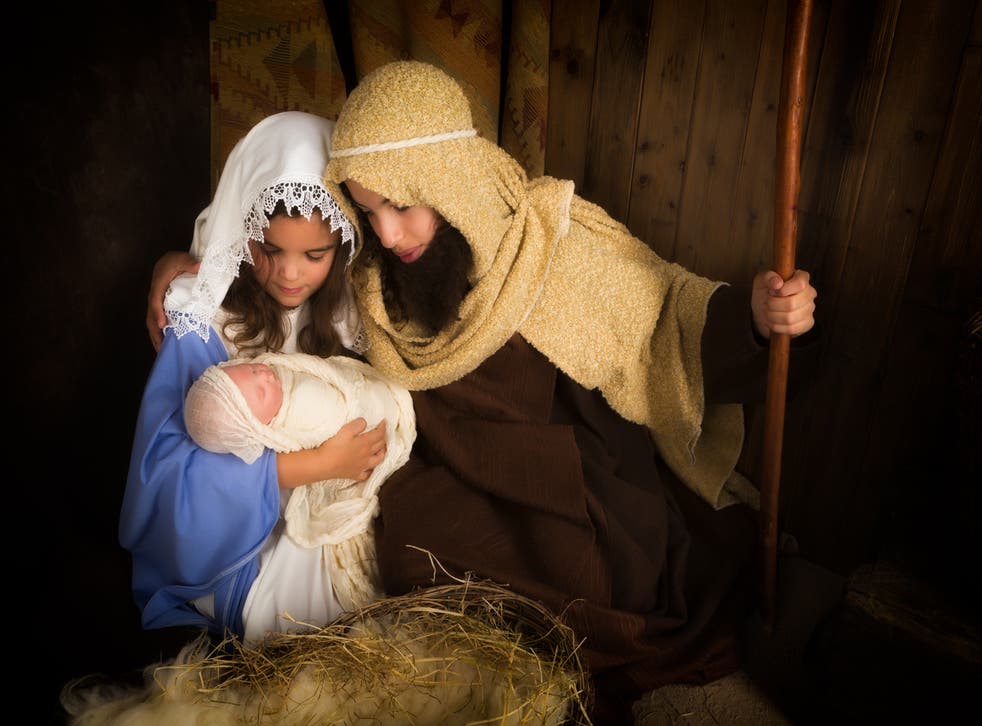 I clearly recall Christmas 1989 – the smell of Christingles and parquet floor in my primary school gym, and me as the Angel Gabriel in my first nativity, resplendent in one of my mother's white blouses complete with tinfoil wings. 
Best of all, I got to stand in the middle of the stable on the stage looming over baby Jesus and hobnobbing with his parents. The audience was packed.
Now, more than 30 years later, I'm preparing for another first nativity – my 4-year-old daughter, Robin, is playing an angel. I've sewn gold wings on to a tiny white dress, and wondered how a halo is best constructed.
At teatime, between mouthfuls of fish fingers and ketchup, Robin rehearses songs with a strident soprano – tales of riding camels to Bethlehem and of a baby asleep in a manger.
"Thank you for coming to see our first nativity!" she frequently rehearses.
Except I won't be in the audience on the big day, nor will any parent. This is, of course, because of coronavirus social distancing restrictions.
Around half of primary schools are dropping nativity plays entirely according to educational data experts Teacher Tapp – while others, like my daughter's, will be recording the performances and sending digital links to parents.
It's important to state clearly that I understand why there cannot be an audience of parents sitting literally cheek-by-jowl in an enclosed space in the midst of a global pandemic. And I am painfully aware that there are far greater Covid-19 casualties than audience-free nativity plays.  
But after a nightmare year on both a personal and societal level, not being in the audience to see my daughter's first nativity is the incident that has sent me over the edge.
Reader, I cried.
Yes, I cried for not being excited in the audience, waiting for her to notice us and beam that toothy smile and for not being able to give her a hug straight afterwards. I'm so sad that the live experience will be replaced by a screen. Like everything else this year.
Since March, I've had moments of despair – magazines I write for have folded, I've been so terrified of my bank balance I cover my eyes and look at it through my fingers, and I have no idea when I'm going to see family who live in different continents again.
But I've been reasonably positive, which isn't too difficult given my circumstances, which include having a garden, a husband I actually like spending time with and decent health – in contrast with frontline workers, vulnerable people who are shielding and those who have lost businesses or loved ones.
I'm lucky that Robin's school is extraordinarily professional, thoughtful and resilient in handling the Covid-19 crisis. They've done everything they can to ensure the children have as normal and happy a time as possible and this extends to the nativity. They are amazing and deserve nothing but plaudits. This is not a finger-pointing exercise or a criticism of anyone.
The nativity is a speck of an issue when it stands alone. But as part of a cumulative process, it is what defeated me, bringing into sharp focus every bleak reality of 2020 and everything lost to this horrific virus: human life, dignity, money, livelihoods, relationships, community, mental health – and slices of childhood.
I'm not religious or even particularly traditional. But this remote nativity is my small sorrow. And just because something is patently not as gravely devastating as death, illness, unemployment, hunger and poverty, doesn't mean it cannot be felt. The life-altering things that have happened to so many people since Covid-19 showed up don't negate the validity of sadness over smaller disappointments.
If social media alone is anything to go by, there has been much policing over what people are "allowed" to feel angry or hurt about this year, which speaks to a general lack of nuance around how the new normal should be processed. It is entirely possible to mourn things on a macro and micro level.
When your baby goes to school in September, all you want is for them to flourish. Seeing them in their first nativity is a milestone moment. Being able to rehearse something to show their family is a massive part of any child's development. The first nativity provides a sense of excitement and a pride – and children and parents remember it forever.
I'll have that memory where many parents won't. We'll watch the nativity together at home – and Robin will be beside herself. Her sense of pride won't change – and I have to remember that when I'm grappling with what feels like the final insult of 2020.
Register for free to continue reading
Registration is a free and easy way to support our truly independent journalism
By registering, you will also enjoy limited access to Premium articles, exclusive newsletters, commenting, and virtual events with our leading journalists
Already have an account? sign in
Register for free to continue reading
Registration is a free and easy way to support our truly independent journalism
By registering, you will also enjoy limited access to Premium articles, exclusive newsletters, commenting, and virtual events with our leading journalists
Already have an account? sign in
Join our new commenting forum
Join thought-provoking conversations, follow other Independent readers and see their replies