The Independent's journalism is supported by our readers. When you purchase through links on our site, we may earn commission.
10 best champagne bottles to celebrate with on any occasion
Made according to strict production rules and only ever from three grapes, these are the bottles to buy for Christmas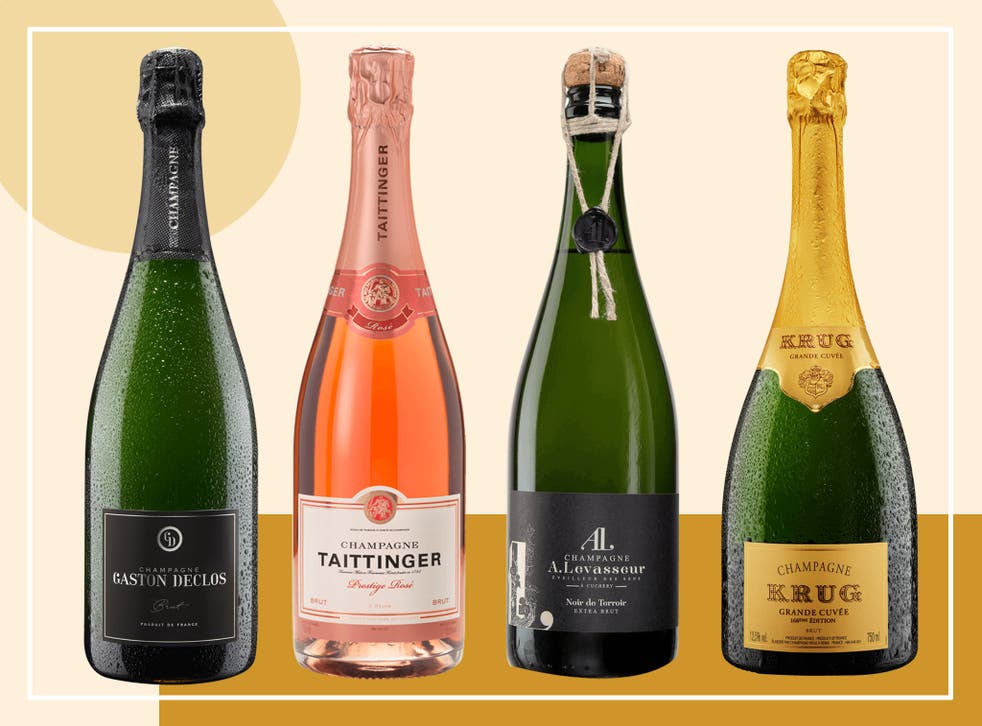 Champagne is, of course, the ultimate celebration drink and in the United Kingdom, we drink quite a lot of it, around 22 million litres each year, making us, in most years, the biggest consumers in the world, outside France.
And it is only in the small region of northern France of the same name that champagne is made, around 300 million bottles exported this year, made according to strict production rules – the methode traditionalle – and only ever from three grapes: chardonnay, pinot noir and pinot meunier, both as a blend and as solo acts, although wholly pinot meunier wines are harder to find.
While prosecco is still astonishingly popular as a budget bubbly and English sparkling is coming up fast, it is still champagne most of us turn to when we mark out life's key moments – achievements and anniversaries of all kinds. And an awful lot will be consumed over the coming festive season.
While everyone knows it is wonderful as a palate freshening aperitif, many also find it a magnificent partner to fine seafood or even just to make a take-home fish and chips into something very special.
While the big familiar name can be expensive there are some brilliant value supermarket own label and budget lines and lesser-known small producers can make really individual wines from their own grapes, usually known as "grower champagnes" to distinguish them from the big houses who will often take their grapes from a variety of vineyards.
Read more:
How we tested
For this selection below, we tasted a wide variety of chilled wines from across this spectrum, both with and without foods. We were looking for value for money, for individuality, freshness and for those characteristic bready, nutty flavours, with some orchard, citrus and red fruits, particularly in the pinot noir dominated wines. 
The best champagnes for 2021 are:
Champagne FAQs
Why is champagne so expensive?
Champagne involves the most complex, time-consuming and labour-intensive method of making wine there is, meaning it's no surprise the drink is more costly.
Firstly, grapes used for champagne are harvested by hand because many blends are made from black grapes and it's important to ensure the fruit's dark skins don't contaminate the clear white juice inside the grapes. Unlike still wines, champagne goes through up to three processes before it reaches the shelves, adding further cost to production.
The sparkling wine also has to be laid horizontal in a dark cellar for anywhere between 15 months and sometimes up to 10 years while still wines, in comparison, can be sold almost immediately.
Champagne terminology explained
Blanc de Blancs and Blanc de Noirs 
The term blanc de blancs simply translates to "white of white", meaning the tipple is made from just white grapes, while blanc de noirs means "white of black" which describes champagnes made from the juice of black-skinned grapes.
Cuvée
Champagnes produced by big houses or maisons are combinations of grapes grown all over the region and this final blend is called cuvée.
Grower champagne
Champagnes of this type are grown and produced at the same vineyard, making it highly specific to a certain wine growing region.
Vintage and non-vintage
Vintage champagne is labelled as having been made from a particular year's harvest and must mature for at least three years while non-vintage is usually a blend of various years and can take around half the time to mature.
The verdict: Champagnes
There are a range of brilliant champagnes here to suit all budgets and all occasions, whether for a weekday treat or the special moments in our lives. While the big names are present here – Taittinger, Krug and Lanson – the excellence of own label supermarket wines is a testament to the quality on offer on their shelves. But we also urge you to explore the more individual "grower champagnes" which offer really exciting wines and that is why the Lelarge-Pugeot, les meuniers de clémence extra brut 2013 is our best buy champagne for 2021.
Voucher codes
For the latest discounts on food and drink, try the links below:
Not sure where to start with lambrusco wine? These are the best sparkling reds to try right now
Register for free to continue reading
Registration is a free and easy way to support our truly independent journalism
By registering, you will also enjoy limited access to Premium articles, exclusive newsletters, commenting, and virtual events with our leading journalists
Already have an account? sign in
Register for free to continue reading
Registration is a free and easy way to support our truly independent journalism
By registering, you will also enjoy limited access to Premium articles, exclusive newsletters, commenting, and virtual events with our leading journalists
Already have an account? sign in