Vietnam – like New Zealand – has dealt well with coronavirus. The world will be watching how they tackle a new outbreak
The country denies that a hacking incident may have aided any response, but all eyes will be on what they do now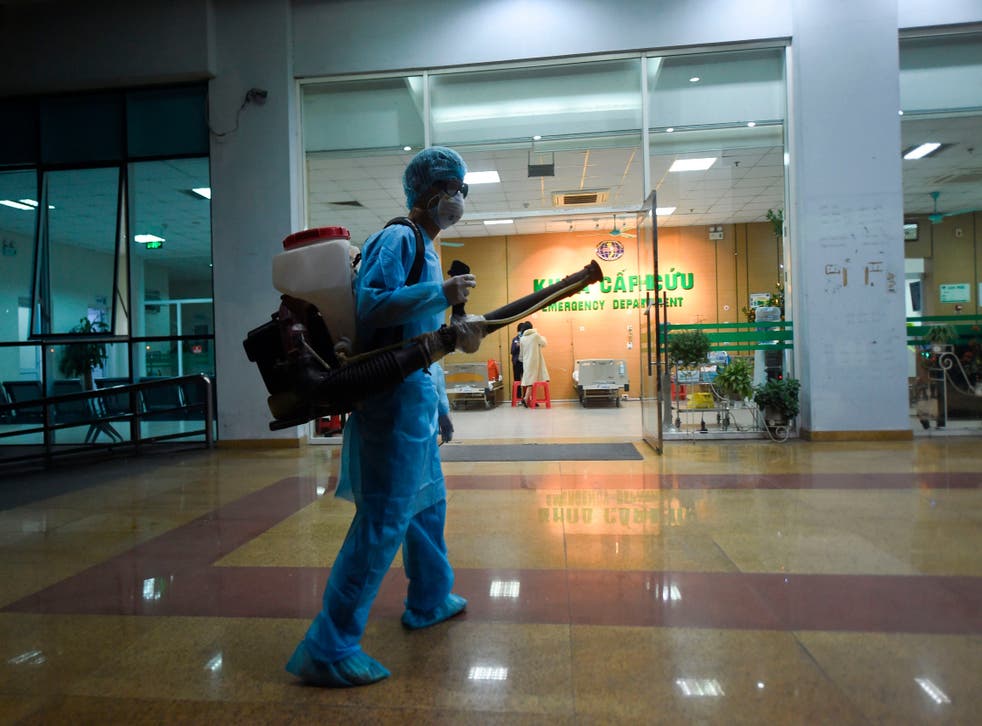 More than 80,000 people evacuated by a hundred flights a day, Vietnam's third largest city preparing for a possible lockdown, and emergency contact tracing procedures introduced. The measures were taken swiftly after three people were found to have contracted coronavirus, with no fatalities, in a population of 1.2 million.
The number of infections linked to Da Nang has since increased to more than 30 but the quick action taken, say the Vietnamese government, should ensure that there will be no major surge in numbers. Although Prime Minister Nguyen Xuan Phuc has warned that every province and city in the country was at high risk of infections and there is a need to be vigilant.
Vietnam has had at least 446 cases of coronavirus since the pandemic began with, according to official figures, no deaths. A British pilot, Stephen Cameron, was able to return home this month after 68 days of treatment.
Even if one views these figures with a degree of caution, the consensus among international analysts is that Vietnam has been remarkably successful in comparison with many other wealthier countries with vastly more resources in the region and beyond.
To put matters in perspective, the US, so far has had 4,435,113 cases with 150, 515 deaths; the UK has 300,111 cases with 45,759 deaths; Russia has 823,515 cases with 13,504 deaths and India has 1,493,904 cases with 33,537 deaths.
Vietnam, which shares a 1,100 kilometre border with China had moved very fast on the spread of Covid-19. At the end of January, during the Tết New Year celebrations, the government announced it was "declaring war" on coronavirus. At the time, according to the World Health Organisation (WHO) the outbreak was almost totally confined to China.
Vietnam imposed stringent restrictions earlier than Beijing with the country's prime minister telling a meeting of the ruling communist party that the disease would soon reach the country, with devastating consequences unless action was taken. "Let us have no illusions, fighting this epidemic means fighting the enemy," said Nguyen Xuan Phuc.
The government imposed selective international travel bans, focusing initially on China, against the advice of the World Health Organisation (WHO), which has subsequently been accused of complicity with Beijing in hiding the spread of the disease (something the WHO and Beijing denies).
It brought in the compulsory wearing of face masks, rigorous and intensive testing and put tens of thousands in isolation. Schools were closed for the New Year holiday at the end of January and remained closed until mid-May. By mid-March anyone entering the country were quarantined, with costs mostly covered by the government.
"It very, very quickly acted in ways which seemed to be quite extreme at the time but were subsequently shown to be rather sensible," says Prof Guy Thwaites, director of Oxford University Clinical Research Unit (OUCRU) in Ho Chi Minh City, which works with the government on its infectious disease programmes. He told the BBC: "The government and population are very, very used to dealing with infectious diseases and are respectful of them, probably far more so than wealthier countries. They know how to respond to these things."
One reason, however, for Vietnam's ability to keep the pandemic under control, it has been claimed, was advanced intelligence. It is worth looking, in this context, at a series of cyber attacks aimed at the Ministry of Emergency Management (MoEM) and the provincial government of Wuhan in January.
The aim of the operation appeared to be to collect information about coronavirus, the disease, its origins and impact, pretty opaque at the time. The spear fishing campaign was carried out by a group called Ocean Lotus, also known as APT (Advanced Persistent Threat) 32 which, it is widely held in security circles, is linked to Vietnamese state intelligence.
APT32 seems to have become particularly busy from 6 January when it sent an email to Beijing's MoEM using the sender address lijanxiang1870@163. This was two weeks before the Chinese government admitted that the disease could be transmitted between humans. "These attacks speak of the virus being an intelligence priority. Everyone is throwing everything they've got at it, and APT32 is what Vietnam has", according to the US cyber security firm FireEye.
New Zealand confirms two new cases of coronavirus after 24 days without infections
Vietnam have called the reports "baseless". Ngo Toan Thang, a deputy spokesperson for the country's foreign ministry, said: "Vietnam prohibits cyber-attacks against organizations and individuals in any form," said in a statement online.
Vietnam's was not the only intelligence service apparently used internationally to seek answers on Covid-19. Western states including those of the "Five Eyes" network – US, UK, Canada, Australia and New Zealand – were also engaged in the same pursuit, albeit starting at a later date.
Whatever the means used to prepare for coronavirus, Vietnam undoubtedly did well to cope with the disease. This did not, however, result in the level of approbation some other countries received.
New Zealand, for example, has been widely held up, with some justice, as a great success story in combating the pandemic. It, too, had moved swiftly to protect its people and Prime Minister Jacinda Ardern has been widely praised for the decisive action of her government.
On 2 February, when a man in the Philippines became the first person outside China to die from the disease, New Zealand began banning entry of any foreigners coming from or via China. New Zealanders returning from China had to isolate for 14 days.
By mid-March everyone, including citizens, had to go into self-isolation on arrival. Borders were closed to virtually to all non-citizens or residents a few days later. The infection rate began to fall. Twenty four days without new cases ended earlier this month when two women from the UK arrived with the disease. New Zealand, according to official figures had 1,557 cases with 22 deaths.
Both New Zealand and Vietnam have now lifted most restrictions except some on international travel. But while New Zealand's economy is expected to contract by as much as 20 per cent in the first half of the year, Vietnam has kept to its yearly growth target of being above five per cent.
Being relatively Covid-19 free in comparison to most other parts of the world, both countries expect to benefit from tourism. But while New Zealand's tourist sector is struggling as it waits for foreign visitors, that of Vietnam has rebounded thanks to internal holidaymakers.
July, along with Christmas, is high season for tourism in New Zealand. But scheduled flights are down 40 per cent compared to the same month last year and even many of them are being cancelled. In Vietnam, however, more than 26,000 flights, carrying 5 million people, are due to take place in July, an increase of 16 per cent and 24 per cent, respectively, from last year.
Other states, like Taiwan and South Korea, and also Iceland, have fared far better in controlling coronavirus than others. The common factor has been fast and comprehensive testing and setting up isolation regimes before the figures began to mount.
Some countries, of course, chose to take a different path. Boris Johnson's government did not go into lockdown until there were 6,500 cases of infections and 330 deaths.
Register for free to continue reading
Registration is a free and easy way to support our truly independent journalism
By registering, you will also enjoy limited access to Premium articles, exclusive newsletters, commenting, and virtual events with our leading journalists
Already have an account? sign in
Register for free to continue reading
Registration is a free and easy way to support our truly independent journalism
By registering, you will also enjoy limited access to Premium articles, exclusive newsletters, commenting, and virtual events with our leading journalists
Already have an account? sign in
Join our new commenting forum
Join thought-provoking conversations, follow other Independent readers and see their replies