It's the anniversary of one man's staggering failures – so why isn't today called 'Boris Johnson Day'?
It is almost impossible to imagine how any leader, certainly in British history, has ever failed his people so badly, through no greater reason than straightforward stupefying arrogance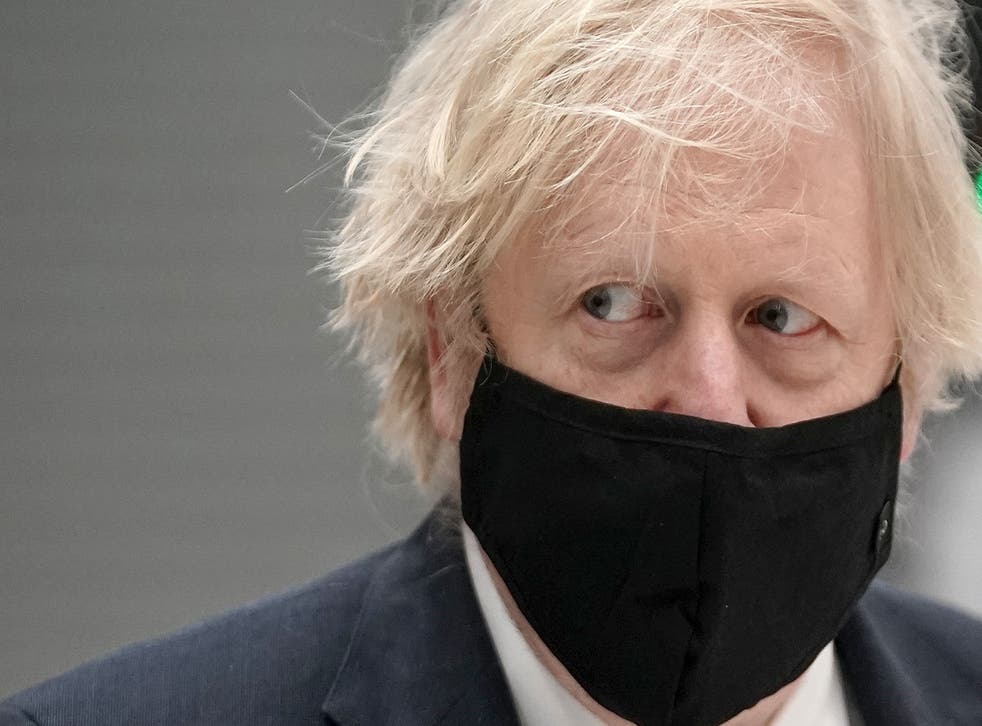 Apparently there's going to be a monument on Whitehall. Today's date – 23 March – may hereafter be known as Covid Memorial Day. It's a curious date to memorialise, given that it marks only the moment that Boris Johnson finally decided to take coronavirus seriously, by introducing a national lockdown far too late.
Why "Covid Memorial Day"? Why not "Boris Johnson Day"? At least that would make life easier for the historians of the future. Though today is a year since Boris Johnson finally relented and accepted there was a problem that required his attention, other anniversaries are available.
Everybody has their own date on which they decided to take coronavirus seriously (well, almost everybody. A number of Daily Telegraph columnists are yet to have theirs).
There's Rory Stewart Day. That was two weeks ago, a year to the day when the former Conservative MP made clear that the government was underestimating the impact the disease would have, and that it had to shut the schools and lock down the country right away.
Had the Conservative Party membership had other ideas, back in 2019, Covid Memorial Day could have been a lot earlier – the only downside, if you like, is how much less there would have been to memorialise. No no. Boris Johnson Day it is, and on this one occasion, it really will be world beating.
Read more:
Then there's Caprice Bourret Day. That would have been a week ago. The date of 16 March marked a year since the former FHM model was able to pick up a newspaper on live television, and suggest that maybe we should be doing what other countries around the world are doing, like Singapore and Taiwan. The wearing of face masks, quarantining passengers on arrival at airports, as well as a lockdown to prevent the spread of the disease.
She was mocked, of course. What did she know? She wasn't "an expert".
She was just some wally on the television, reading out the advice of the World Health Organisation that Boris Johnson knew better than, at least for another eleven days (though he would come to know better than them again, later in the year, and with even more deadly consequences).
Or you could have Mike Ryan Day. We mark Mike Ryan Day on 12 March. He's the head of the World Health Organisation's emergencies programme. "Act fast, have no regrets." That's what he said on 12 March.
That's when he couldn't have possibly made it any clearer that every single pandemic he'd ever dealt with, and there had been a fair few, the single biggest error that could possibly be made was delay. Act fast, and if you get it wrong, well it won't be as wrong as not acting. That was his message.
Or there's the next day. Next 13 March would be Costco Watford Bog Roll Man Day. His name is not known to history, though his photo went viral. He worked out fully 10 days before the prime minister that he'd be stuck indoors for quite a while to come, and that precautions would have to be taken.
You could even mark it as late as Stuart Ramsay Day. That would be 19 March, the day that Sky News's chief correspondent filed his awful despatches from a hospital in northern Italy, showing a health service that couldn't cope.
Sky News is a big organisation. It's not as big as the Foreign Office though. Not as big as the huge publicly funded web of embassies and consulates and diplomatic staff, all there to regularly report back to central government about what's going on where they are, and whether such information might be of use to the people making decisions back at home.
There are other Boris Johnson days, of course, peppered in among the other anniversaries. There'd be 3 February, when he gave a little speech promising that the UK wouldn't risk damaging its economy overreacting to "new diseases such as coronavirus". There'd be the day, about a month after then, when he is reported to have told his most senior staff that the "best thing to do would be to ignore it".
There'd be the day, a few days later, when he deliberately ignored the briefing he was given, and strode out to a press conference and made deliberately sure that he made expressly clear to an increasingly frightened nation that it would be an overreaction to stop shaking hands with people, which he'd spent the day doing in a coronavirus hospital.
Read more:
There are, in short, so very many ways it could have been different. That it came to be how it is for no greater reason than having the very worst man, in the very worst place at the very worst time, whose instincts were always to just ignore it, to hope it would go away, to not impose restrictions when they were so clearly and so urgently needed.
Perhaps a future Boris Johnson Day might be time to consider whether there's enough there to amount to actual criminal negligence.
It is almost impossible to imagine how any leader, certainly in British history, has ever failed his people so badly, through no greater reason than straightforward stupefying arrogance, manifested in an evidence-ignoring conviction that, with a bit of optimism, all this will just go away.
History always forgets pandemics. Hardly anyone knew very much about the Spanish flu, at least until now. For those that didn't live through them they're simply not that interesting. Nor are they, for the most part, for those who did.
In Only Fools and Horses, Uncle Albert was routinely mocked by Del and Rodney every time he tried to tell his tedious Second World War stories about such mind-numbing trivialities as being torpedoed by a submarine in the South Pacific.
The idea that future generations will be gripped by the details of the year that everyone stayed indoors for fear of catching or spreading a mainly moderate illness but which was deadly for the already infirm seems unlikely.
So yes, it will only really be us, on all the 23 March dates to come, who will stop at noon and angle our eyes toward the floor and ponder how it absolutely didn't have to be this way. It didn't have to be quite so bad. We didn't have to suffer quite so much as we did.
There'll be future years to stop in the street at noon and ponder on how different it might have been. How other, comparable countries around the world won't be left counting up the dead on anything like the scale we will.
Register for free to continue reading
Registration is a free and easy way to support our truly independent journalism
By registering, you will also enjoy limited access to Premium articles, exclusive newsletters, commenting, and virtual events with our leading journalists
Already have an account? sign in
Join our new commenting forum
Join thought-provoking conversations, follow other Independent readers and see their replies