I'm a 'Dreamer' and now under Donald Trump I face losing everything
I found out about DACA in the summer of 10th grade. I remember seeing it all over the news when President Obama announced it. I don't think I can describe the relief. My whole world changed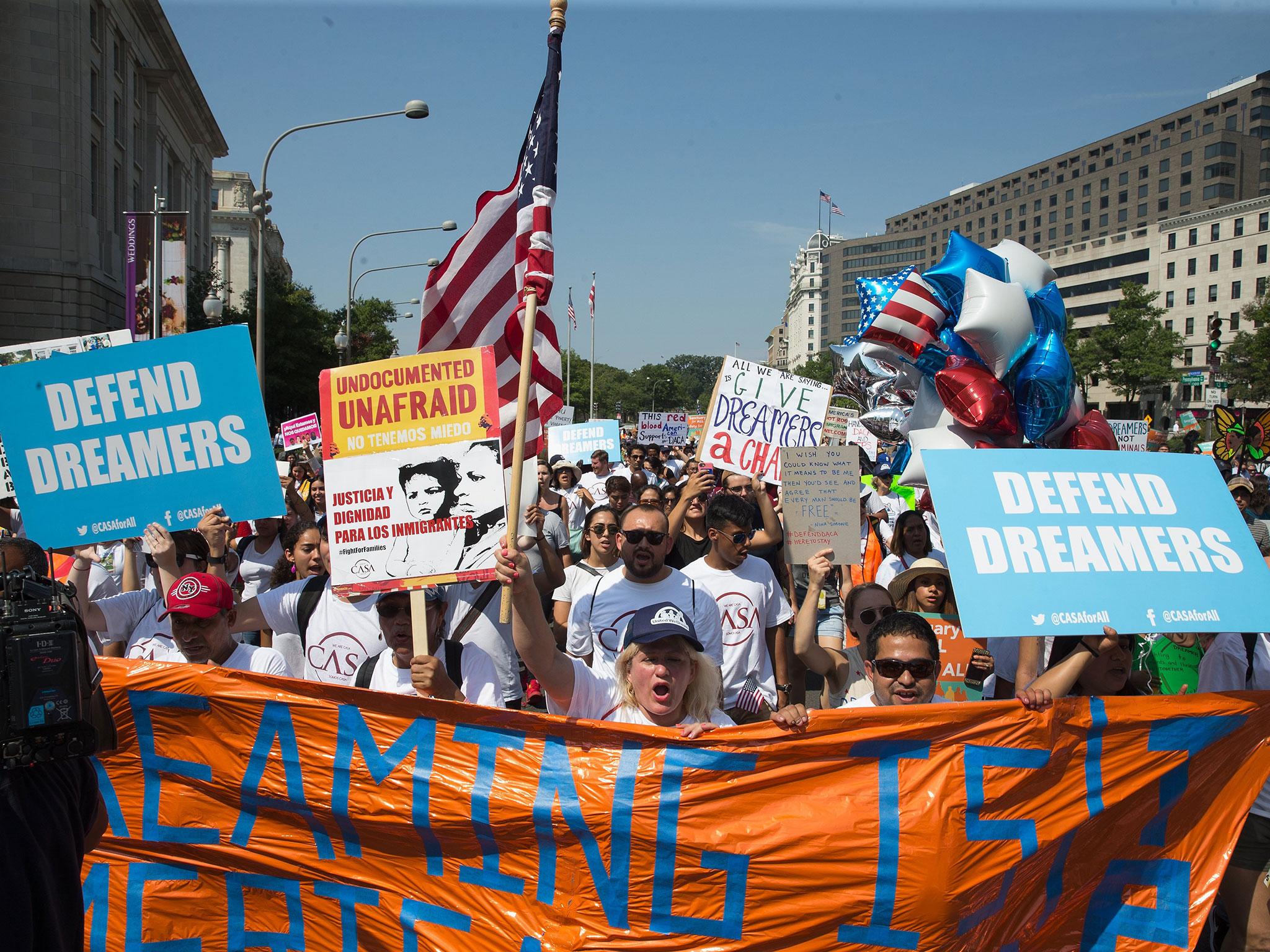 Donald Trump is about to fulfil a campaign promise. A campaign promise that will end any hope left to 800,000 young undocumented immigrants who came to this country as children.
It is expected that Trump will end Deferred Action for Childhood Arrivals, also known as Daca, with a six-month delay. As a Daca recipient, I can attest that this is one of the most effective government programmes in recent times. Daca has allowed me to come out of the shadows, to be able to go to school, buy my first car and have a stable full-time job. Almost one million young people like me will also lose everything they worked so hard to accomplish.
On 17 February 2001, at the age of five, I walked off a plane with my mother, father and older sister. As I found out later, we came on tourist visas that allowed us to stay for about a year. My parents ultimately made the toughest decision of their lives. They decided to overstay our visa in order for my sister and I to grow up in a country with countless opportunities.
World news in pictures
Show all 50
My sister and I grew up comfortable, privileged almost. We were what could be considered lower-middle class. But we also had no idea we were undocumented. I remember being sat down by our parents at the dinner table. I didn't know the consequences of what being undocumented entailed. I was just told not to tell anyone. It made me more cautious of law enforcement. Fear of being taken back to Colombia, my home country, was real, but not much changed in my daily life. Only at the end of my first year of high school did I feel the impact of being an undocumented immigrant.
I was in ninth grade the day I got picked up early from school. My sister was waiting at the gates, and when we got in the car she said: "They got taken." My parents were detained by Immigration and Customs Enforcement and deported not long after. I was confused, scared, and in complete emotional and psychological shock. I remember trying to remind myself that this was real, that I was not dreaming. Thanks to the wonders of the internet, I can still see my parents through Facetime and text them constantly. Luckily, I also had a place to stay. I've been able to live with my sister and her husband since then.
It's been six years since both of my parents were deported back to Colombia, and before Daca was introduced I was debating whether to go back too. But the US is all I know, all I remember. I felt it would be a mistake to go back, but after graduating from high school I knew college would be out of reach here. I would not have the resources that someone with legal status has. No financial aid, no in-state tuition. College was completely out of reach and I did not want to sacrifice my future. Until June of 2012 there was no hope for me.
I found out about Daca in the summer of 10th grade. I remember seeing it all over the news when President Obama announced it. I don't think I can describe the relief. My whole world changed. My mental health improved dramatically. I was no longer in a hole of anxiety, depression and helplessness. I felt like there was finally hope for me. For the first time my dreams would be achievable.
Eric Trump says his father ignores much criticism so he doesn't kill himself
For those who don't know, Daca allows me to get a work permit and stay in the US without fear of deportation. My Daca was approved and I immediately got to work. I was still in high school but I knew I needed to work hard to go to college because I would still be paying out of state tuition. I graduated from high school on 2 June 2014. On 1 July 2014, Florida state legislature passed a bill allowing any graduates from Florida high schools to receive in-state tuition. Thanks to immigration advocates in my state, Governor Rick Scott, a Republican, signed the bill.
Today, I remain undocumented. But thanks to Daca I have been able to find a stable full-time job, finish my associate's degree and start working towards my bachelors. And I know I'm not the only one. Dreamers in my community and social circle are now prosperous and finally able to do what they want to do without fear of being deported to a country that they did not grow up in.
We are only moments away until Donald Trump announces the fate of Daca. Ending this programme will affect every part of my life. I will be put back into that hole of anxiety and fear that Daca allowed me to come out of. I will lose my job, my ability to finish college, my driver's licence, and will be subject to deportation. I am not alone either. Almost one million young immigrants like myself will be affected in the same way and possibly even worse.
We will fight for our livelihoods every day until we are treated like the Americans that we are. We are here to stay.
Join our commenting forum
Join thought-provoking conversations, follow other Independent readers and see their replies