Like Otto Warmbier, I was detained in North Korea for unwittingly smuggling 'propaganda'
After nearly an hour in an ice-cold interrogation room onboard the Beijing-Pyongyang sleeper train, my inflammatory material was seized and I was sent back to my carriage. The outcome could have been quite different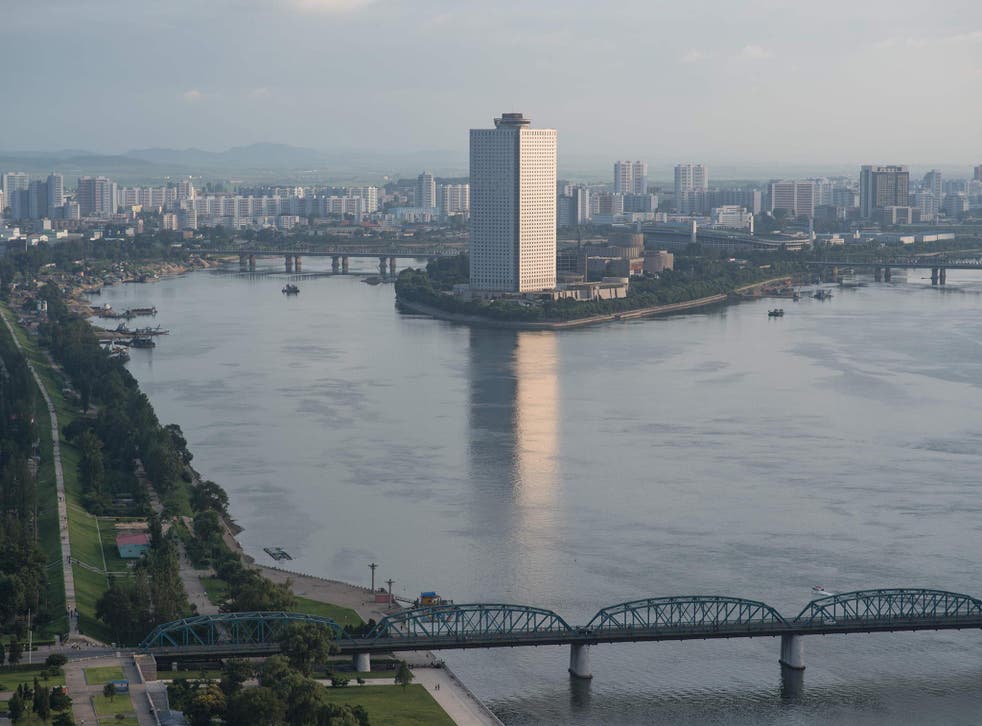 An element of danger to travel often heightens its appeal. There are those who seek their thrills from climbing mountains or running marathons through deserts. I chose a different type of adventure holiday – one to North Korea.
With the promise of "budget travel to destinations your mother would rather you stayed away from", Young Pioneer Tours seemed like the perfect choice. It combined a visit to somewhere intriguing with an irreverent sense of fun. Some years later they arranged a similar trip where American student Otto Warmbier was arrested for trying to steal a propaganda poster. His 17 months' imprisonment and tragic death has cast a chilling light on my naïve quest for excitement.
Like Warmbier, I was detained by border guards. I had unwittingly tried to smuggle in a piece of anti-North Korean propaganda and found myself entirely out of my depth. I feel so fortunate to have escaped his fate.
In pictures: North Korea marks the Day of the Sun

Show all 16
A friend and I, both British girls in our twenties, boarded the Beijing – Pyongyang sleeper train with nervous anticipation. Wanting a gentler insight than the alcohol-fuelled group tours YPT specialise in, they organised an independent trip for us and this meant travelling in unaccompanied. We had very little idea of what to expect and were astonished at every turn.
At one point, as I was lying on my train bunk, a North Korean man sat down next to me and gently stroked my blonde hair. He seemed as startled as me when I opened my eyes. We were entering a secretive land where very few visitors come and very few locals get to leave.
Uniformed guards swept through our train at the border town of Sinuiju. Telephones were confiscated and bound up with tape as we entered an internet-free vacuum; our passports were taken. We had surrendered our communications and our rights. Around us, bribes exchanged hands. Every item we had was searched and documented.
The inspection was almost over when a guard noticed a pocket on my suitcase. Within, forgotten by me, was a copy of a Beijing magazine. The guard slowly flicked through, searching for forbidden political or religious material. I watched on with disbelieving horror as he landed on a feature mocking the nationalist propaganda and iconic status given to North Korea's totalitarian leaders.
The mood quickly changed and nine heavily armed guards marched me to an icy integration room aboard the train. A fool in a minidress, I stood quaking with terror as they debated my fate in Korean. Occasionally someone would slap me on the arm or physically move me about. No one spoke enough English for me to reason with or make an explanation to. No one seemed to know what to do with me. After nearly an hour, my inflammatory material was seized and I was sent back to my carriage. The outcome could have been quite different.
Otto Warmbier death: Trump condemns 'brutal' North Korea
After such a start you would think fear would outweigh all other emotions on our trip. However, the magic caught us and we became captivated by the country behind the politics. North Korea is incredibly beautiful, the mountains patchworked in rich autumn colours during our visit. The air was clean and dense with mist each morning as industrialisation hasn't yet happened. The agriculture is collective and fields teem with workers digging and scything by hand.
The capital, Pyongyang, has the widest streets I have ever seen – yet there was barely a car in sight. At night, looking out of our hotel window (the same hotel where Warmbier allegedly stole the poster) you could not see a single light anywhere in the city.
There is no private enterprise or ownership so no adverts, no shop signs. Soldiers were everywhere. Men rode on bicycles, ladies had to walk wearing woollen skirt suits, red lipstick and hair curled in a 1940s style. Everyone had a pin on their chest with the beaming face of the Kim Il-sung, the "everlasting President" (dead since 1994).
Indeed Kim Il Sung and Kim Jong Il's faces were at every turn. Buildings, monuments, propaganda posters. Songs, dances and conversations were peppered with their communist message.
The small number of tourists admitted into the Democratic People's Republic of Korea each year come strictly on its government's terms. Once our train arrived, two local guides shadowed our every move and controlled exactly what we saw and when. The smallest deviation from a strictly planned itinerary was not allowed.
Unswervingly patriotic, our guides wanted to present to us a proud, defiant and united nation whose only problems lie with interference from outsiders. The propaganda started to work on us, even though we knew that behind the façade lay a harrowing reality.
We ate pine mushrooms with sweet soy sauce, fern tendrils slicked with sour chilli paste, fermented greens foraged from the mountains. We saw wedding parties, brides posing for photographs in billowing candy pink dresses. We sang karaoke, carefully selected Western songs interspersed with patriotic anthems. The people we met were charming, as intrigued by us and we were by them.
I feel truly privileged to have had a glimpse of this extraordinary world and my days in North Korea are some of the most memorable of my life. It was like travelling in time as well as place. However, I was not there for some noble reason. I was dicing with my safety for nothing more than a travel thrill and an attempt to see a mysterious culture for myself. I am not sure now that I could recommend that. Is danger tourism really a risk worth taking?
Eleanor Ford is a travel and food writer
Join our new commenting forum
Join thought-provoking conversations, follow other Independent readers and see their replies