Dilma Rousseff's impeachment was led by the white, wealthy men who now make up the Brazilian cabinet
Brazil is among the most diverse countries on earth. Not since the last dictatorship has a Brazilian government been so unrepresentative of its people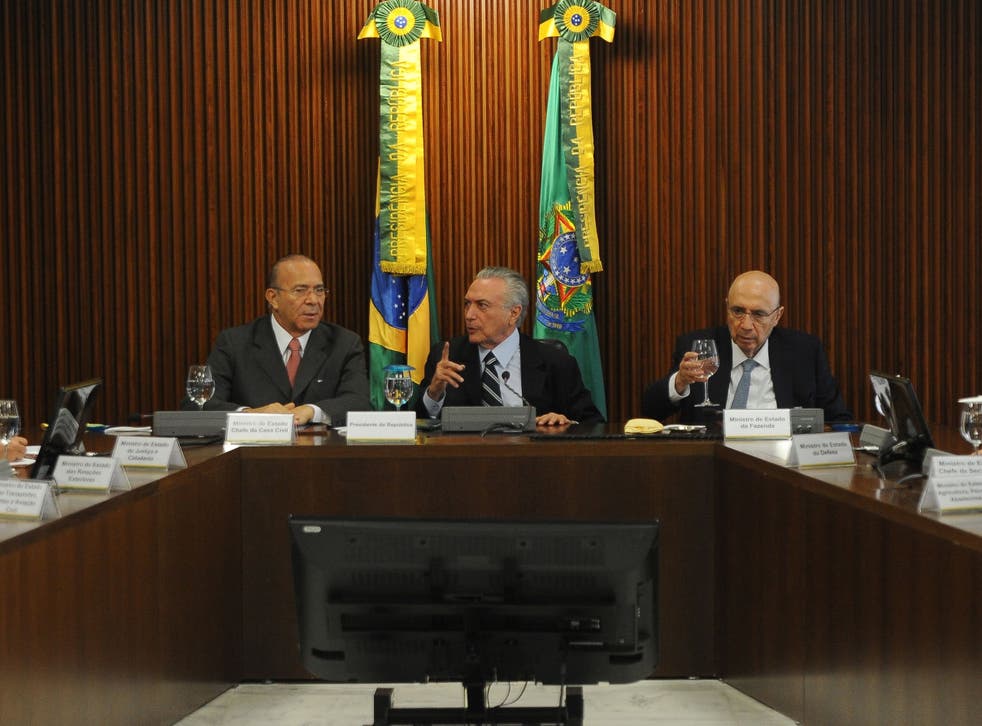 When Brazil re-elected President Dilma Rousseff in 2014, I challenged the idea – shared by the Economist magazine, among others – that had the elections been determined by GDP (that is, by economic wealth) and not by universal suffrage, Rousseff would have never been re-elected. What seemed like a harmless remark back in 2014 turned into a nightmarish reality, as the president was forced out of office earlier this week.
Let's start calling things by their name: what's happening in Brazil today is a coup d'etat. A coup sponsored by both internal and external forces; forces that have many times before done away with democratically elected governments in Latin America, to satisfy the needs of neoliberal capitalism. Just for a quick check, remember the coups orchestrated in Venezuela in 2002, Haiti in 2004, and Honduras in 2009, under the uninterested eyes of the international community.
What we are seeing now is an impeachment process that was well in the making from the moment the validity of one of the largest democratic elections in the history of the world was questioned.
White, privileged, wealthy, male Brazilians have led the impeachment charges; those same white, privileged, wealthy, male Brazilians that used to have suffrage all for themselves – before power was wrested from their often-bloody hands by former slaves, indigenous populations, women, and LGTB groups.
If you have any doubt, take a look at the photographs of every anti-Rousseff demonstration in the past few months. These street demonstrators did not hesitate in openly calling for a military intervention, and went as far as asking America's Donald Trump for help.
This sort of unruly conduct was not limited to the streets. White rich men, in politics and the media, have been stoking the fires for almost as long as long as President Rousseff was in office. If there was any doubt about what sort of people the campaigners are, the impeachment vote in the Brazillian parliament a few weeks ago, featured congressman Jair Bolsonaro, who dedicated his anti-democratic vote to a former Military Junta leader and to a known torturer.
Rousseff's supposed 'crime' is to have used some state-controlled banks to fund a series of social projects for the most needy in Brazilian society – projects that had been affected by the world financial crisis from 2008 onwards. In other words, as far as we know, she hasn't moved a single real from the state's coffers into her own pockets, unlike many of her accusers.
Five of the best Brazilian writers, past and present

Show all 5
To have an idea of how unreasonable the charges are, imagine a UK in which the British people would take to the streets to demonstrate against David Cameron and George Osborne for having deviated funds from military or trade budgets to pay for social housing or boost teachers' salaries.
Unlike President Rousseff, many of those who have attempted to impeach her or replace her in this new corporate and corrupt government are being investigated for charges including conspiracy, money-laundering, forging documents and misappropriating public funds.
These include new acting president Michel Temer, who has appointed a new cabinet of wealthy, privileged, white, male politicians like himself.
Brazil, remember, is among the most diverse countries on the face of earth. Not since the last dictatorship has a cabinet been so unrepresentative of the Brazilian people.
Though it has not been widely reported outside Brazil, anti-coup demonstrations are still going on (just follow the hashtag #NaoVaiTerGolpe) and the future of this most wonderful and distinct country still hangs in the balance.
Once again, the spectre of an unequal, undemocratic Brazil has been awakened. Hopefully this time ordinary Brazilians – white, black, Asian, indigenous, men and women, gay and straight – will find the strength put it to sleep for good.
Manuel Barcia is Professor of Latin American History at the University of Leeds
Join our new commenting forum
Join thought-provoking conversations, follow other Independent readers and see their replies