Dolce & Gabbana's luxury hijab collection speaks to financial markets, not Muslim women
As a female Muslim designer I know that our clothes should be made with our emotions, not our purses in mind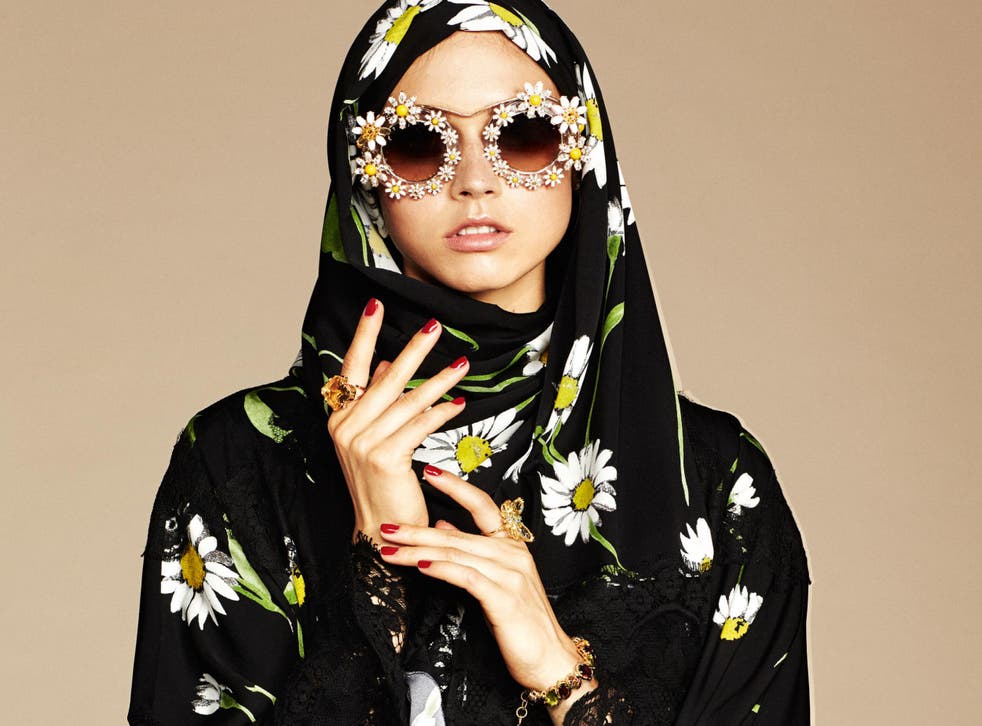 Dolce & Gabbana have launched a collection of hijabs and abayas for Middle Eastern women. I know that these designs will sell, and the merchandisers and marketers in charge know that too. The Arab regions in which this line will be sold are as well known for their love of designer labels, as their penchant for intricate prints and embellishment. D&G have done their homework, they know what works and how to shape their brand aesthetic within a different cultural framework.
There is a race happening within the mainstream fashion industry. Eyes have been opened to a vast and relatively untapped market, which today is a rare thing indeed. In the Middle East, where the luxury market reached $8.7 billion last year, it can be assumed that catering to the almost exclusively Muslim population is a safe bet.
But in all the clamouring to give Muslim women what they want, the process of design seems to be an afterthought. There is no talk of who designed the D&G collection, in the same way that there was no talk of who was responsible for the DKNY, Mango, or Zara Ramadan collections. In a sense the 'who' doesn't matter. Men design some of the most beautiful womenswear and always have done. What matters is a second-nature understanding of who you are designing for, not as a demographic, but on a human level. Do they know that I, as a Muslim woman, want to feel beautiful and strong? Do they know the discomfort I feel in constantly readjusting my neckline because a gap keeps appearing between my hijab and my blouse?
As a designer when I create clothing it is an exploration of an idea not a market. As soon as I was old enough to commandeer a pair of scissors I made clothes. It was the way I knew how to translate and share feeling. I grew up as an atheist and later converted to Islam. When I became Muslim at eighteen I still made clothes, but it was as if I suddenly switched from writing prose to writing poetry. There was a different structure, and it required a different approach, but somehow the boundaries made it more interesting to me.
For Muslim women clothing can be a means of self-expression. In the Western world, where the hijab is so readily interpreted as a symbol of oppression, there are women who are unwilling to perpetuate that idea. Every day that a woman chooses to wear a hijab her enactment of that choice is in itself liberation. The difference now is that these women are less often adopting the cultural clothing of their parent's generation. And in the case of those who convert to Islam there may not be a specific Muslim cultural heritage to draw from. Instead they are using their clothes to reflect their own experiences, and to define beauty in their own terms.
I will always be happy to see alternate ideas of beauty in fashion. The youthful and highly sexualised aesthetic that has been the mainstay of the industry needs an opposing voice, not to shout it down, but to give it balance. Through my collaboration with Uniqlo I have been given an opportunity to be heard, unfiltered, is a wonderful thing. My hope for this small choir of other voices is that we'll not be drowned out by the sound of cash registers ringing.
Hana Tajima is a designer and visual artist. Here website can we found here.
Register for free to continue reading
Registration is a free and easy way to support our truly independent journalism
By registering, you will also enjoy limited access to Premium articles, exclusive newsletters, commenting, and virtual events with our leading journalists
Already have an account? sign in
Join our new commenting forum
Join thought-provoking conversations, follow other Independent readers and see their replies