We have slipped into a parallel universe – and we're one step closer to the inauguration of President Trump
In the last 10 days, the credibility dam has burst. Wales are European semi-finalists, Novak Djokovic fell at Wimbledon and Hillary Clinton is being interviewed by the FBI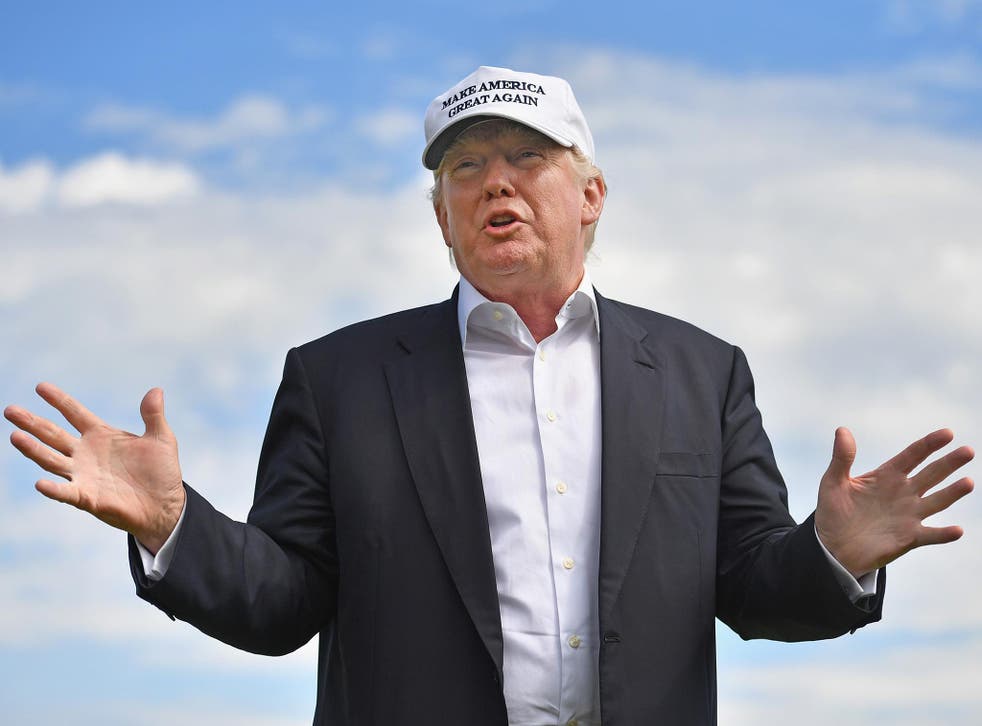 Have we just edged a few inches closer to President Donald J Trump? I hate to ask this when things may already feel scary enough, even to those with a cultivated taste for dystopian horror. But ask it I must in light of Hillary Clinton's three-and-a-half-hour FBI interview over the frankly bemusing matter of her use of a private email server when Secretary of State.
Not very long ago, the notion of Trump and That Thing On His Head assuming joint leadership of the free world was inconceivable. That was then. It has since become unavoidably clear that this foolish little planet has slipped into a parallel universe.
This sort of caper happens in Doctor Who every now and again. A fluctuation in the space-time vortex drags the Tardis through the Void into an alternate reality. At first, all looks identical. Then the Timelord glances up to see massive Zeppelins floating across the sky, and meets Winston Churchill as a romper-suited Roman Emperor.
Here – wherever in sanity's name here might be – the evidence that we have drifted into a different timeline has piled up at startling pace.
Donald Trump pleased at Brexit
When Jeremy Corbyn became Labour leader in September, Leicester City were embarking on their preposterous journey from pre-season relegation favourites to May's champions. In the last 10 days, the credibility dam has been burst by a trifecta of outlandish events. Lest Brexit and Wales left any doubt, Novak Djokovic fell at Wimbledon to the kind of journeyman who, in that other universe, the invincibly robotic Serborg always dismantled in three exceedingly straight sets.
All that's needed to put the sour cherry on this parallel universe cake is a November triumph for Trump. Although the odds remain firmly against him (Betfair gives him a 22 per cent chance), you must have noticed that the age of faith in betting markets as a useful expression of the wisdom of crowds has passed.
Leicester were famously 5,000-1. When the referendum polls closed, Brexit had one chance in 10. Djokovic was 1-66 to beat Sam Querrey. In this context, the 7-2 against Trump has not been reassuring for while; it is even less so after Hillary's pow-wow with the Feds.
No one can fully explain why Hillary's use of a private server for her emails was wicked. Technically, the pivotal point of this latest Clintonian "scandal" is whether or not any emails exchanged were classified. None was marked as such when received, but some were designated as secret, even top secret, retroactively.
If Hillary was guilty of anything, it was paranoia. She appears to have installed that private server in the basement of her New York home fearing that sensitive information would be leaked by government employees and used against her.
If so, she was naive, but not crooked. Although Russia and other foreign powers tried to intercept her emails, no harm was done to her country. The literal truth seems to be that this was a minor misjudgement without consequences, no disqualifier to her presidential ambitions.
Yet the objective truth is a viciously devalued currency. Today's 24-carat coinage is, as Brexit reminded us, the psychological truth.
It matters not if something is as claimed. What counts is whether that claim feeds and cements an existing public perception. And how could this one not do that when a spokesman insists Hillary met the FBI "voluntarily" – the formulation used whenever the head of a mafia family is interviewed by the Feds; the equivalent of "although entirely legal" in a tax evasion report.
With the secret server story firming up the suspicion that she is dodgy, the Hillary Can't Be Trusted meme received an injection of adrenaline from Bill Clinton. The Big Dog dropped a massive turd in the missus' White House path by carving out some quality time, when they met by chance at an airport, with one Loretta Lynch.
If her name suggests a buxom, perpetually broken-hearted Nashville singer, Lynch is in fact the US Attorney-General. For Bill to talk privately with the highest law officer in the US when his wife is in under investigation was, as he admits, a terrible mistake. It does worse than reinforce concerns about their corruptness. It speaks to their arrogant belief that they are exempt from the conventions that bind the little people.
Brexit protest: Thousands march in London

Show all 12
Bill Clinton and Lynch insist it was a cosy chat about grandchildren. So it probably was. But even if that could be proved, the literal truth ain't worth diddly.
All the value here is in the opening for America's right wing media and political class to create a feeding frenzy vortex among Clinton haters which could suck in mere Clinton doubters. Those reluctantly prepared to give her the benefit of the doubt, figuring that this period of history screams for a competent and battle-hardened leader, may think again. They might decide to roll the dice, as Britain did on 23 June, and say to hell with the status quo whatever the risks.
They might think that Trump is an unstable narcissist capable of invading Andorra because someone over-boiled his breakfast egg, but feel that, after more than two decades of Clinton psychodrama, anything is preferable to four more years of the same.
In this parallel universe, nothing makes sense. Here, where nonsense is king, it starts to feel inevitable that in November Donald Trump will relegate Corbyn, Leicester, Brexit, Wales and Querrey to footnotes in the Journal of Impossible Things.
Planet Earth has four months to find a way home through the Void. If you see Peter Capaldi, I'm begging you, tell him to get to work.
Register for free to continue reading
Registration is a free and easy way to support our truly independent journalism
By registering, you will also enjoy limited access to Premium articles, exclusive newsletters, commenting, and virtual events with our leading journalists
Already have an account? sign in
Register for free to continue reading
Registration is a free and easy way to support our truly independent journalism
By registering, you will also enjoy limited access to Premium articles, exclusive newsletters, commenting, and virtual events with our leading journalists
Already have an account? sign in
Join our new commenting forum
Join thought-provoking conversations, follow other Independent readers and see their replies