Trump's frightening first week is not the result of his inexperience, it's an expression of his racist bigotry
The Prime Minister's approach to international affairs is becoming increasingly clear: she wants to cosy up to the US, sell arms to despotic regimes, and cast us away from Europe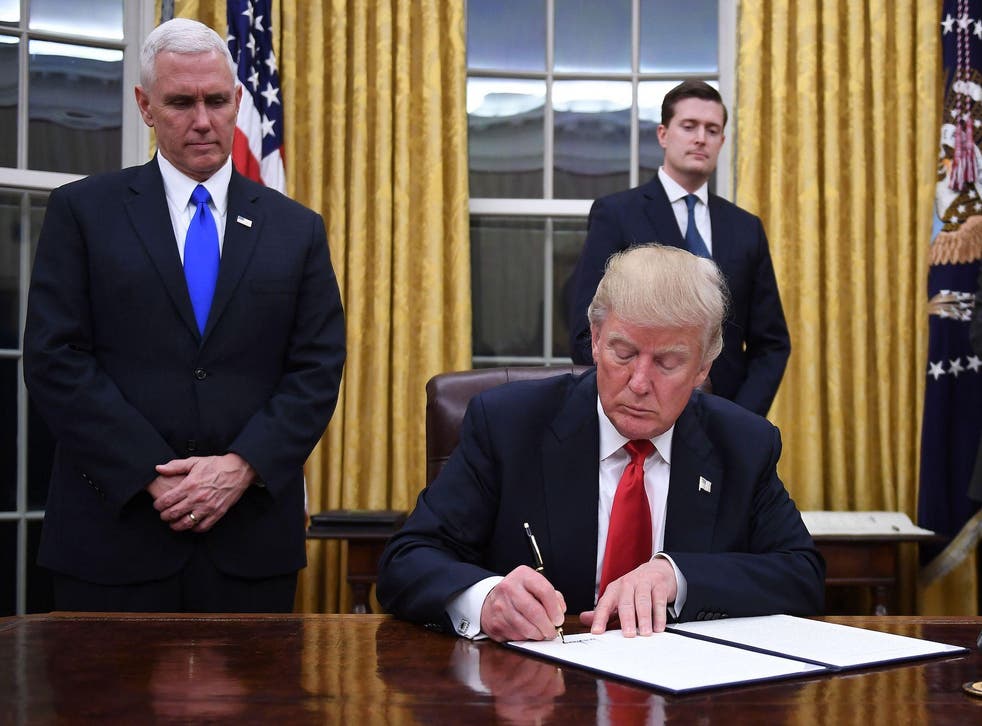 Yesterday afternoon, just before the Government made a statement in the House of Commons about Donald Trump's barbaric travel ban, I was asked onto the BBC News channel to talk about why I believe a state visit to be wholly inappropriate. The final question I was asked was a bit of a surprise: "Aren't these the actions of someone who doesn't have yet the experience, who's learning very fast in a new job?"
Caroline Lucas: Trump is a 'racist bigot'
Now, I don't know about you, but I don't think a lack of experience is an excuse for banning the citizens of seven countries from travelling to the US or closing the door to people in desperate need. And I don't know many people who have defined their first few days in a new job with outward displays of prejudice. So my answer to the BBC was simple: "No, these are the actions of a racist bigot and we have to stand up to bullies and that is what the UK should be doing."
We've been holding back on speaking the truth for too long, but looking the other way is no longer an option. Boris Johnson was quick to say in Parliament that when the Government has differences with the US they "will not quail from expressing them". Leaving aside for a moment that I thought a quail was a small bird, it's worth remembering that this was a statement from a minister whose Government took a stunning 38 hours to publicly condemn Trump's executive order. The Prime Minister was asked about it directly three times on Saturday, but refused to answer. With reports emerging that she knew a refugee ban was being announced, May's silence is utterly inexcusable.
It is, of course, true that we should aim to have a positive relationship with the US. But no relationship should be based on such a desperate desire from one party for friendship that complicity with the immoral actions of the other are overlooked.
The Prime Minister's approach to international affairs is becoming increasingly clear: she wants to cosy up to the US, sell arms to despotic regimes, and cast us away from Europe. I can't help but wonder what the cost of such new relationships will be. Do we have to be silent in the face of oppression to keep our place in the queue for trade deals? That's not the Britain I believe in.
Instead, we should be taking this moment to re-evaluate our place in the world. The EU referendum result changed everything, and if we're not careful that could mean Britain drifting towards Trump both politically and economically. That's why yesterday's inspiring protests must be the beginning, not the end, of a movement which has a shared sense of decency at its heart. More than a million signatures on a petition, town centres filled with protesters and a genuinely united opposition are a good start – but they are only that.
Donald Trump sacks acting attorney general over immigration ban
In the coming weeks my party will be joining forces with allies to make clear that the result of the EU referendum does not give our Government a mandate to embark on a race to the bottom on ethics and economics. We will stand against trade deals that damage our environment and public services, we will continue to campaign for Britain to be a world leader in welcoming refugees and we'll scrutinise our Government's relationship with tyrannical leaders – whether that's Trump or King Salman of Saudi Arabia. And if we're asked for our views on the policies of world leaders, we won't be afraid to give them.
Britain is a bigger and a better country than the last weekend of shame from our Government suggests. We'll no doubt be hearing from President Trump on an alarmingly regular basis – our response to his bigotry will define our nation in the world's eyes and it's down to all of us to make sure the Prime Minister doesn't let us down again.
Caroline Lucas is co-leader of the Green Party
Register for free to continue reading
Registration is a free and easy way to support our truly independent journalism
By registering, you will also enjoy limited access to Premium articles, exclusive newsletters, commenting, and virtual events with our leading journalists
Already have an account? sign in
Register for free to continue reading
Registration is a free and easy way to support our truly independent journalism
By registering, you will also enjoy limited access to Premium articles, exclusive newsletters, commenting, and virtual events with our leading journalists
Already have an account? sign in
Join our new commenting forum
Join thought-provoking conversations, follow other Independent readers and see their replies