Trump shouldn't treat Australia as the enemy – they face exactly the same problem as the US
Australia also has its own problems with radical Islamists who frequent mosques in the poorer inner city areas and who have committed some appalling acts of brutality on innocent citizens. To treat Australia as an enemy rather that a country which has a lot of the same problems as you do seems rather short-sighted to say the least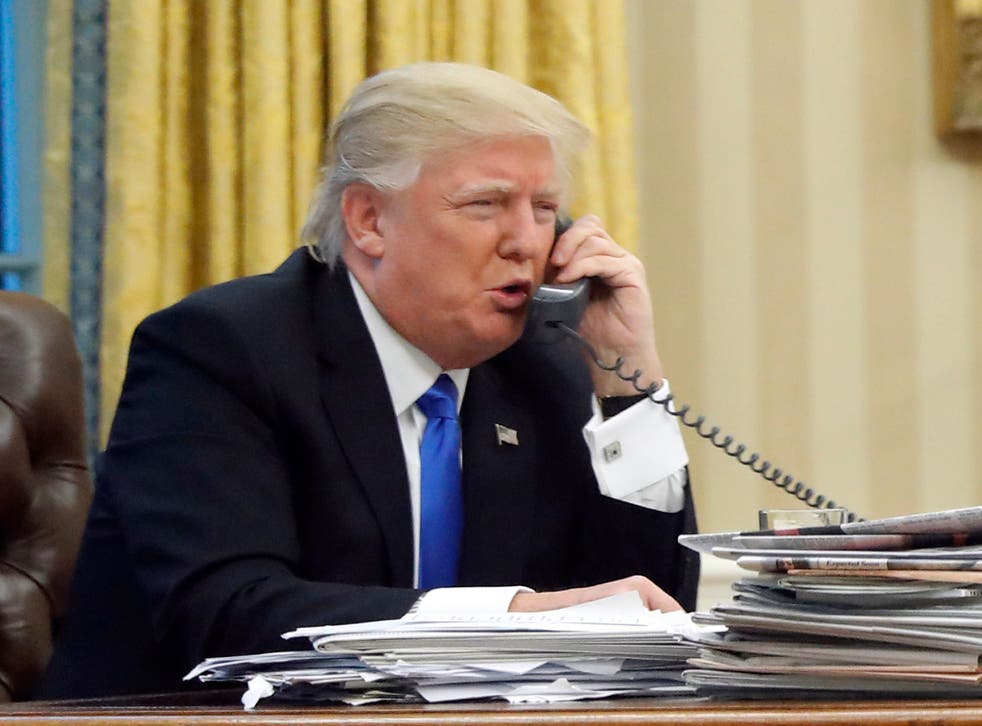 Donald Trump is finding it "tough" to talk on the telephone when he can't get his own way. Twitter is a preferable medium for the President – he can simply post an inflammatory statement and then move on, ignoring the inevitable tsunami of comment. Free speech in Trump world is one way, conducted in very short simple sentences – basically a series of placards – telling us ordinary folk he's "getting important stuff done".
I'm all in favour of plain speaking – I've made a decent television career out of exactly that, but I am no politician, or someone who can decide who can travel to my country and expect a welcome or a wall topped with razor wire. I've just spent seven weeks in Australia, a country I know well, having worked there and visited regularly over the past 25 years. You couldn't accuse Aussies of ever mincing their words, but Prime Minister Malcolm Turnbull met his match when he took a phone call from tough-talking Trump.
The President, far from being thrilled that a key partner in the so-called "war" against radical Islam and a key strategic ally for the US in the South Pacific was offering congratulations, took umbrage when told that he would have to honour an agreement brokered by past President Obama to offer a home to just 1,250 refugees currently languishing in appalling conditions on remote Pacific Islands. These refugees (from South East Asia, Iran and Iraq) would have been vetted before being allowed to enter the US, but that was one Muslim too many for Trump, who abruptly terminated the call – which was meant to last an hour – after just 25 minutes.
The controversial orders Donald Trump has already issued

Show all 9
To compound matters, Trump then bragged about his lack of courtesy on Twitter, saying "can you believe it? I will study this dumb deal". He even called it the "worst" call of his day and promised to flex his muscle. Being "tough" in diplomatic terms does not always get the result you want.
Now, bully-boy Trump has had to send two of his key henchmen to butter up the Australian ambassador to Washington, who has been inundated with expressions of support from powerful US senators, including John McCain and Paul Ryan. Ironically, Australia is no push-over for refugees seeking asylum, or even those seeking to emigrate who do not possess the requisite skills.
Theresa May is a fan of the Aussie points system and is keen to adopt a similar scheme post-Brexit. Australia also has its own problems with radical Islamists who frequent mosques in the poorer inner city areas and who have committed some appalling acts of brutality on innocent citizens. To treat Australia as an enemy rather that a country which has a lot of the same problems as you do seems rather short-sighted to say the least.
Donald Trump has a barney with Arnie
As for Trump's travel ban, that is being watered down every single day – it was the ultimate in gesture politics. Every highly developed country in the world needs workers with specialised skills. From surgeons to software engineers and programmers. In the UK for example, we need agricultural workers and hotel and hospitality staff, nurses and doctors. This week, the key players in the US technology industry – Apple, Alphabet, Facebook and Uber – wrote to President Trump saying his new curbs on immigration will have a disastrous effect, and they need to recruit the best people from all over the world, no matter what their faith or their birthplace. Other business leaders have echoed these sentiments.
In Britain, the Brexit vote revealed that a substantial number of voters fear that immigration is bad for Britain, when key industries (and the NHS) could not function without foreign workers. Ironically, patriotic Brits rely on others to welcome us, should we decide to leave the UK and make our homes elsewhere. We lead the developed world in one area – emigration.
Figures issued by the UN last week show that more British citizens choose to live abroad than any other Western country. Almost five million people had migrated overseas by the end of 2015 – the most popular destinations being the US, Canada, Australia, New Zealand and Bangladesh. That's far more Brits living overseas than Poles living here, by the way, although their figure of 4.4 million emigrants is about 11 per cent of the population. See immigration in this context, and Trump's travel ban appears a jackbooted attempt to pull up the drawbridge, the knee jerk politics of retreat in an age of global movement.
Register for free to continue reading
Registration is a free and easy way to support our truly independent journalism
By registering, you will also enjoy limited access to Premium articles, exclusive newsletters, commenting, and virtual events with our leading journalists
Already have an account? sign in
Join our new commenting forum
Join thought-provoking conversations, follow other Independent readers and see their replies