Donald Trump is approaching peace between Israelis and Palestinians like a business deal – and it isn't working
His brash language is toned down, and the rictus grin of the shiny reality TV star replaced with a sort of cock-eyed mask of sympathy. But the tactics he's using are the same, and they're not getting results in the Middle East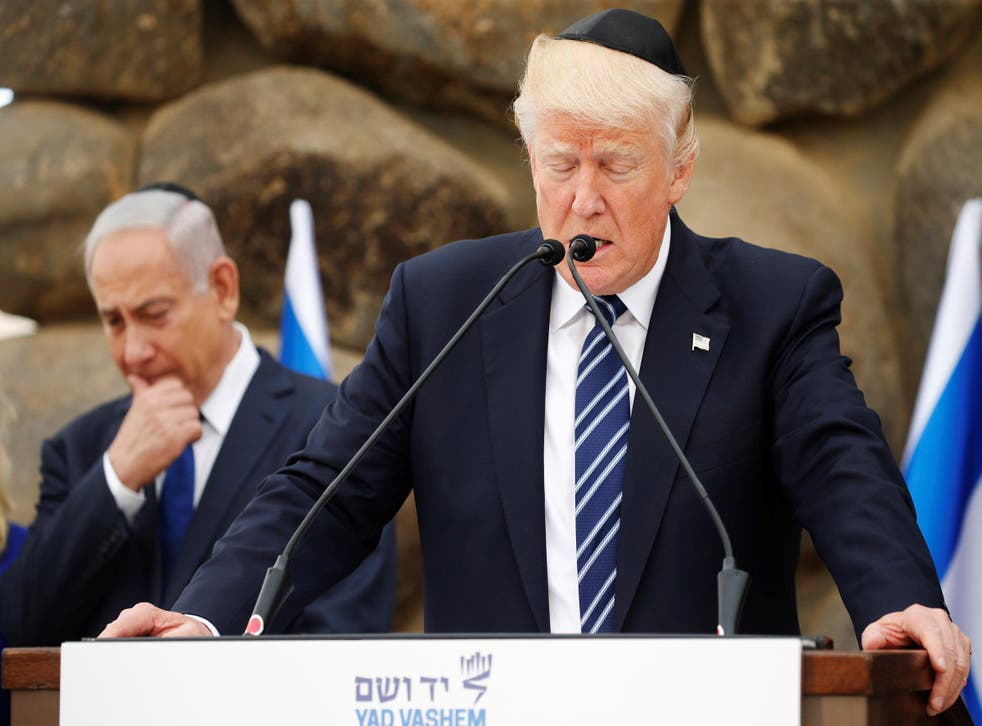 Donald Trump is a man used to getting his own way. A wealthy upbringing, family connections and an expensive education led to his first job (if you can call it that) as a major US real estate magnate, a position he held immediately after graduating from Wharton College. And from that point, Donald Trump took what he wanted wherever he found it.
He created casinos and luxury resorts for his own entertainment. He bought the rights to the Miss USA and Miss Universe beauty contests – competitively beautiful women on tap! In the early 2000s, with the birth of reality TV, he saw yet another chance for personal glory and launched his own nominally business-focused show.
Trump gets, Trump takes, and when he's done, Trump disposes. He's perhaps most famous for literally hiring and firing at will in his reality TV show The Apprentice, a media format which allowed him to play at business the way he really wanted, with none of the (albeit meagre) restrictions placed on him by US employment legislation.
Such bully boy tactics have taken him a long way; they walked him right into the White House, despite the long odds on such an eventuality as little as two years ago. He continued in the same vein in office, sacking FBI boss James Comey just weeks after he reportedly refused to follow orders and drop his investigation into the Trump campaign's links and with Russia.
Trump: Israelis and Palestinians are 'reaching for peace'
He's the sort of leader, in business and in politics, who thinks that when a man (always a man) knows what he wants – be it a job, a woman, or greater wealth – he can get it. And if he fails, he's either a wimp or an imbecile.
This aggressive ideology of self-determinism flourishes in America particularly because it props up the myth of the American dream. Trump appears to be self-fulfilling evidence of the claim that any American born and bred could become President. But there are limits to what it can achieve. Trump is about to learn that lesson in the Middle East.
The US President describes his approach to with Israeli and Palestinian leaders as "one of the toughest deals of all". That rather underestimates the magnitude of the challenge, and the significance of his nation's role in the delicate balance of power between the two. And diplomacy responds rather differently to his steamroller approach than it does in business.
There's little sign Trump is taking heed of that. Inevitably, his brash language is toned down, and the rictus grin of the shiny reality TV star replaced with a sort of cock-eyed mask of sympathy. But the tactics he's using are the same: yesterday he repeated the word "peace" like some sort of mantra. Today, following his own lead, he told the press after his meeting with Mahmoud Abbas that, "If Israelis and the Palestinians can make peace, it will begin a process of peace throughout the Middle East."
Further detail on what that process might entail, or even how it would begin again, given that peace talks in the region have been abandoned since 2014, was not forthcoming. Abbas was clearer. He is "committed to working with [Trump] to reach a historic peace deal between [Palestine] and Israel," he said, adding that the "main problem is with the occupation and settlements." Trump failed to mention settlement building once during his meeting yesterday with Netanyahu.
Donald Trump emphasises the need to 'obliterate' terrorism in Bethlehem speech
In fact, there is much he has failed to mention in the last two days: a two-state solution, the protests and strikes in Palestinian territories to mark his arrival, his earlier promise to recognise Jerusalem as the Israeli capital. The list of specifics is endless, but Trump is not a man for detail. What he wants, as he has repeatedly said, is "peace"; this time, however, he cannot simply demand it into existence.
Trump might want to learn the lessons of his Israeli trip pretty quickly, because when he returns home he'll need to heed them fast. His controversial budget proposals (including cuts to Medicaid for millions of Americans, which he promised would not occur during his election campaign) will have a tough time getting through Congress. That's twice this month he won't get his own way. How long until Donald Trump accepts that there will always be limits to government by force of will?
Join our new commenting forum
Join thought-provoking conversations, follow other Independent readers and see their replies