With his latest unpredictable move, Trump has switched from 'America first' to 'world first' – it's a worrying change
Britain might now think it can be a bridge between America and Europe, but in reality that can never happen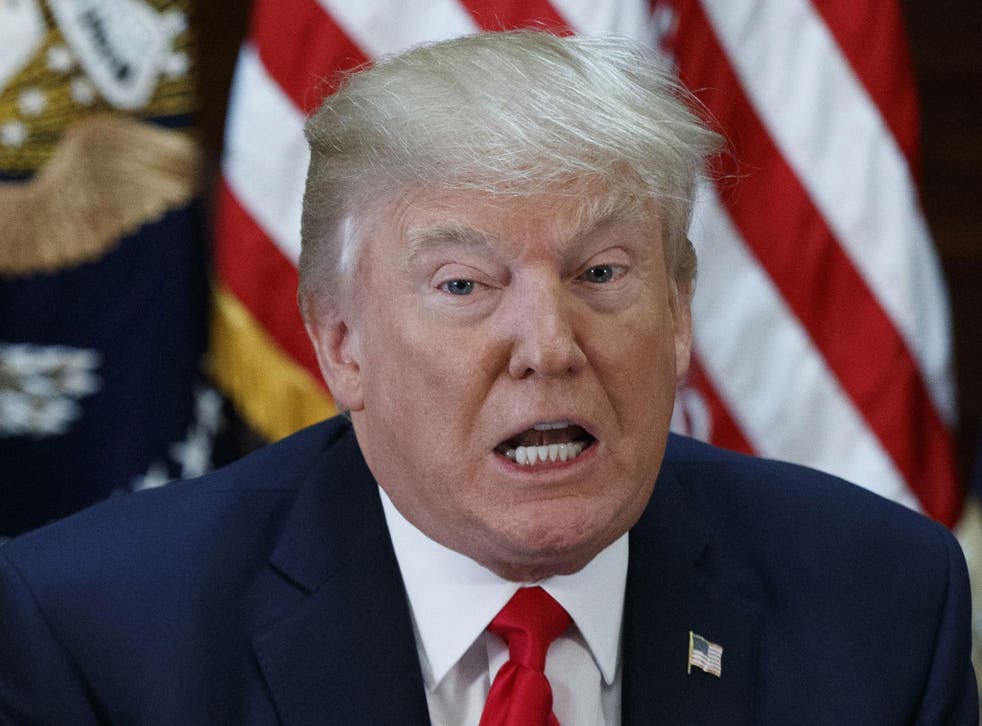 On the face of it, Britain and its Nato allies might be tempted to welcome Donald Trump's remarkable U-turn from a global-isolationist candidate to an interventionist president. They will certainly welcome his warmer words about Nato which, he declared this week, is "no longer obsolete", only three months after saying that it was. Theresa May and Angela Merkel seem to have talked some sense into him, on that at least.
The air strike against Syria over its alleged use of chemical weapons and now the unleashing of America's biggest non-nuclear bomb in Afghanistan have neatly switched the spotlight from the Trump administration's Russian connection and his accident-prone start on the domestic front. The courts might block his crackdown on migrants, and Congress his attempt to reform Obamacare, but the commander-in-chief has no such constraints on foreign adventures (he did not consult Congress before Syria was bombed).
In a break with the caution of the Obama years, Trump has given his military commanders more leeway to act without getting strikes signed off by the White House. It appears that the Massive Ordnance Air Blast (MOAB, also known as "the mother of all bombs") fell on caves and tunnels used by Isis in eastern Afghanistan on the initiative of the US commander General John W Nicholson. Quizzed by journalists, Trump was happy to take the credit but cagey about whether he specifically authorised the bombing.
No doubt the President hopes that US action in Syria and Afghanistan will send a powerful message to North Korea, where there is speculation that Kim Jong-un might soon launch the country's most powerful nuclear bomb so far, despite Trump dispatching a carrier strike group towards the Korean peninsula.
US drops 'Mother Of All Bombs' on Islamic State cave system in Afghanistan
European diplomats believed that Trump's election made North Korea the world's most dangerous flashpoint, and the unexpected tension between Washington and Moscow over Syria will not change that judgement. Anxiety about the sheer unpredictability of Trump as the world's self-appointed policeman will temper Europe's relief that he will not turn his back on Nato after all.
The President's reassuring remarks were designed to clear the air before he meets his Nato allies for the first time at a summit in Brussels next month. However, he will doubtless come with a strong warning that they must shoulder more of the burden carried by the US. Only five of Nato's 28 members, including the UK, have hit the agreed target to spend 2 per cent of their GDP on defence.
But money may not be enough. Trump will probably want his fellow Nato members to give a stronger commitment to backing the US with boots on the ground as America pursues a more muscular strategy against Islamist terrorists and tyrants like Bashar al-Assad. That could cause problems for the EU nations who do peace but not war and for Britain's already overstretched armed forces.
Trump's surprise switch from "America first" to "world first" could carry more than a financial price for Nato members. The freer rein given to US military commanders has already led to an upsurge in civilian casualties in Iraq and Syria, according to groups who monitor them. The Pentagon has admitted that an air strike in Syria accidentally killed 18 members of the US-backed Syrian Democratic Forces on Tuesday.
It appears no civilians were killed in the Afghanistan bombing, but there's no guarantee that will happen in future interventions, especially in towns and cities and when terrorists ruthlessly use local people as human shields.
Donald Trump warns 'problem' of North Korea 'will be taken care of'
The British Government cannot take too much comfort from Trump's about-turn on Nato. If he demands more military backup from America's allies, the UK could be caught in no man's land between the US and the EU. That happened to Boris Johnson this week when he tried to win the G7's support for further sanctions against Russia but could not convince France, Germany and Italy.
Perhaps the Foreign Secretary was too eager to throw off the "Washington poodle" label attached to him after calling off his trip to Moscow to leave the field clear for Rex Tillerson, the US Secretary of State. Johnson allies insist he had reason to think that France and Germany might support sanctions. Yet the Europeans left Johnson exposed during his first big test on the international stage.
Some Brexiteers hope the UK will be able to act as a bridge between America and Europe after we leave the EU club. They will have to dream on. Johnson's burnt fingers suggest the UK may enjoy less influence with our EU ex-partners, however strongly it plays the security card. In any case, it will be impossible for anyone to be a bridge between the dangerously unpredictable Trump and anyone else.
Register for free to continue reading
Registration is a free and easy way to support our truly independent journalism
By registering, you will also enjoy limited access to Premium articles, exclusive newsletters, commenting, and virtual events with our leading journalists
Already have an account? sign in
Join our new commenting forum
Join thought-provoking conversations, follow other Independent readers and see their replies