If Trump wants to prevent North Korea from driving a wedge between Washington and Seoul and Tokyo, he will need to keep America's allies close
Now that Kim Jong-un is close to having a missile able to hit a US city, it seems increasingly feasible that America might feel compelled to pre-emptively attack North Korea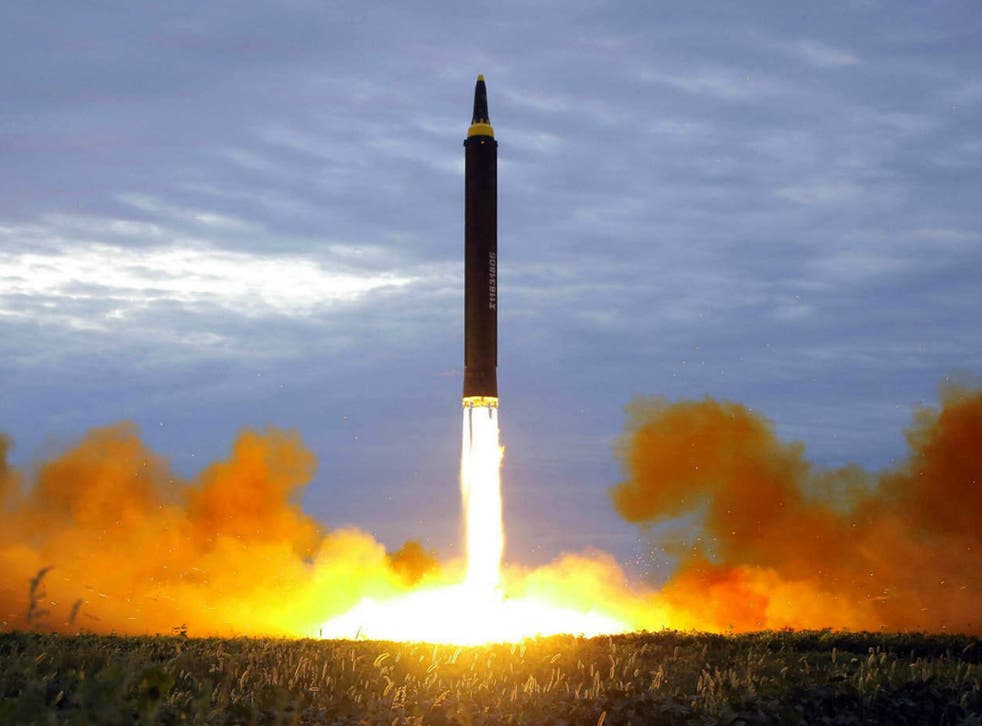 Once again Kim Jong-un, with his latest threatening launch of a long-range missile over Japan yesterday, has demonstrated both North Korea's rapidly accelerating technical capabilities, and Pyongyang's aptitude for strategic and psychological intimidation.
Kim's sabre-ratling is both an attempt to challenge Donald Trump directly and an effort to drive a wedge between the United States and its key East Asian allies, Japan and South Korea.
Lobbing a missile over Japan is a high-risk strategy. The North Koreans must have been confident that their latest test – an audacious advance by some 1,000km on their earlier (29 August) overflight of Japan – would be successful and that the risk of the missile breaking up over Japanese airspace was minimal.
By very publicly demonstrating that he not been deterred by Trump's warning of "fire and fury" if he threatened the US or its allies, Kim has challenged the US President's ability to draw clear strategic red lines and to follow through on his warning of a military response to the young autocrat's repeated provocations.
World leaders react to North Korea's latest missile launch
The latest missile test raises therefore important questions about the credibility of US extended deterrence and the protective strategic umbrella that America provides to Japan and South Korea.
Up until recently, US assurances to Japan and South Korea have been enough to keep both Seoul and Tokyo closely aligned with Washington in their responses to the North Korean threat. Now, however, with North Korea perilously close to being able to directly threaten US cities with nuclear obliteration, the worry for some is that Pyongyang could blackmail Washington into qualifying or limiting its support for its allies in the region.
With San Francisco or New York in Kim's cross-hairs, would President Trump risk war with the North to defend Seoul or Tokyo in a future crisis? Equally, as the North moves closer to placing a miniaturised nuclear warhead on a missile capable of hitting a US city with pinpoint accuracy, how great is the risk that the US might feel compelled to preemptively attack the North to prevent Kim from threatening the US with a nuclear attack?
Such an attack might take place without the support or potentially even in direct opposition to the wishes of Japanese and South Korea leaders – a far-fetched scenario perhaps, but not entirely out of the question, given the public statements of US politicians such as Sen Lindsey Graham who has repeatedly warned of just such an eventuality.
Against this background, it is no surprise that defence policymakers and politicians in both Tokyo and Seoul are beginning to call for significant but potentially destabilising modifications in their national defence policies.
In Japan, Shigeru Ishiba, a former minister of defence and a potential future prime ministerial candidate, has called for a relaxation of Japan's so-called three non-nuclear principles, in place since 1967 and under which Japan commits neither to manufacture, possess nor allow the transit of nuclear weapons through Japanese territory. Relaxing the last of these principles would enable Japan to reintroduce US tactical nuclear weapons to Japan, not only bolstering Japan's ability (with US support) to deter North Korea, but also importantly reinforcing the commitment by Washington to defend Japan.
Kim Jong-un inspects weapon North Korea says is powerful hydrogen bomb

Show all 6
In Seoul, the country's defence minister has recently suggested that South Korea acquire tactical nuclear weapons, a position that President Moon Jae-in has been obliged publicly to reject, for fear of contributing to a destabilising arms race in the region and potentially lowering the threshold of nuclear escalation in a future conflict on the peninsula.
Public anxiety in Japan and South Korea is also sharply on the increase. In Seoul, popular worries have been prompted by Kim's provocations, but have also been amplified by fears about the unpredictability and temperament of Donald Trump. In Japan, citizens have had to adapt nervously to warning sirens and government civil defence advice and urban evacuation plans that offer limited comfort given the partial and largely untested missile defence capabilities of the country.
To offset these concerns, the United States needs urgently to reinforce its critical alliance ties. The President must refrain from Twitter tantrums such as accusing President Moon of "appeasement" or engaging in rhetorical strategic or economic brinkmanship, either towards Pyongyang or Beijing, that looks increasingly hollow and unconvincing. The US must follow through on Defence Secretary Mattis's much needed "iron-clad" guarantees to Japan and South Korea by reinforcing America's military presence in the region.
Beyond this, however, their needs to be much more active consultation between Washington and its two allies, both bilaterally and trilaterally, on the details of coordinated deterrence policy in response to future security provocations from North Korea.
The worry is less about a full-blown attack from the North on its neighbours (an unlikely possibility given that Kim is not suicidal) and more the prospect of low-level provocations – for example, the shelling by the North of contested border territories near the Northern Limit Line between North and South Korea, or use of cyber attacks to disrupt US and allied command and control operations. It is essential to dispel any ambiguity surrounding how the US would respond to such action in coordination with South Korea and Japan.
Ultimately, the US needs to not only deter North Korea, but also to reassure Japan and South Korea that they will neither be abandoned by their ally nor entrapped in a wider conflict precipitated by America's own independent strategic decisions.
Dr John Nilsson-Wright is a senior lecturer in Japanese politics and international relations at the University of Cambridge, and a senior research fellow for Northeast Asia, Asia Programme, at Chatham House
Register for free to continue reading
Registration is a free and easy way to support our truly independent journalism
By registering, you will also enjoy limited access to Premium articles, exclusive newsletters, commenting, and virtual events with our leading journalists
Already have an account? sign in
Register for free to continue reading
Registration is a free and easy way to support our truly independent journalism
By registering, you will also enjoy limited access to Premium articles, exclusive newsletters, commenting, and virtual events with our leading journalists
Already have an account? sign in
Join our new commenting forum
Join thought-provoking conversations, follow other Independent readers and see their replies