Now we know that Rupert Murdoch is close to Donald Trump, MPs should scrutinise him once again
He likes to think of himself as the great kingmaker, but Rupert is much richer than The Donald – and his global tentacles reach further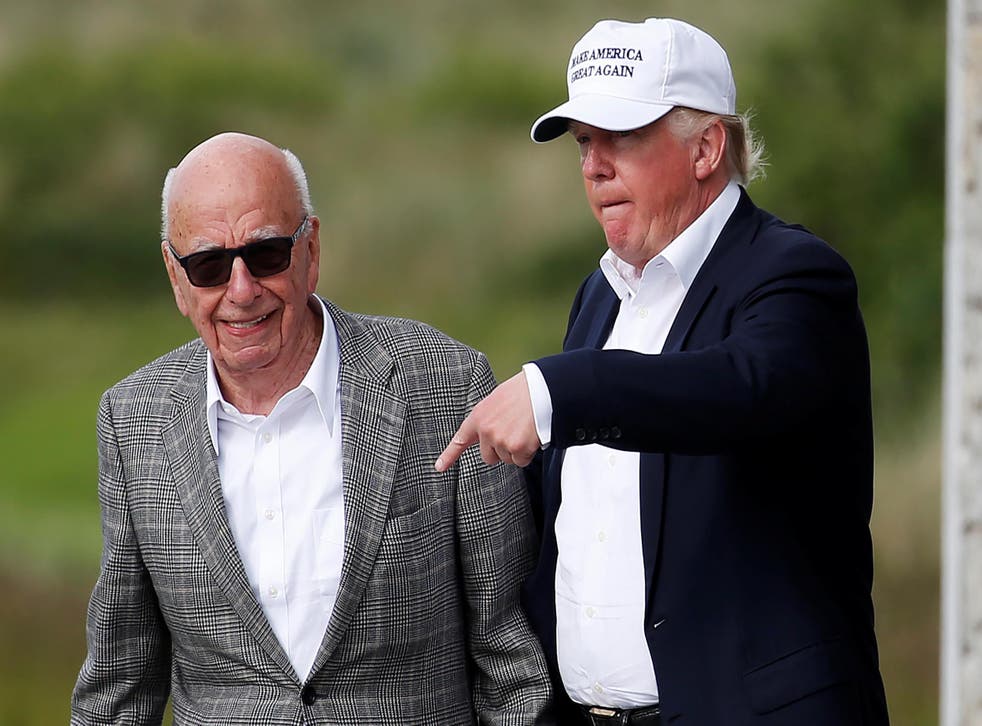 Has the time finally come for "Rupert Murdoch, The Sequel", a follow-up to his unforgettable televised appearance in front of a panel of MPs in 2011?
It might lack the "most humble day" pathos of his phone-hacking period, when he falteringly performed to MPs as the deceived and bewildered patriarch, like a King Lear on the heath. But news of Murdoch's intimacy with Donald Trump, revealed in the Financial Times' disclosure that he was present when the new US President gave his first British interview since being elected, surely strengthens the argument for a Part Two in front of the Westminster cameras.
His 21st Century Fox – owners of Trump's favourite news network, Fox News – is in the process of acquiring the whole of Sky TV, the United Kingdom's most lucrative media business. The £11.2bn deal seemed to be sailing through, unhindered by the hacking fallout that contaminated Murdoch's previous attempt to get his hands on the whole of the satellite broadcasting company.
With his UK newspaper stable rebranded, his publishing and entertainment interests split into separate companies, and his political and media opponents much weaker than they were in 2011, Rupert and his son James, CEO at Fox, seemed to have their ducks neatly in a row this time around. But evidence of a close accord with possibly the most divisive and controversial president in American history, someone who within days of arriving in the White House made clear his intention to bully and manipulate the news media, must increase concerns over the plurality and independence of the UK news sector.
Ed Miliband urges Government to fight Murdochs over Sky deal
For weeks, lobbyists acting for 21st Century Fox have been giving assurances to MPs that Sky's respected news outlet, Sky News, would not under its prospective new owners morph into the tabloid output of Fox News, whose liberal-baiting presenter Sean Hannity represents President Trump's idea of terrific TV journalism.
The Conservative chairman of the Commons Media Select Committee, Damian Collins, is reportedly not keen on a Sky ownership inquiry – even though the same committee previously branded Murdoch Snr "not a fit person" to run an international company.
This week it emerged in an ITV News report that a group of politicians, led by the former Labour leader Ed Miliband and former Business Secretary Vince Cable, had written to the head of media regulator Ofcom, Sharon White, asking her to investigate whether James Murdoch, who is also Sky's chairman, is fit to run a broadcaster. The younger Murdoch was executive chairman of publisher News International when the hacking scandal emerged, and was strongly criticised for his handling of that affair.
If questions are to be asked of James then surely MPs should at least seek reassurances from Rupert, who is still executive co-chairman of 21st Century Fox and acting CEO of Fox News. He might be 85 now, but he looks better than he did before the committee six years ago, and at the subsequent Leveson Inquiry into press standards.
Since divorcing Wendi Deng he has a new Texan leading lady now too, in Jerry Hall.
Rupert Murdoch had a great 2016. The Sun cheer-led to a vote in favour of Brexit and he has Theresa May beating a path to his door. His Fox News channel championed Trump, the successful presidential candidate. He likes to think of himself as the great kingmaker.
For all the glitz of Trump Tower, where the media mogul attended former Justice Secretary Michael Gove's interview with the President for The Times last month, Rupert is much richer than The Donald. And his global tentacles reach further and will probably continue to do so beyond the next US election in 2020.
MPs really should question him again under oath. But will they? It's about as likely as the long-promised sequel to the Leveson Inquiry.
Join our new commenting forum
Join thought-provoking conversations, follow other Independent readers and see their replies