Don't believe Trump when he says relations with Russia are at an 'all-time low' – the truth in Moscow is different
It's significant that Rex Tillerson went ahead with his Moscow trip so soon after the air strikes in Syria. It's equally significant that a meeting with Putin went ahead – and, for once, Putin did not keep his guest waiting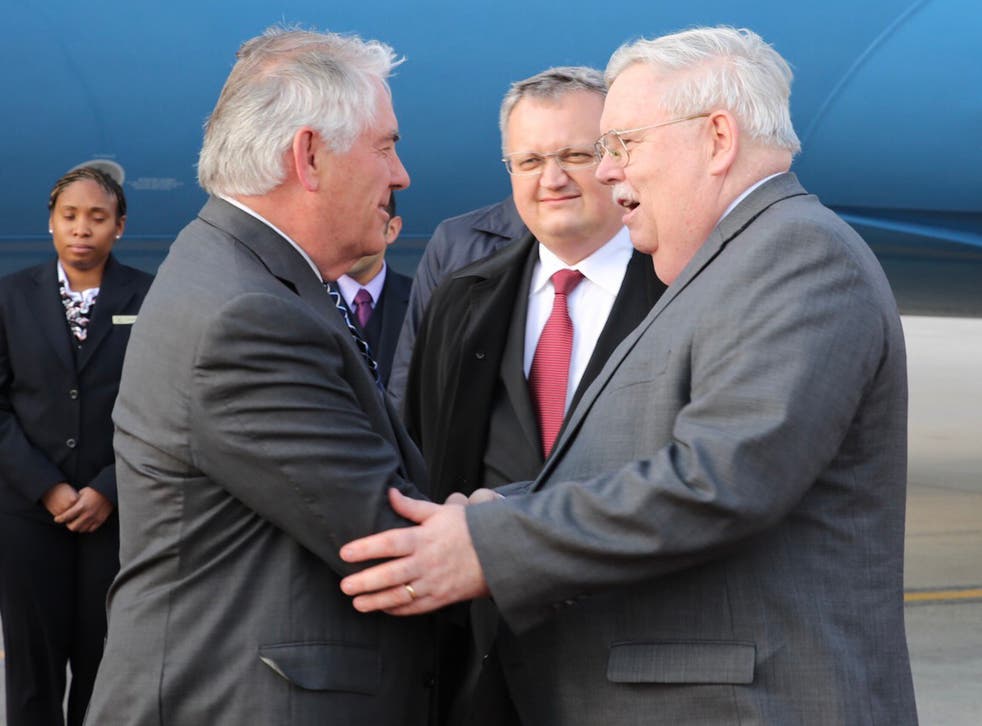 Donald Trump is not known for particular care with words, so it was all too easy to turn his qualified view that US relations with Russia "may be at an all-time low" into a categorical assertion. And from there, it required little imagination to conclude that the US President's campaign pledge to try for a rapprochement with his Russian counterpart, Vladimir Putin, could be added to the growing list of White House U-turns.
Such an impression may have taken hold in Washington and London – to the satisfaction of those many who believed, or hoped, that Trump's desire to mend fences with the Kremlin would fail – but it is far too early to write it off. Nor do the statements and signals that emerged from the US Secretary of State's intensive day of meetings in Moscow bear out in any way that the project is over. In some ways the opposite is true.
It is worth looking at Rex Tillerson's trip to Moscow in some detail. First, it is significant that he went ahead with the trip so soon after the two countries exchanged sharp words about responsibility for the presumed gas attack in Syria and the US launched its air strike. Second, despite public doubts about whether there would be a meeting with Putin, Tillerson actually spent two hours in talks with the Russian President. Not only that, but – almost uniquely – Putin did not keep his guest waiting.
Neither side, it would seem, wanted to do anything that would imply disrespect or seriously disrupt relations. Which is of a piece with the fact that both Putin and Trump kept themselves largely above the slanging match over the gas attack. At his press conference with his Russian opposite number in Moscow, Tillerson also chose not to repeat previous US claims to the effect that Russia bore guilt for the attack by association – even though he was explicitly invited by a questioner to do so.
Donald Trump says Nato 'no longer obsolete'
Much has been made of the conspicuous disagreements between Tillerson and Sergei Lavrov at that long press conference, which were seen as evidence of the near-breakdown of relations. And it is true that in his opening remarks, Tillerson lamented the "low level of trust" between the two nuclear powers, a state of affairs that he insisted had to change.
But is it such a bad thing for genuine differences to be aired openly? What struck me was the way each presented his point of view without the constraint of diplomatic blandness and sought, sincerely as it seemed, to answer the questions put. Even then, the differences were not quite as fierce or insuperable as they might have seemed.
It is true that there was no meeting of minds over the reported gas attack in Idlib province, with Tillerson saying there was "conclusive" evidence that the Assad regime had "planned, directed and executed" it, and Lavrov challenging the evidence and calling for a full investigation. On the two longer-term issues of contention, though, the differences were less stark.
Despite recent mixed signals from Trump officials about Assad, Tillerson said the US wanted "a unified and stable Syria" – something Russia also wants – and that, while "our view is that the reign of Assad's family is coming to an end", this had to happen in an "orderly way", such that "the constituencies Assad represented feel represented". Russia would not demur from that either. Its argument has always been that Assad has to stay not because he is Assad and Russia's ally, but because he is all that stands between Syria and anarchy.
The nub of the US-Russia disagreement lies in how and how soon an orderly transition can be achieved. This is pretty much the point that talks between John Kerry and Lavrov had reached before Trump won the US election. Where ground has arguably been lost is in the current US view that Moscow could exert more pressure on Assad if it wanted to. This is not at all evident, and Tillerson was wisely less insistent on this than US officials had been before the Russia trip.
Several other points of convergence emerged from this visit. The first was a pledge from Tillerson that no additional sanctions were envisaged against Russia unless it did something else to provoke them, though there was to be no lifting of existing sanctions. The second was an undertaking from Putin to reinstate the conflict prevention arrangements for Syria that Russia had suspended after the US air strike. And the third was a plan to create a bilateral working group of experts and diplomats to review current disagreements and how to address them.
In other circumstances, such a move might be regarded as prevarication: setting up a committee to take the problem off the table. Given the gulf of understanding on Syria, Ukraine and on security matters generally, this seems less like prevarication than a potentially productive course.
Chris Matthews speculates Syria airstrike is Trump's attempt to kill rumours he is 'in bed' with Putin
Taken as a whole, Tillerson's 24 hours in Moscow were not wasted. Nor did Moscow and Washington emerge at loggerheads. They appeared to have talked to some effect and to be determined to continue talking. They clearly also wanted to turn the page from the chill that set in during the last two years of the Obama administration. This might not be quite the leap into the bright future of US-Russia relations that some associated with Trump, but that is actually not what he promised.
What Trump said at his press conference as President-elect was: "If Putin likes Donald Trump, I consider that an asset, not a liability, because we have a horrible relationship with Russia..." and he saw Russia as a potential ally, chiefly against Isis in the Middle East. He offered no more than that.
Given the opposition in Washington, from Congress and from agencies such as the CIA, to any rapprochement with Russia – which found expression in the hue and cry about hacking and clandestine Kremlin links – Trump had little choice but to delay any overtures. Following the air strike on Syria, any thaw in relations is now clearly some way off.
Nor, though, is there deadlock. Tillerson's talks marked a beginning, not an end. And while that much anticipated Trump-Putin summit may be elusive, more is surely going on between the US and Russia than meets the eye. Impetuous and inconsistent Trump may be, but he is not a quitter. He has made a start on his Russia project, and he will stick at it.
Register for free to continue reading
Registration is a free and easy way to support our truly independent journalism
By registering, you will also enjoy limited access to Premium articles, exclusive newsletters, commenting, and virtual events with our leading journalists
Already have an account? sign in
Join our new commenting forum
Join thought-provoking conversations, follow other Independent readers and see their replies