Just like desperate Remainers in the UK, Americans are in denial about Donald Trump
Trump supporters and Brexiteers will claim we are nothing more than sore losers, wasting their valuable time and national resources. But denial is healthy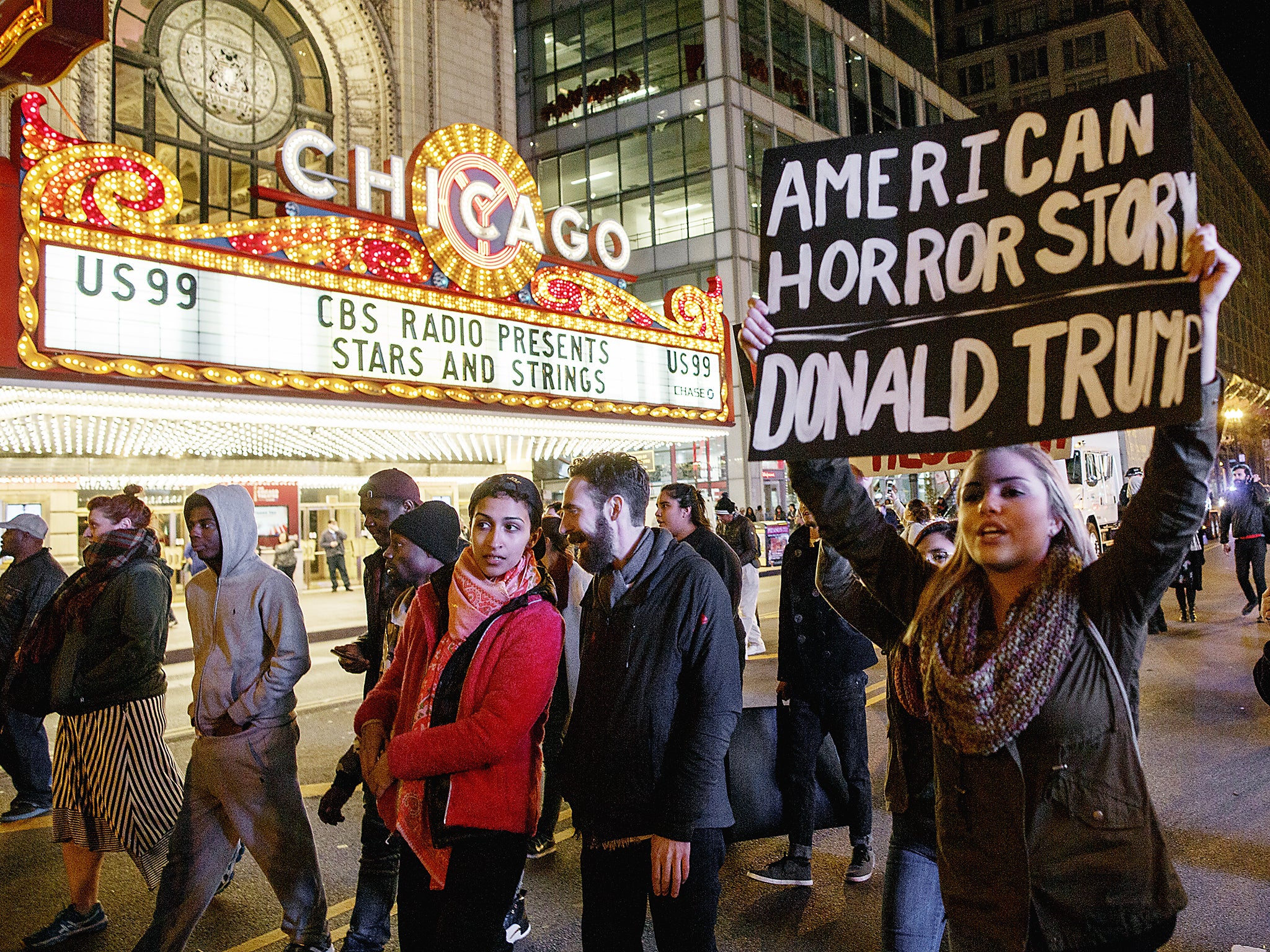 On Tuesday morning, I scanned the radio channels in my New York hotel room and landed on WNYC, America's most popular liberal public radio station. The format was recognisable – news, discussions and listener phone-ins – but there was something else that felt oddly familiar too.
A female caller was talking over a crackly line about next Monday's electoral college vote. It was her hope that 37 of the 306 electors would go rogue and cast a ballot to stop Donald Trump from entering the White House. Then it clicked: the sound of denial – that was what was making me feel so at home.
"There has to be another referendum", "Maybe we can stay in the EEA?", "The referendum wasn't binding", and most recently, "Parliament has a right to vote on Brexit" have been the refrains for the past six months from the Remain camp, and it's comforting to know that we're not alone. The Never Trumpers are also refusing to accept the oncoming political tumult, and Monday is being held up as America's last chance to return to sanity.
Women go on strike against Donald Trump
Show all 7
At the grassroots level, groups are organising mass protests: 4.8 million people have put their name to a petition to encourage electors to make Hillary Clinton president, and the Hamilton Electors are putting pressure on electors to vote for a GOP compromise candidate. Larry Lessig, a Harvard Law professor from the Electors Trust, has been offering pro bono legal advice to Republicans considering becoming "faithless electors".
They too, are also taking the battle into the courts to fight what they see as a democratic deficit. Two members of the Hamilton Electors have filed a lawsuit challenging the Colorado state law that requires them to vote for the candidate who won the popular vote, believing instead that electors should be able to cast a ballot with their conscience to stop an unfit candidate from becoming president.
The Never Trumpers feel that democracy is being impeded by an electoral system that has created an outcome out of line with the popular vote. Ironically, the very mechanism they are advocating for was originally created by the democracy-wary founding fathers, who wished to design a system in which the majority vote could be overruled in cases where – as Alexander Hamilton aptly put it – a candidate won over the masses with "talents for low intrigue, and the little arts of popularity".
Here in the UK, the Supreme Court is deliberating, for a second time, over the triggering of Article 50, which starts the process of leaving the European Union. The hope is that the British public, through their MPs in Parliament, will be granted a say in when and how rights conferred to them under European citizenship will be taken away.
Trump: Clinton may be 'most corrupt person ever to seek presidency'
In both cases, success – as it is defined by these groups – is unlikely. Trump won't be prevented from moving into the White House; there is little chance that Parliament will, in the end, reject Article 50.
On both sides of the Atlantic, Trump supporters and the Brexiteers will claim their opposers are nothing more than sore losers, wasting their valuable time and national resources. But denial is healthy. Drawing attention to broken political processes is good for the body politic. I'd hope that, if the outcome had been the other way around, they too would have put up legal and political resistance.
If Trump and Brexit were an expression of voters wishing to take back control of their destinies, then pressure groups like Hamiliton Electors and the People's Challenge are doing just the same. Maybe that's something we can all agree on.
Join our commenting forum
Join thought-provoking conversations, follow other Independent readers and see their replies