Donald Trump's supporters let out a primal scream against Washington
What scares the world about Trump is exactly what his followers like about him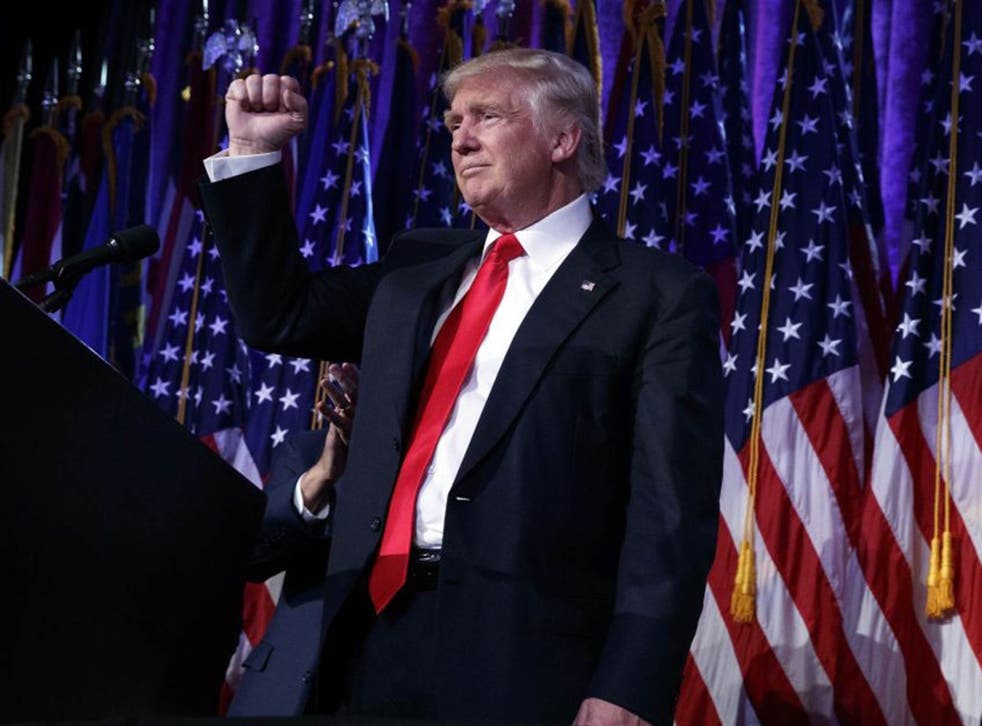 With his stunning victory yesterday, Donald Trump is not only about to become America's 45th president – a statement scarcely believable in itself – but has set off an earthquake that will transform US politics and plunge the existing global order into uncertainty. During a couple of hours during one of the country's most nail-biting and consequential election nights ever, the universe turned on its head. At 8pm eastern time, Hillary Clinton seemed to be gliding to a predicted victory. By 10pm, Trump was poised to pull off the impossible, defying almost every poll and the expectations not only of many of his supporters, but even some of his own inner-circle.
The sudden transformation was mirrored at the respective campaign headquarters, just a mile and a half from each other in Manhattan. For the Clinton faithful who had gathered to celebrate, confident anticipation turned to silent, tearful despair. At Trump headquarters, it was the reverse – a joyous sea of red "Make America Great Again" caps, and a giant collective We Told You So.
By 2.45am, it was all over. Clinton had phoned him to concede and the President-elect addressed his supporters, as close to humbly gracious as Trump can be. "We owe Hillary a major debt of gratitude for her service," he began. "Now it's time for Americans to bind the wounds of division. I say to Democrats and Republicans, it's time to come together as one united people. I pledge I will be president for all Americans."
Gone is the prospect of the first woman in the Oval Office. Instead, the leadership of the West has improbably passed to a businessman-cum-reality TV star who has never held elective office, with deep character flaws and a taste for brutal rhetoric – but with a brilliant understanding of the media and an unerring instinct for the national mood.
President Donald Trump life in pictures

Show all 16
Almost everywhere, Clinton underperformed Barack Obama four years ago. First Trump reeled off the big swing states he had to win: North Carolina, Florida, and Ohio. Then, crucially, he blasted a hole in the Rust Belt states of the industrial Northeast and Midwest that were supposed to be a Clinton blue wall. Pennsylvania, Wisconsin and Michigan all fell. By night's end he was heading for over 300 electoral colleges votes, well above the 270 needed for victory – and about the number pundits were predicting beforehand for his opponent. In doing so he rewrote America's electoral map.
In the end Clinton's perceived advantages counted for nothing. Her vaunted organisation on the ground failed to deliver. Her advantage among women and Latino voters was less than expected. A decent economy, and the support of a highly popular outgoing president of her own party made no difference.
And Trump's manifest and normally disqualifying defects – the offensive remarks, the trampling of political correctness, the tirades against Muslims and immigrants, his dubious tax record and business practices, his cosying up to Vladimir Putin – also counted for nothing. What about the fact that two thirds of Americans disapproved of him, and considered him unequipped for the job? It didn't matter.
This was America's Brexit. The similarity with Britain's shock vote in June to leave the European Union was uncanny. As with Brexit, America's divisions were on display: between the elite and ordinary people; between Wall Street and Main Street; between small town and urban America. There is the same distrust of globalisation, a feeling by white blue-collar workers – but not only them – that they had been forgotten by Washington. These divisions transcend conventional party divisions.
As with Brexit, many people appear to have been shy about telling pollsters they supported Trump. Many Democrats, particularly in the Rust Belt, switched party – Trump Democrats, to match the Reagan Democrats of of the 1980s. Many people voted who had never before bothered to do so. What scares the world about Trump, his more isolationist yet muscular foreign policy and his talk about tearing up trade deals and pursuing an "America First" mercantilism, is exactly what his followers like about him.
Above all, they delivered a primal scream against Washington and all its works: a gridlocked Congress, and a dysfunctional self-perpetuating governing class of which Hillary Clinton is the living face. This was a raw yearning for change, that this other America believes only an outsider like Trump, whatever his faults, can bring. The American people "expect the government to serve the people, and it will", Trump declared. "The forgotten men and women of our country will be forgotten no longer."
But the divisions remain larger than ever. Somehow they must be healed. One side's miracle is the other side's nightmare. For his supporters, Trump has all the answers. For his equally numerous opponents (and Clinton may yet end up winning Tuesday's popular vote) he is a Mussolini in waiting.
As with Brexit, the markets reacted by plunging: overnight Wall Street futures fell by 4 per cent at one point. For markets and the world, Trump means uncertainty and disruption whatever his assurances that while he would put America first, he wanted to be friends with everyone. Nor does he signify an end to the civil war in Washington. Many of his leading supporters, like the former Speaker Newt Gingrich and the former New York Mayor Rudy Giuliani (who took a bow on the Trump victory podium early today), are as polarising as he is. On the Democratic side, once the immediate postmortem is over (was Clinton too complacent? Did the FBI wreck her chances?), the infighting will begin in earnest. One thing looks clear: the influence of the combative liberal wing led by Elizabeth Warren and Bernie Sanders will grow.
Protests across America after Trump victory
Somehow Trump must now build bridges instead of tearing them down. He is in an extraordinary position. He has ended the Clinton dynasty, just as he ended the Bush dynasty in the Republican primaries. He has a solid electoral college mandate, if not a popular one. He owes favours to no one: least of all to a Republican establishment that largely shunned him. And, not least, he will have a Republican Congress.
As expected, Republicans comfortably retained control of the House of Representatives. More surprisingly they hung on to the Senate. That makes it likely a conservative justice will fill the existing vacancy on the Supreme Court – and maybe one or two more vacancies that crop up during his term.
The new alignment also could portend the demise of Obamacare, the outgoing president's hallmark achievement, which Trump has promised to start dismantling on Day One. Tomorrow, Obama is due to meet his successor at the White House. A more awkward occasion could scarcely be imagined. A microcosm, in short, of what awaits America and the world.
Register for free to continue reading
Registration is a free and easy way to support our truly independent journalism
By registering, you will also enjoy limited access to Premium articles, exclusive newsletters, commenting, and virtual events with our leading journalists
Already have an account? sign in
Join our new commenting forum
Join thought-provoking conversations, follow other Independent readers and see their replies