Alan Kurdi's death did change the world, if only for an all-too-brief time
The lesson seems to be that such images, such as the one of the small boy washed ashore, do have an immediate effect on public and politicians alike, but not as lasting one they should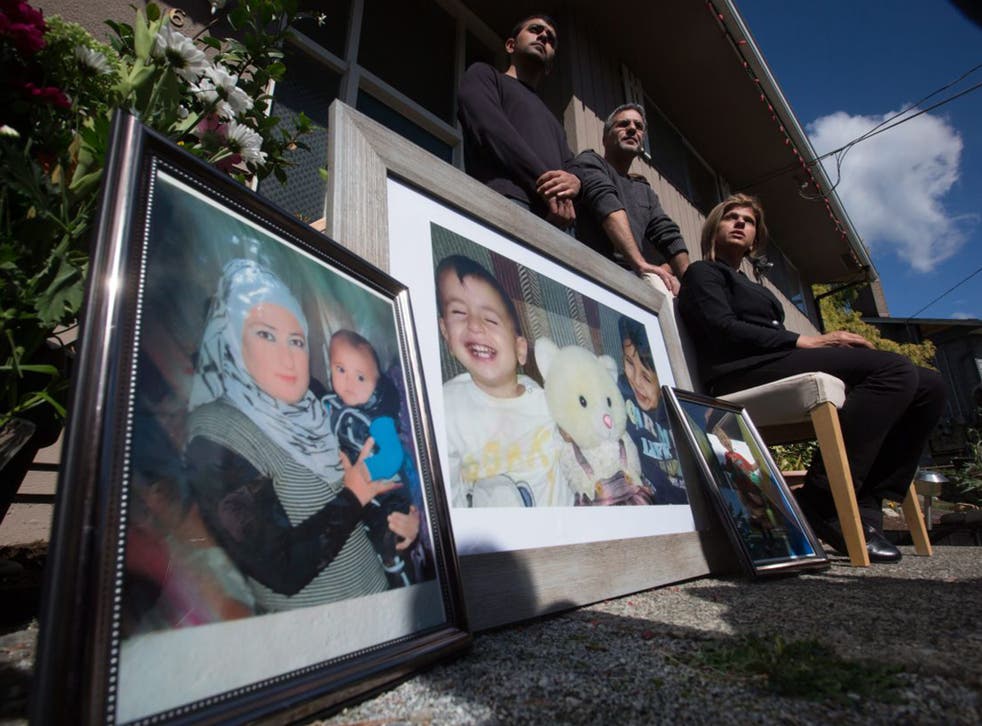 One year ago, this title published a shocking image of a small boy who had been washed ashore on a Turkish beach, the innocent victim of a war he could not have understood. We did so because we felt that the times called for it – the world had become inured to the refugee crisis, numbed by the statistics about the deaths of so many thousands, and desensitised by the medieval barbarity of so-called Islamic state. The moment called for such an arresting and affecting image to try to make the world take notice.
Over 380,000 people signed The Independent's Refugees Welcome petition, demanding David Cameron do more to help those fleeing war. Thousands held up signs in our social media campaign declaring "#refugees welcome".
And so Alan Kurdi's name became famous. His tragic fate became symbolic of the plight of the whole Syrian people, and indeed of refugees fleeing for their lives from war and persecution around the world. It moved people, and changed things, at least for a time.
His story and that image prompted a rapid shift in global public opinion so powerful that it overwhelmed governments previously complacent about the refugee crisis. Newspapers that had demonised desperate homeless human beings suddenly cared. David Cameron bowed to new public demands to welcome more refugees, though the numbers were meagre and targeted on camps close to Syria rather than across the Mediterranean. His Home Secretary, Theresa May, could have done more to welcome refugees then, and is in an even stronger position to do so now. Chancellor Angela Merkel in Germany led the world in compassion by allowing perhaps a million to settle there. Sweden and other nations have also done the right thing. Even at that moment of compassion, though, Britain displayed a mean streak.
Yet while the world collectively declared "this must end", it has not. Yes, the naval patrols and the EU-Turkey agreement on refugees have eased the flow, while aid agencies and governments have made greater efforts to provide basic shelter and sanitation to the refugee camps, but we still have likes of the squalid "Jungle" settlement near Calais as a standing indictment to Europe's failure to deal with the largest movement across its borders since 1945. The people traffickers are still making their grisly living out of suffering, and the wars still rage.
Reliable statistics are hard to come by, but thousands more have died trying to cross the Mediterranean this year, and some will have been as young as Alan was when his life ended. Not that much, in other words, has changed, and that is the disgrace of it all.
Today The Independent has chosen not to reproduce at full-size the most graphic picture of Alan lying head down and lifeless because to do so now would be gratuitous – in a way it evidently was not a year ago. It could not, in other words, have the same effect today as it did then. Indeed the lesson seems to be that such images do have an immediate effect on public and politicians alike, but not as lasting one they should, though the photography retains its haunting quality. We can all remember vividly the image of a little girl fleeing naked down a road in Vietnam during a napalm attack in 1972 (Phan Thị Kim Phuc is now living happily Canada); and the recent image of five-year-old Omran Daqneesh sitting in the back of an ambulance in Aleppo, blackened and dazed by a bombing raid on his home. They shock, they appal, they change policy for a time, but slowly the old attitudes return, and the fundamental causes of the wars that inflict such human misery endure.
Refugee crisis - in pictures

Show all 27
Even so, Alan Kurdi did change the world, if only for an all too brief time, and it is right to recall his life and his story when the war in Syria is as vicious as ever, poison gas attacks included. As Patrick Cockburn reports, the so-called Islamic State seems to be in retreat there, but is still determined to inflict maximum harm to people and places whenever it gets the opportunity. There will, in other words, be many more children such as Alan Kurdi, Omran Daqneesh and Phan Thị Kim Phuc, damaged and destroyed by war, and none should be forgotten.
Join our new commenting forum
Join thought-provoking conversations, follow other Independent readers and see their replies