As talks open this week, Theresa May's team must accept that a hard Brexit is now impossible
Europe is surely in little mood to pander to the grandiose dreams of the Tory party's right wing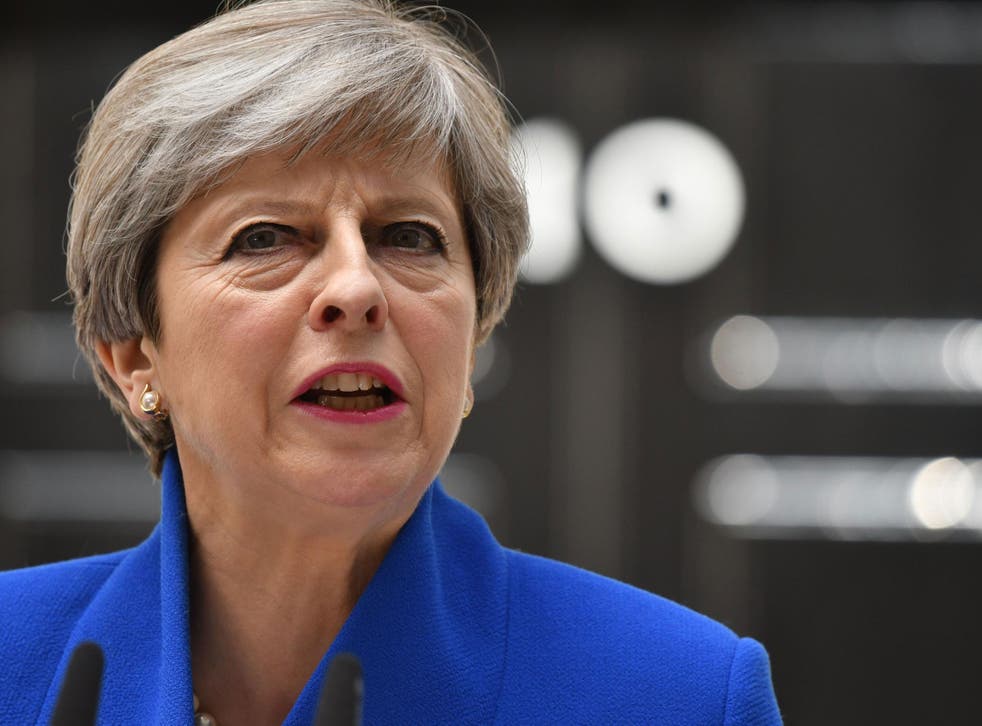 What must the Prime Minister be feeling? Last autumn she had taken the helm of a Government that was focused squarely on Britain's EU departure. She had, on the face of it, brought unity to her party while the opposition seemed on the point of an irreparable split. Her net approval rating was positive and would improve over the coming months and into spring. "Remoaners" were an irritant that could be overcome. A hard Brexit appeared very much on the cards.
This week, the formal talks over the UK's EU withdrawal will begin and the Government finds itself negotiating from a position that ministers could barely have envisaged in their worst nightmares. Theresa May's decision to call a snap election in April could not have backfired more spectacularly. Plainly she does not have the "Brexit mandate" she sought. But worse than that, she does not even have a mandate to govern the country, reliant instead on the whims of the Democratic Unionist Party. The knives are out within her own party. It is entirely conceivable, likely even, that we will see a Conservative leadership contest – and perhaps another general election – before long.
As if all this did not augur badly enough for the PM and her Cabinet, Britain has suffered a series of blows that could rock any government. The terror attacks in Manchester and London not only brought death and destruction on a scale not seen here for more than a decade, they have also raised significant questions about national security – an issue which for a long time the relevant agencies had successfully kept low down on the agenda of public debate. Theresa May's previous leadership of the Home Office had been seen as a strength; suddenly it is a weakness.
The Prime Minister's position has been further damaged by the devastating fire in west London last week, which left dozens dead, hundreds without a home and many thousands seething with anger. It is a tragedy that requires urgent investigation for its own sake, of course. But it has also come to be seen as a symbol of the inequality that has insidiously pervaded Britain and that the present Government appears either not to understand or wishes to disregard. Ms May's personal response to the catastrophe, not least in failing to meet victims at Grenfell Tower, was wholly inadequate and has deepened the perception that she is out of touch with the people she both leads and serves.
Theresa May says Brexit timetable still on track
When David Davis meets his EU negotiating counterpart, Michel Barnier, on Monday, this then will be the backdrop to their discussions. It is a deeply troubling proposition. After all, even the 48 per cent who voted last year to stay in the EU would not, for the most part, wish the talks to be a disaster. That, however, is the prospect we have in store, with Europe surely now in little mood to pander to the grandiose dreams of the Tory party's right wing.
From the outset, Mr Davis must accept that the outcome of the general election makes a hard Brexit impossible. Leaving the single market, which seemed likely even a matter of weeks ago, is no longer a given. That, at least, is a relief since the impact on the UK economy would have been appalling.
With a much weaker hand to play, it is imperative that the Government makes clear as early as possible that it will secure the rights of EU citizens already living in this country. This is something on which the Prime Minister should have offered greater clarity already and it is another mark in the debit column of her leadership. Still, it is not too late to draw a line under this important issue, which will at least demonstrate that Britain does not wish to cast adrift completely from the European family. The UK will also have to be generous in agreeing a speedy divorce bill. Boris Johnson's absurd notion of having cake and eating it too feels ever more embarrassing.
It is a marker of the disarray in which the Government finds itself that Mr Davis will sit down in Brussels before the Queen's Speech has been made to Parliament – the traditional opening of the parliamentary session having been postponed until Wednesday due to the Prime Minister's attempts to do a deal with the DUP. In the months to follow, parliamentary scrutiny will be heavy – as it should be in relation to such important matters as Brexit. Indeed, if the Government is to be successful in finding an exit solution that does not leave the UK badly weakened, it will have to find a broad consensus across political parties. While hardly what Theresa May and David Davis would have preferred, that too is a positive outcome of the hung parliament. Those who are so keen on British parliamentary sovereignty ought to be delighted.
For those who wish still that Britain was not leaving the EU, the Brexit negotiations cannot end happily. And in truth the UK's economy will be in for a very rough ride ahead. Yet the irony of Ms May's misguided attempt to secure a stronger mandate for Brexit is that we may, in the long term, end up with a relationship with the EU that is better for the economy and which is more open than hardened Brexiteers would have liked. If that is the best we can hope for, we must keep our fingers crossed for it.
Register for free to continue reading
Registration is a free and easy way to support our truly independent journalism
By registering, you will also enjoy limited access to Premium articles, exclusive newsletters, commenting, and virtual events with our leading journalists
Already have an account? sign in
Join our new commenting forum
Join thought-provoking conversations, follow other Independent readers and see their replies