Following Brexit, the UK is no longer the bridge between Washington and Moscow
Closer relations with Russia are possible, but as the Government knows from Theresa May's trip to Moscow, it comes with a certain diplomatic price: Britain will have to follow the (presumed) path of the Trump administration in appeasing Russia's expansionism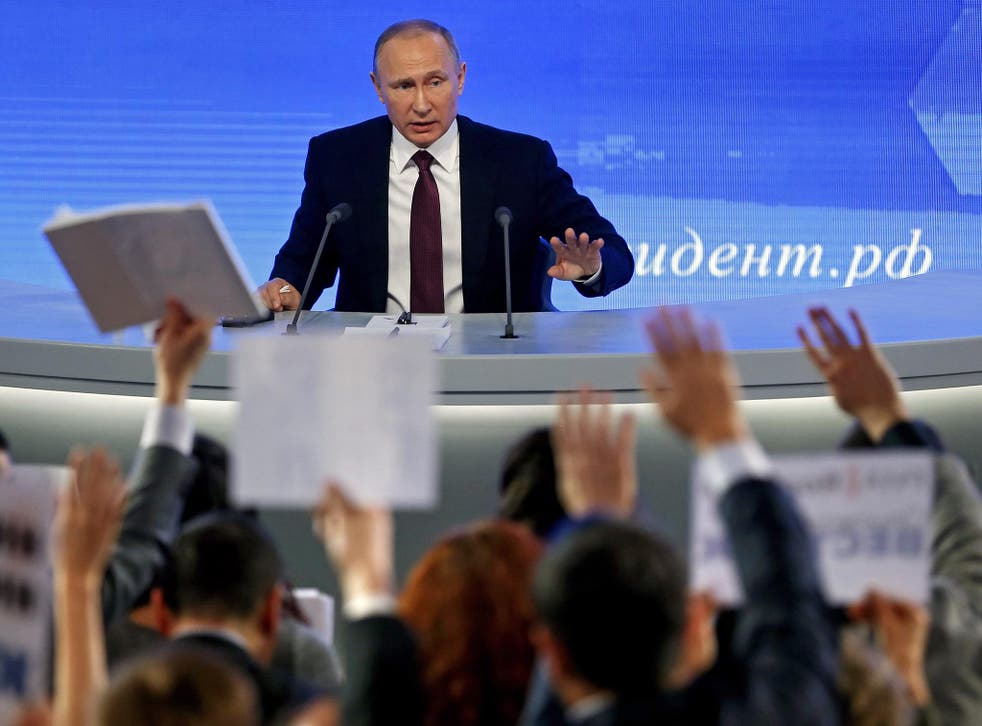 When Vladimir Putin gave his annual marathon solo press conference in front of a thousand journalists, it is fair to say Russia's relationship with Britain was not on the top of anybody's list of topics to explore. Since the end of the Second World War at any rate, Russia has always, not entirely foolishly, regarded the United Kingdom as a sidekick of America in defence and intelligence matters, and subsumed by the power of Germany and the structures of the European Union in trade and economics. For what it's worth – and it matters more to Britain than Russia – all of those dynamics will soon change.
The most radical shift will obviously be wrought by Brexit. As Britain's trade negotiators are about to discover, friendly fast-growing dynamic economies willing to trade with the UK are not difficult to find, but the UK's relatively smaller heft in relation to them, compared to the collective strength available as a member of the EU means deals advantageous to Britain will be difficult to swing.
Russia is an uncertainly reliable bet as a future trade and economic partner for post-Brexit Britain. This is because Russia's economy remains so heavily dependent on natural resources and the energy sector. Unlike India, China or Brazil, say, the other components of the famous Brics acronym, Russia has not developed its manufacturing or services sectors, it is more hostile to foreign investment and international sanctions have pushed Russia away from the world economy in any case.
Closer relations with Russia are possible, as Theresa May knows after meeting Vladimir Putin at the G20, but it comes with a certain diplomatic price: Britain will have to follow the (presumed) path of the Trump administration in appeasing Russia's expansionism and its support for President Assad's murderous policies in Syria, in particular. Boris Johnson will find his brave and entirely justified claims about Russian war crimes much more difficult if the UK, for the first time in its history, becomes significantly reliant on economic relations with Russia for its wellbeing. We will, in effect, have to give up on Ukraine, let alone Crimea, and accept more Russian influence in Estonia, Latvia and Lithuania. That position would take years to come, but, as with China, it points out how much easier it is for the UK to enjoy close economic arrangements with similarly minded liberal democracies in the EU than the more remote, ideologically and geographically, rulers in Moscow and Beijing.
For the next few months, though, Theresa May and Mr Johnson will find themselves as bit-part players being blown about and trying to make the best sense they can out of the simultaneously contradictory signals emerging from the Trump and Putin presidencies. Both men want a thaw in relations, both want to wage a joint war on Isis and both have reasons to be distrustful of China. And yet with a casual tweet or two, both can also plunge their nations into a renewed nuclear arms race that will be ruinously expensive as well as existentially dangerous for them and the rest of the world.
Does the UK want to join in that scramble for even more mutually assured destruction? Mr Trump may or may not want to maintain the primacy of Nato – but who knows?
Like a pair of new lovers, neither Trump nor Putin seems clear about what they want from their relationship. Once upon a time the British, sometimes a little fancifully – fancied themselves as a "bridge" between Washington and Moscow. Whatever truth there may have been in that in the Kennedy-Macmillan-Khrushchev era, or when Margaret Thatcher reassured Ronald Reagan that Mikhail Gorbachev was a man the West could do business with, the UK, out of the EU, is less of a power in the world than it was.
Join our new commenting forum
Join thought-provoking conversations, follow other Independent readers and see their replies