David Cameron's gaffes won't undermine his efforts to fight global corruption this week
The Prime Minister could, however, do much more to counter his damaging words with more concrete action on tackling corruption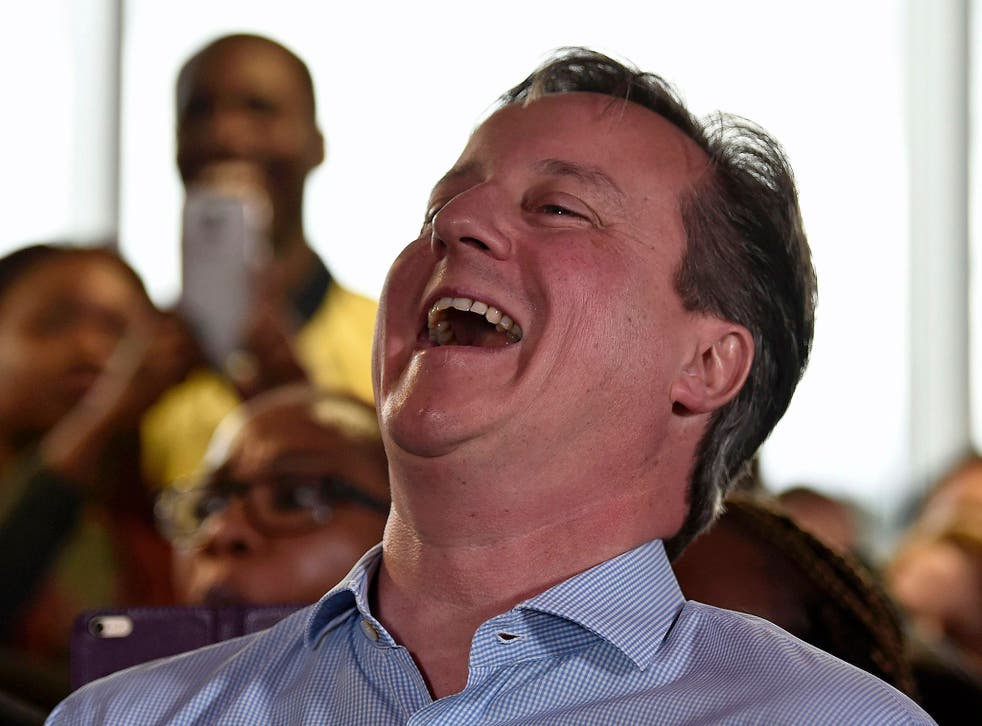 Had he bribed the British media, a famously punctilious body of men and women, David Cameron could not have hoped for a higher profile for his anti-corruption summit. As it was, all he needed was some cheap talk at a reception for the Queen – plus a gag about Nigerians from the Commons Speaker John Bercow – to push corruption in developing countries to the top of the agenda. Although accidental, it is a remarkable achievement.
"Fantastically corrupt" Nigeria and Afghanistan may have been, but Mr Cameron has attempted to repair the diplomatic damage. He has now put his serious face on and acknowledged the scale of the problems, recognised how difficult it is to limit corruption in poorer nations with sometimes vast inequalities in wealth, and the hard work these governments have been doing to try and make their people's lives less reliant on bent officials and crooked businesspeople. The Prime Minister now wants to shout from the rooftops that Presidents Buhari of Nigeria and Ghani of Afghanistan are " battling" corruption and taking "remarkable steps forward".
So the Prime Minister's gaffe – there is no evidence they were part of some sophisticated, if misguided, exercise in media management – have not yet overshadowed his anti-corruption summit. But the diplomatic arguments, and the involvement of the Queen, has certainly obscured some of the important issues.
For there is an easy assumption made, plainly there in the small talk at Buckingham Palace, that in such countries corruption is a way of life, a normal way of doing business and, indeed, one that is dignified by long years of greasing palms.
There has long been an over-easy assumption among arms exporters, for example, that if they don't offer kickbacks to officials in the procurement game, then the French – or nowadays, perhaps, the Chinese – will do it anyway.
Much of that culture has changed in recent times as awareness has grown of the damage corruption does to poorer nations – and, of course, the poorer populations within those countries. Every pound, dollar or euro that is expropriated illegally is one that could be spent on development: on improving educational and health opportunities, or raising productivity in new industries and on farms. That is why corruption is the worst form of theft – the poorest of the poor are robbed by the very people who oppress them and abuse power, in a process which subverts the democratic process altogether. Cameron is right to say this culture must be tackled wherever it is found.
Western companies are also increasingly aware of their moral and, more to the point, legal obligations under recent anti-corruption legislation. Some high-profile prosecutions have already been brought. No longer can slush funds administered from offshore havens be so easily used to channel funds into the London bank accounts of corrupt princelings, presidents and generals.
Of course, the recent controversy about such tax havens – which Mr Cameron's injudicious comments have, embarrassingly for him, reignited – reminds us that so many of these offshore territories are British overseas dependencies, over which we have some influence. They are, in fact, also centres for money-laundering and other illicit activity, and long overdue for reform on many grounds.
Mr Cameron could do much more to counter his damaging words with more concrete actions on tackling corruption where it occurs (ironically enough) in Her Majesty's few remaining colonies.
Join our new commenting forum
Join thought-provoking conversations, follow other Independent readers and see their replies