Despite her positivity, voters believe Theresa May is making little progress with the Brexit talks
No Brexit is better than a soft Brexit – but public opinion suggests that no one really believes it's going that way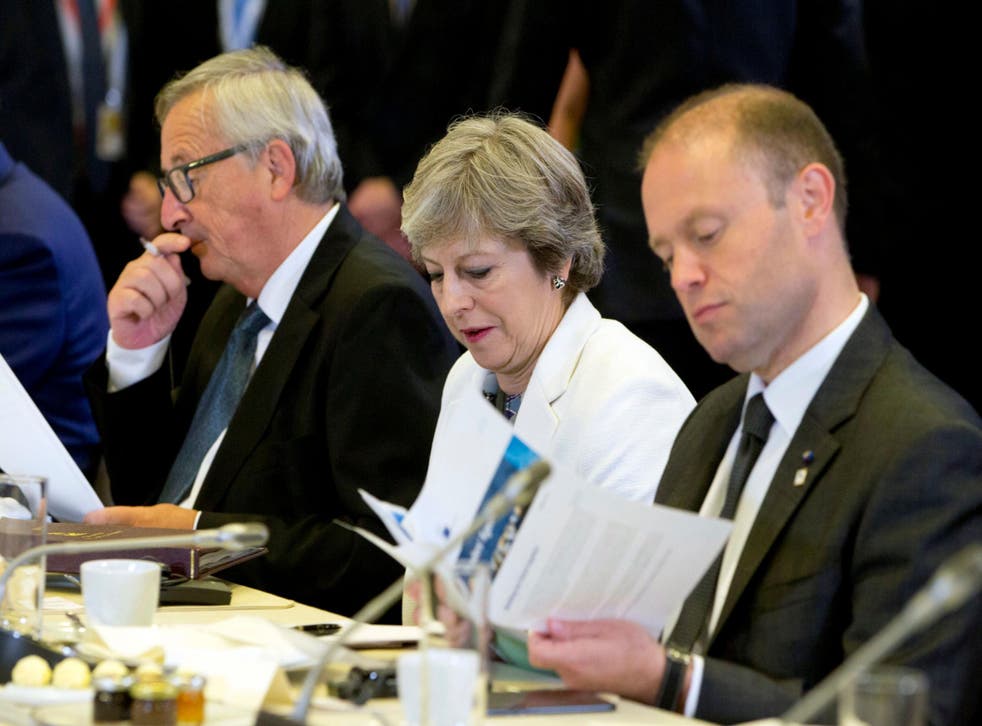 Suddenly, then, a break in the Brexit clouds. The signals emanating from the EU summit on all sides were of progress, of sorts, with the President of the European Council, Donald Tusk, rejecting reports that the talks were "deadlocked" – the apparent belief of the chief EU negotiator Michel Barnier earlier this month – and sounding, at least, cheerful.
Germany, according to the leaks, is anxious for a trade deal with the UK, just as some Eurosceptics always claimed, indicating some fracturing of the hitherto solid and implacable Franco-German alliance.
For her part, Theresa May is also sounding by turns pleading and upbeat about an accord – within "touching distance". Maybe her change in tone in Florence from the colder early talk of "Brexit means Brexit" and "No deal is better than bad deal" is impressing our European friends and allies. She has also skilfully played "good cop, bad cop", turning the factions in her own party to some advantage – pointing to the genuine, and disturbing, body of opinion in the parliamentary Conservative Party that sincerely wants an end to all EU arrangements in March 2019 – and some even demanding she walk away from talks and implement "Brexit now". So they have some use, after all.
Ms May certainly needs the boost. As The Independent's exclusive polling reveals, public opinion is far removed from that in her own party.
The voters think the talks are going badly, spread the blame fairly evenly – and believe that such lack of progress is a bad thing for the country. For the sake of her personal position, the national interest and for the Tories to avoid annihilation at the next election (and a Corbyn premiership) she needs a convincing deal.
Theresa May admits for the first time that Brexit negotiations have been in 'difficulty'
Is it, then, too much for the Prime Minster to hope that she could yet gain the "deep and special partnership" she yearns for? In other words, will Britain, after all, be able to have its cake and eat it – free trade without freedom of movement of labour?
It is far too soon to believe in that. The most that might be hoped for now is a deal on free trade in goods – which represents only about 10 to 15 per cent of the UK economy (depending on whether natural resources, agriculture and fisheries count as goods in the way manufactures do).
The other 85 per cent of how Britain earns a crust in the world – services from airlines to the City to architectural design – would probably not be subject to any early deal anyway. What straws in the wind there are suggest a Swiss-style regime whereby a series of sectoral agreements are formulated over a period of some years.
None of that, with or without a transitional arrangement, will prevent jobs being lost and the UK suffering a painful economic hit – even if it is better than the alternative hard Brexit. It will also, in practice, mean the UK having to agree to EU directives with no formal influence over them.
Moreover, any free trade goods deal will come at a price that the Conservative Party in and outside Parliament could easily find unacceptable – tens of billions of pounds to be paid to the European Union under various obligations, plus a "special status" for Northern Ireland (which would enrage Ms May's Democratic Unionist allies) and some sort of role for the Court of Justice of the European Union, whether on citizens' rights or in arbitrating disputes about various aspects of EU law and the new trade treaty.
It is also doubtful whether Tory MPs and their press cheerleaders will be content, for example, to grant an indefinite right of settlement to the relatives of EU nationals living in Britain. There are, in other words, many practical points that cannot be solved easily (if at all) even with maximum goodwill, such as how to keep trade frictionless and simultaneously control migration while also allowing people to roam freely across Ireland, Northern Ireland and Great Britain. There are many points of principle that will also cause tempers to fray and talks to turn fractious. No one, for example, has mentioned Gibraltar lately.
Brexit Bill delayed over Government fears it would be defeated in Commons revolt
A soft Brexit was always the Prime Minister's goal, and for much of her premiership it has seemed beyond her grasp, frustrated by pressures in her own party and from the EU side of the talks. It may yet prove to be unachievable. Yet if some form of negotiated deal does become a reality in the coming months, it won't be something to celebrate.
Whatever the terms are, they will be less favourable, by definition, than remaining permanently in the customs union and single market with a strong say on EU decision-making. The free trade deal could appear superficially attractive, and thereby reduce the chance of the final referendum on the settled Brexit terms that the British people deserve. No Brexit, it must be said, is better than soft Brexit.
There is still, as there has been for many years, if not decades, no majority for Brexit in the House of Commons, and there are figures of conscience there who can be relied on to place the national interest first. Brexit, hard or soft, dirty or clean, is not inevitable. Its opponents (including in the Lords) must not be distracted by some hyped-up trade deal for goods: soft Brexit is also a disaster, and should not be visited upon the British electorate without their explicit consent. The clouds remain.
Register for free to continue reading
Registration is a free and easy way to support our truly independent journalism
By registering, you will also enjoy limited access to Premium articles, exclusive newsletters, commenting, and virtual events with our leading journalists
Already have an account? sign in
Register for free to continue reading
Registration is a free and easy way to support our truly independent journalism
By registering, you will also enjoy limited access to Premium articles, exclusive newsletters, commenting, and virtual events with our leading journalists
Already have an account? sign in
Join our new commenting forum
Join thought-provoking conversations, follow other Independent readers and see their replies