Southern rail has many flaws – but its business structure is possibly the worst
Given that staff redeployment not unemployment is being threatened, it looks like the RMT, in calling strike action, is being macho for the sake of it. But unions aren't to blame for Southern rail's dysfunctional set-up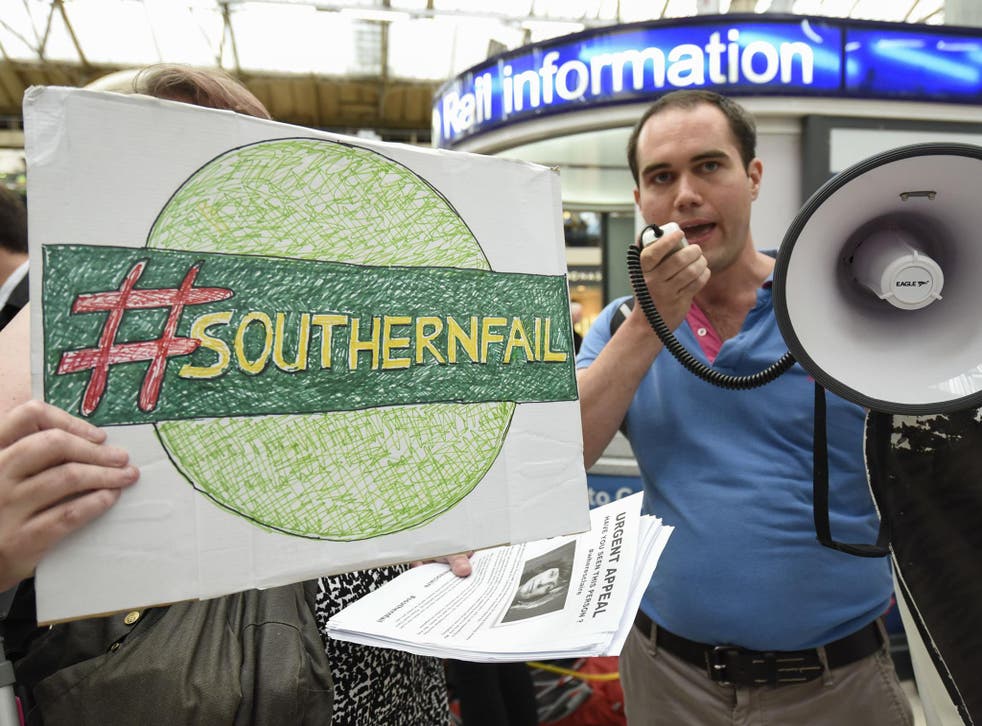 Who is to blame for the mess that is Southern's rail service? Resolving that may not help anyone get in to work across London and the south-east of England tomorrow, but it is a question that hundreds of thousands of commuters, and interested parties throughout the country, deserve an answer to. It is not as obvious as it seems.
Of course the proximate reason for this lengthy industrial stoppage – the longest rail strike in Britain in almost half a century – is the RMT members' decision to vote yes to strike action, in a properly conducted ballot. Despite the bad press they sometimes receive, they will not have taken such a decision lightly; they will lose a week's pay, and there is no necessary reason why their action will succeed. One reason it will not is that the public reaction is likely to be highly unsympathetic. The union has not reserved its ultimate sanction to be used against the ultimate threat: job losses. No conductor is going to lose their job. They are being redeployed. The union doesn't like this, and makes claims that safety will be compromised. They have a right to say so; but it is not the RMT's job to set safety standards or to monitor them. It looks like the RMT is being macho for the sake of it.
Already hit by thousands of cancellations on the existing timetable, with claims that some people have even lost their jobs because of the slow and unreliable service, passengers are coming to the end of their patience. If they could strike, they would. The union, and indeed Southern rail, enjoy a virtual monopoly on some lines, and finding alternative methods of transport is all but impossible. There have been protests; MPs in Sussex have spoken out; transport department ministers, old and new, are sympathetic to the plight of passengers. And yet the arguments between management and unions drag on and on and on. Unlike the trains, they never seem to stop.
Southern rail's business model is an odd one. As the franchise receives most of its revenues direct from the government, almost irrespective of the level of service, it suffers little financial penalty from any form of strike action, at least in the short term. Unlike most businesses, in other words, there is no incentive for the management to compromise and get the railway running again. On the contrary, there are some suggestions that ministers, anxious to see more flexible working across the network, are egging Southern on.
The other obstacle on the line to industrial harmony is the very complicated structure of the business, with a web of joint ventures winding up in the ultimate ownership of a British-quoted company, the inaptly named Go-Ahead plc, and a French entity, Keolis, part-owned by the French state railway, SNCF, and a Canadian pension fund. With the best will in the world, Govia Thameslink Railway would find it difficult to exercise decisive leadership at the best of times with a structure like that.
Even by the standards of the public transport network, Southern rail seems in a class of its own for dysfunctional management, stubborn unions and, at best, neglectful parents and regulators. The new Secretary of State, Chris Grayling, is in a compromised position, seeking on the one hand a decent service for passengers in the South (including in his own parliamentary constituency of Epsom) and on the other maintaining a necessary operational distance from the train operating company and its various parents. But even if he were not, and even if he threw his entire department's resources into finding a solution, it is difficult to see one arising when there are so many structural reasons militating towards failure, and indeed a wider failure of Govia as a business model. That is the fundamental reason why the train from Epsom to Victoria won't turn up. Mr Grayling is fortunate to have a government driver.
Register for free to continue reading
Registration is a free and easy way to support our truly independent journalism
By registering, you will also enjoy limited access to Premium articles, exclusive newsletters, commenting, and virtual events with our leading journalists
Already have an account? sign in
Join our new commenting forum
Join thought-provoking conversations, follow other Independent readers and see their replies