The country is crying out for an opposition worthy of the name
The Independent's opinion poll today, giving the Conservatives a 21-point lead, underlines the urgency of the task facing those inside and outside the Labour Party who want to see a credible alternative to Theresa May's Government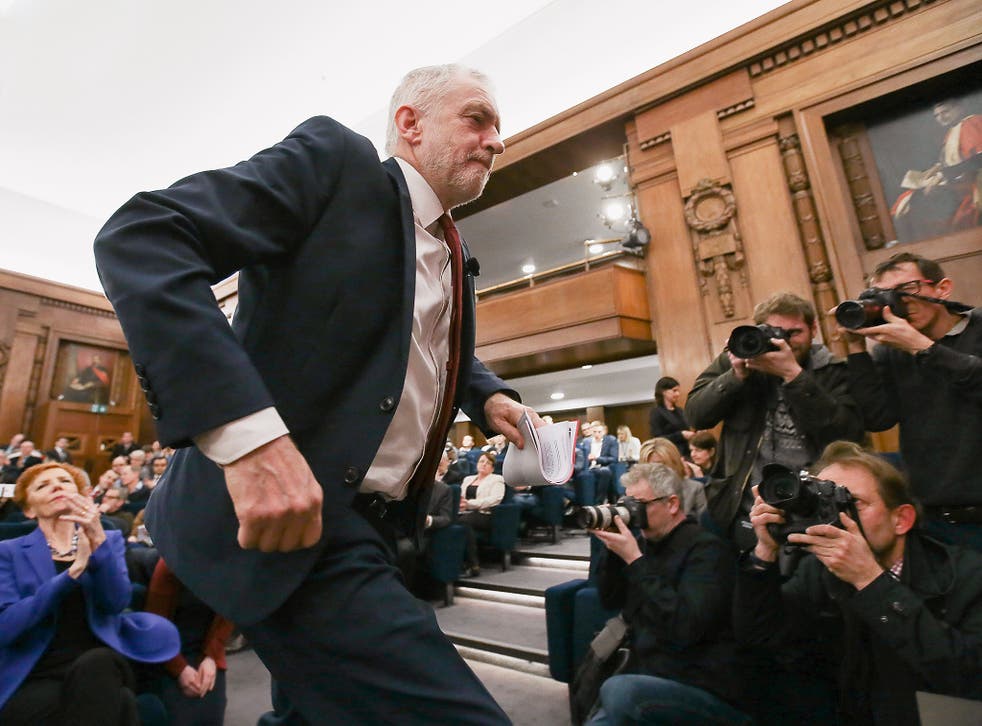 The Labour Party is in a disastrous position. The Conservative 21-point lead in our ComRes opinion poll today is the greatest enjoyed by the party in government since the eve of the 1983 general election, when Margaret Thatcher won a 144-seat majority against Michael Foot's Labour Party.
What cold comfort there might be for Jeremy Corbyn in our poll is no consolation at all. Labour's support has not fallen this month, remaining unchanged at 25 per cent. Theresa May has gained ground mainly at the expense of Ukip since the EU referendum. But it is the opposition that should be winning over floating voters, including from the governing party.
Our poll also suggests that several Labour policies are popular. Recent proposals of free school meals for all primary-school children and of raising the minimum wage to £10 in three years both have majority support, as does Labour's longstanding policy of raising the top rate of income tax from 45p in the pound back to 50p.
What is more, the poll fails to provide evidence that Mr Corbyn himself is as voter-repellent as many opponents in his own party believe. Whether policies are associated with him personally or with Labour generally seems to make no consistent difference to public support. If this is evidence of voters' indifference towards Mr Corbyn, however, this is hardly a great endorsement of his leadership.
The best that might be said for Mr Corbyn is that Labour's problems go deeper than the shortcomings of its leader. None of the candidates who offered themselves as alternatives to Mr Corbyn in 2015 or in 2016 could be sure of presenting themselves as particularly credible rivals to Ms May for the office of prime minister. The party has been winded by the EU referendum vote, unsure whether to oppose it wholeheartedly – a position quickly seized by Tim Farron for the Liberal Democrats – or to play the longer game of constructive opposition.
And part of Labour's problem is that Ms May has proved surprisingly adept at presenting herself as the tribune of "ordinary working-class families" that Labour used to regard as its own, while also claiming the mantle of national unity, bringing together a nation divided by Brexit. The Independent remains sceptical of both poses, but we cannot deny that they have been well received by the voters so far.
The early consequence is that Labour will probably do very badly in the local elections next month, as Professor John Curtice writes for us today. Let us hope that this prompts some productive thinking inside and outside the Labour Party. We say "outside" because there is a feeling in the air that the party as presently constituted is not up to the task of providing an effective opposition on its own. One of the most striking findings of our ComRes poll is that 41 per cent of the public agree that "there is a need for a new centre-ground political party in Britain" – including 43 per cent of Labour voters.
Of course, the "centre ground" means different things to different people, and there are all manner of well-rehearsed problems with trying to assemble cross-party and non-party coalitions. There are even more difficulties in trying to import French movements such as Emmanuel Macron's pro-EU and centrist En Marche! But there does seem to be a space in British politics, stretching from the radicalism of some of Mr Corbyn's supporters to the One Nation pro-EU Toryism of someone such as Kenneth Clarke.
It is a space waiting to be filled, and the sooner a serious attempt can be made to do so, the better for the sake of a healthy democracy in this country, which requires an opposition that makes the Government nervous.
Register for free to continue reading
Registration is a free and easy way to support our truly independent journalism
By registering, you will also enjoy limited access to Premium articles, exclusive newsletters, commenting, and virtual events with our leading journalists
Already have an account? sign in
Register for free to continue reading
Registration is a free and easy way to support our truly independent journalism
By registering, you will also enjoy limited access to Premium articles, exclusive newsletters, commenting, and virtual events with our leading journalists
Already have an account? sign in
Join our new commenting forum
Join thought-provoking conversations, follow other Independent readers and see their replies