The entire university funding system needs a root-and-branch overhaul
There are three grave weaknesses in the present system and each need to be tackled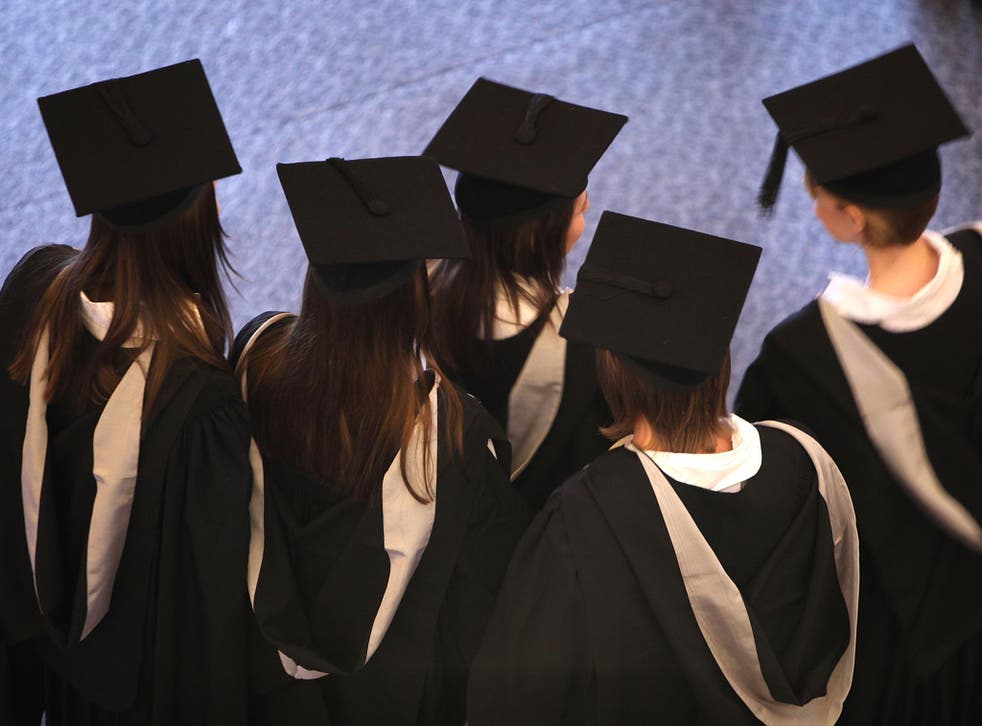 To charge 6.1 per cent on a loan when the lender can borrow at less than 2 per cent might seem the sort of usurious behaviour that gets bankers a bad name. But that is exactly what the Government is doing with its student loans.
As we have just reported, MPs on the Treasury Select Committee are calling for a cut in these punitive rates. Theresa May will respond on Monday in a major speech on higher education, launching a high-level independent review of the whole sector.
She will make a number of welcome, if general, points. These include the extent to which there is a "false barrier" between academic and technical education, that there should be better guidance about the opportunities in different types of occupation and the qualifications needed, and the importance of life-long, part-time and distance learning.
All this is self-evident. There is, however, one thorny issue that the new body must grasp: university funding.
It should take this opportunity not just to cut the rate of interest on student loans but also to set to work on a root-and-branch overhaul of the entire university funding system. Supporters of the principle that students should pay at least part of their tuition fees can point to some positive results of the present system. Access to higher education has been widened. Low-earners will not have to repay their loans in full – maybe not at all. And UK higher education as a whole remains extremely competitive in global terms. On most league tables there are at least four universities in the world's top 20 and the UK is second only to the US in attracting foreign students. But there are three grave weaknesses in the present system and each need to be tackled.
First, there is this issue of the interest rate charged on loans. There should be a simple formula that ties the cost of a loan to the cost that the Government's funding – for reference, the yield on 10-year government stock is currently 1.58 per cent and on 30-year stock 1.98 per cent. That would be fair both to the student and the taxpayer.
Second, there is insufficient downward pressure on university costs. Fees in England and Wales are high by world standards, and as a result British students leave with larger debts than those of almost any other country, in some cases higher than the US. This cannot be right. Scotland, which has its own problems with higher education funding, has at least been better at containing costs.
The mechanism by which the Government will nudge down the costs is something with which the higher education institutions will have to be involved. There are innovative ideas around, such as the two-year arts course, and faced with greater financial constraints the university sector will doubtless find other ways of containing costs. However, the key point here is for the Government to take its own responsibilities seriously and make the framework for university funding clear.
That leads to the third point. There is an implicit subsidy that the Government, the general taxpayer, is giving to higher education, for it is estimated that roughly half of the student loans will never be repaid. The portion that is not repaid is in effect a grant. The country needs to make this subsidy explicit. Some students need grants if they are to have access to higher education. Others do not. So reform needs to make it clear what is a grant and what is a loan – and to make sure that the grants go to the students who need them most.
Finally, the Government must not lose sight of the national interest. The UK is fortunate in its higher education system. That needs to be protected and encouraged. But the present model for funding is not sustainable and the longer reform is delayed the graver and more damaging the effects are likely to be.
Register for free to continue reading
Registration is a free and easy way to support our truly independent journalism
By registering, you will also enjoy limited access to Premium articles, exclusive newsletters, commenting, and virtual events with our leading journalists
Already have an account? sign in
Register for free to continue reading
Registration is a free and easy way to support our truly independent journalism
By registering, you will also enjoy limited access to Premium articles, exclusive newsletters, commenting, and virtual events with our leading journalists
Already have an account? sign in
Join our new commenting forum
Join thought-provoking conversations, follow other Independent readers and see their replies