We said 'never again' – yet what has happened in Aleppo could have been avoided
As George Osborne told the Commons, the notion of what is happening in Aleppo as a 'humanitarian emergency', provoking 'emergency debates' and with governments exploring 'emergency action' suggests that this is a crisis that has suddenly appeared out of the blue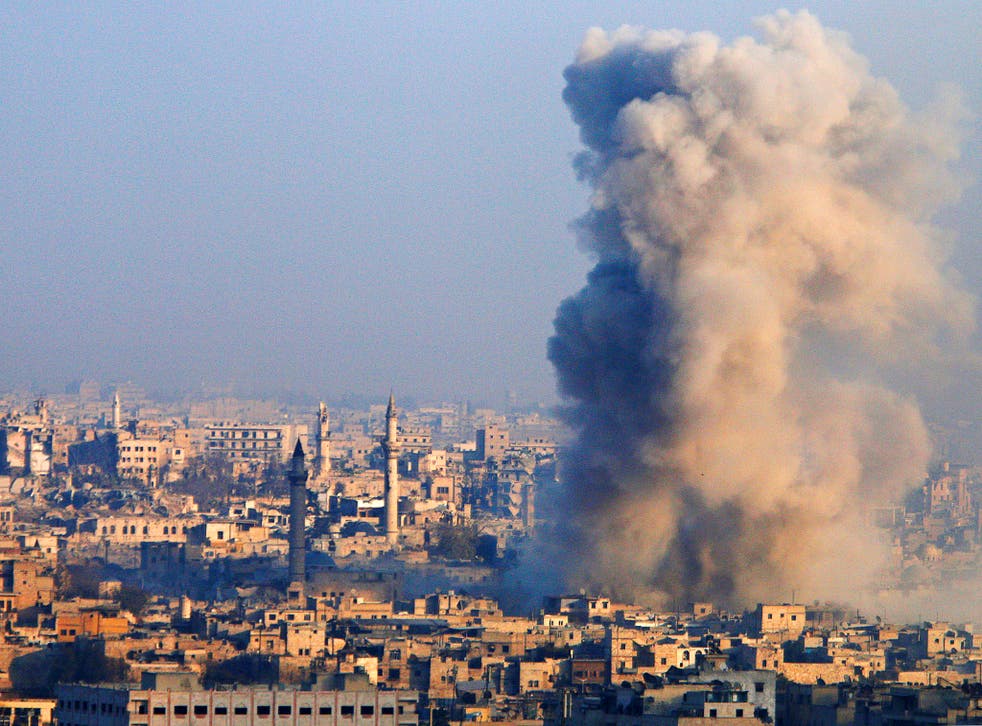 In the words of a doctor from eastern Aleppo, quoted in Parliament today: "Remember there was once a city called Aleppo that the world erased from history".
In a world seemingly inured to suffering, what the UN calls a "meltdown of humanity" is taking place on a scale perhaps unprecedented since the end of the Second World War. For sure, Aleppo has been razed, and its name joins the litany of Rwanda and Srebrenica, Guernica, Oradour-sur-Glane, Warsaw, Lidice and the Nazi death camps, as symbolic places where the world failed to prevent monumental destruction and slaughter, where it then declared "never again", only to await the next failure, and the next slaughter. Not that the timing matters to those made orphans or homeless, but these events taking place so close to the Holy Land and so close to Christmas is especially poignant.
It should make all in the West, and especially those who took such a hateful attitude towards refugees risking their lives to get to safety in Europe, examine their consciences. We did too little, too late.
As George Osborne told the Commons, the notion of what is happening in Aleppo as a "humanitarian emergency", provoking "emergency debates" and with governments exploring "emergency action" suggests that this is a crisis that has suddenly appeared out of the blue, like a natural disaster that has overtaken us. Of course it is nothing of the sort. It is a tragedy that has been unfolding for five years and more. It is a tragedy where almost every participant, local, regional and international has to bear some degree of culpability. Today, it is plainly the Syrian government of Bashar al-Assad, backed by his Russian allies, that are responsible.
It is not the first time by any means that the Syrian government has inflicted war crimes on the innocent, however there seems little realistic chance that it will ever be held accountable for those acts in an international tribunal.
Was it ever possible to prevent what has happened? It is impossible to say. We know that Secretary of State John Kerry did his utmost to persuade the Russians to cooperate, but if they, and the Syrian authorities did not wish to, then any sanctions on Russia would be ineffective, slow to take effect and possibly even counterproductive. It could be that the advent of Donald Trump, who seems determined to reset US policy towards President Vladimir Putin, removed any incentive for the Russians to agree to a joint approach. Certainly President-elect Trump's policy of laissez-faire towards Syria, on the grounds that presidents Assad and Putin would bomb Isis out of existence cannot have acted as much of a restraint. Perhaps earlier Western airstrikes would have altered the dynamic.
Even now, even at this moment of obvious agony, the West is powerless to prevent the Syrian regime, with Iranian-backed Shia militias and Russian support, from completing its indiscriminate offensive. The pitiless proxy war grinds on, and the people of Syria are paying the ultimate price for other countries' quarrels. The West has utterly betrayed its allies in the Syrian resistance. Shifting and uncertain as they may have been, up to and including some dubious attachment to Isis and its affiliates, groups such as Jabhat Fateh al-Sham, formerly the Al-Nusra Front) felt they were left with little option but to side with Isis, for fear of what the Assad government would do to them if it defeated them. We even let the Kurds down. Behind some of those Sunni rebels lay the wealth and power of Saudi Arabia. Hence the proxy war; hence the desperation of the fighting, and the atrocities that are now taking place.
When the Foreign Secretary, Boris Johnson, made his controversial but honest remarks about the failure of regional powers to show any leadership and to indulge in proxy wars, he was, if anything, understating the truth. The failure goes much wider than Riyadh, Tehran and Ankara, and reaches across Europe to Washington. Still, the greater part of the culpability lies in Moscow and Damascus. Their victory seems certain now, but rarely will history have witnessed a dustier and bloody pyrrhic triumph than the battle for Aleppo's rubble.
Join our new commenting forum
Join thought-provoking conversations, follow other Independent readers and see their replies