Six months after my deportation from Egypt, I'm facing some sad truths about the country I loved
Friends in Egypt told me that the mood in the country is of defeat and grief – they feel abandoned by the west, and latest developments from the UK and the US suggest they have good reason to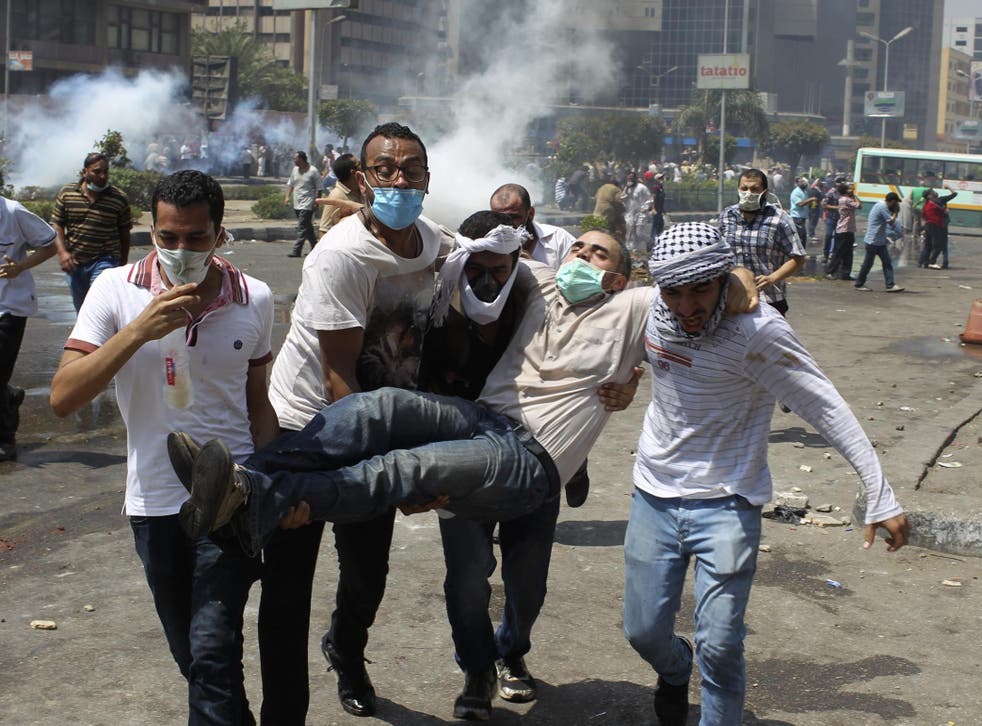 There is a beautiful saying in Arabic, "Khadet el-Shar w'Rahet", which, though not a direct translation, roughly means: the thing that breaks takes its evil with it.
An Egyptian friend texted it to me as I sat hunched over a shattered mirror, stupidly clutching a shard to my heart. The mirror, though worth little, was purchased from a shop tucked down a backstreet in central Cairo: a place I will never be able to visit again. It had been part of a shipment of my belongings from the Egyptian capital, where I had lived and worked as a correspondent for seven years. In some weird twist of fate, the freight finally arrived at my new home six months to the day that I was threatened with military trial, deported and told I could never return.
Speaking to friends and contacts from Egypt that same week, a week of horrible anniversaries for the country, they described the mood among many as one of defeat and grief.
A few days before the boxes arrived marked the fifth anniversary of the forced clearing of the Rabaa sit-in for unpopular Muslim Brotherhood president Mohamed Morsi. On 14 August 2013, and in front of the world's media, the Egyptian security forces slaughtered 800 people, including Sky News cameraman Mick Deane.
It is one of the largest massacres of protesters in a single day in recent history and marked a watershed moment for Egypt, carving the bloody path the country has since followed.
"Before, people were sleepwalking under [toppled president] Hosni Mubarak; now people aren't even breathing," said one friend about how the country felt five years on from the massacre. We spoke on a secure messaging app because his phone is monitored: he is part of a once-vibrant opposition party that is considering dissolving itself because the political climate is so dangerous.
"People just want to get out," he added.
Atheist is kicked off Egyptian TV for not believing in God
Since Rabaa, President Sisi, the country's ex-army chief who presided over Morsi's overthrow, has rounded up tens of thousands of regime opponents and banned unsolicited protests, as well as political parties and civil society groups. The media is heavily controlled: more than 500 websites have been blocked and now you can face a year in jail for even trying to access them. Critical voices are regularly arrested for publishing "false news", a charge now applied to anyone with a Twitter following. This week Sisi approved legislation that declared anyone with more than 5,000 followers on social media to be a news outlet.
In the middle of this, another friend in Cairo – who also can't be named for security reasons – said many Egyptians felt abandoned by the west. With no way of holding the regime to account within Egypt, they relied on pressure from outside. But the UK and the US have made it very clear this summer that no matter what, the Arab world's most populous country is a vital partner in a messy region.
"They are propping up this regime at all costs. And we don't know why," that same friend said.
President Sisi marked the fifth anniversary of Rabaa by pushing through legislation which effectively granted immunity to members of the security forces involved in the crackdown.
Despite this, days after the new legislation was ratified, the Trump administration released $195m (£150m) in military aid, previously withheld for a year over concerns about human rights.
State Department officials said it was in recognition of Egypt's response to US concerns, although no one was able to pinpoint what that response was. Egypt had not fulfilled any of the conditions that previous secretary of state Rex Tillerson had set.
This summer has also been a busy one for UK-Egypt cooperation, despite the depressing state of the country. It is little known that Britain is the largest foreign investor in Egypt and is responsible for 40 per cent of the country's foreign investment. Trade between the two countries is worth $3bn a year and is growing.
With Brexit looming, the UK's minister of investment Graham Stuart visited Egypt in May where he said Britain was "determined" to be "Egypt's number one trade and investment partner". Louis Taylor, the UK Export Finance CEO, followed a month later and said similar things.
The HMS Argyll sailed to Alexandria in July for joint military exercises. Days later, Lieutenant General John Lorimer, UK's defence senior adviser to the Middle East, visited Cairo and declared: "Keeping Egypt safe means keeping Britain safe."
But is turning a blind eye to atrocities really keeping Egypt safe? And how integral is that kind of partnership to the safety of Britain? You could argue that Sisi's ignominious five years in power have proved he is actually an unreliable partner for the west. His crusade to stifle all freedoms in Egypt in order to cement his power base, and his meddling abroad, has actually had the opposite effect.
World news in pictures

Show all 50
It is true that Egypt has been an effective physical bulwark against Libya, a country torn apart by rival fiefdoms of militias. But even though the Egypt side of the border is policed, Sisi has clearly sided with General Haftar, an east Libyan warlord who denied the legitimacy of the western-backed government in Tripoli.
President Sisi has taken a vital role this summer in bringing Israel and Gaza back from the brink of war, brokering a string of ceasefires. Benjamin Netanyahu, Israel's prime minister, even travelled to Cairo in June in a rare and secretive meeting with the Egyptian leader.
But Egypt has also, until very recently, tightened its own blockade on Gaza, exacerbating the internal crisis which pushed the 1.8 million residents of the blockaded strip to the very edge.
Back at home, Sisi's punishing economic reforms, including slashing energy subsidies and floating the currency, have created a healthier economy on paper. But from the ground up, the Egyptian pound lost half its value and fuel and electricity prices jumped last year by nearly 50 per cent, while metro tickets in some areas are more than three time as expensive as were a short time ago. It's piled pressure on the population, at a time when over a quarter of the country lives under the poverty line.
Egypt's messy and secretive counterterror war in North Sinai appears to be dragging on with little result. A fierce crackdown on perceived Islamist enemies of the state has only radicalised the youth and added to the jihadists' ranks. As Abdullah al-Shamy, a journalist who spent 10 months in jail between 2013 and 2014, put it, the people he met in prison are now "totally extreme" and believe violence is the only way.
"The increase in terror is a direct result of Rabaa. Even if Sisi is out of the scene tomorrow and there is some kind of solution. This is a lost generation. It will take an age to resolve," he said.
Egypt, like the mirror, is broken.
But there is hope from those who believe the current situation is unsustainable. Back in my living room, the Arabic saying takes on new meaning. After all: the thing that breaks takes its evil with it.
Register for free to continue reading
Registration is a free and easy way to support our truly independent journalism
By registering, you will also enjoy limited access to Premium articles, exclusive newsletters, commenting, and virtual events with our leading journalists
Already have an account? sign in
Register for free to continue reading
Registration is a free and easy way to support our truly independent journalism
By registering, you will also enjoy limited access to Premium articles, exclusive newsletters, commenting, and virtual events with our leading journalists
Already have an account? sign in
Join our new commenting forum
Join thought-provoking conversations, follow other Independent readers and see their replies