If Emmanuel Macron wins the French election next weekend, he would show that the centre-left is not yet dead
Macron, a bit like Tony Blair and Donald Trump did, is running for the top job against his own party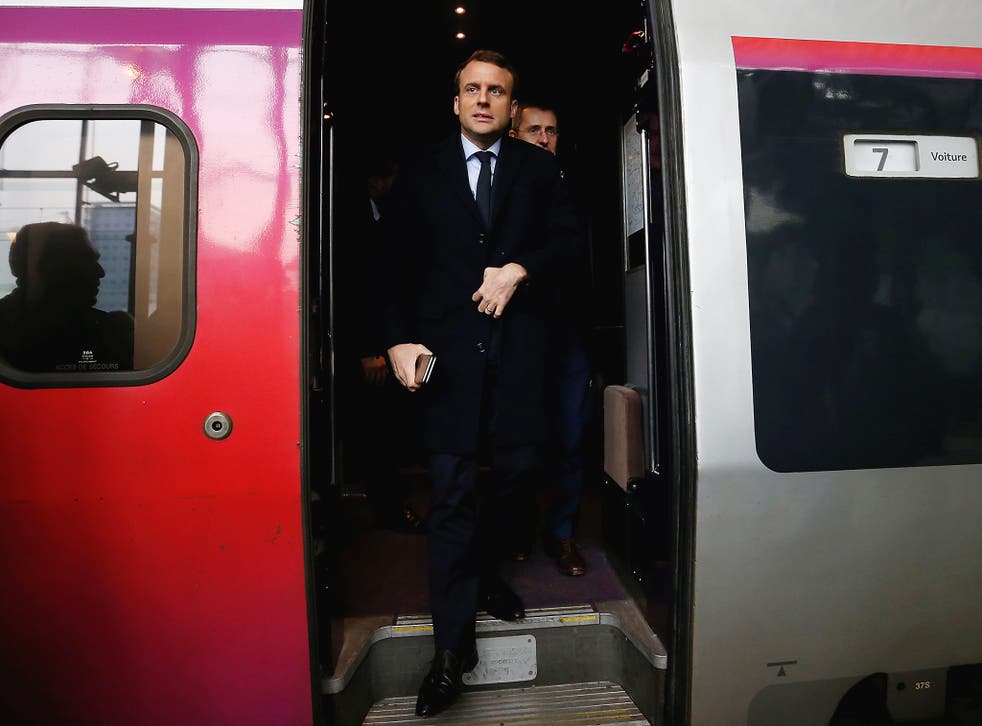 For all the breathless "Is Emmanuel Macron the new Tony Blair?", it turns out that this is another of my Questions To Which The Answer Is No. For a start, Macron is nothing like as popular. Having enjoyed a meteoric adulation, he has now fallen back into the pack of four candidates, all within a few points of each other in the opinion polls. (Amol Rajan, our former editor who is now at the BBC, always objected to a "meteoric rise", because meteors blaze briefly before falling to earth: this time the metaphor may be apt.)
A week before the first round of voting in the French presidential election, I am not foolish enough to try to predict the outcome. Yet the polls suggest that Macron is still the most likely of the four to win. If he makes it through to the second round on 7 May, the polls give him a big lead over any one of the other three. Let us hope they are roughly right, because they suggest that Marine Le Pen, the leader of the Front National, would lose by a large margin to any of her possible second-round opponents.
You can see why Macron has been compared to the early Blair. He is 39; Blair was 43 when he became Prime Minister. Macron is a technocratic advocate of closer EU integration. He says he is "neither right nor left", asserting that "the real divide in our country ... is between progressives and conservatives". That sounds like the left-right divide to me, but Blair could be pretty vacuous too.
Above all, Macron has put himself outside and above his party, the Socialist Party. He is running for the presidency as an independent, leading a non-party movement called En Marche! (Let's go, with an exclamation mark, like the Volkswagen Up!) He expects his former party to rally to him in the second round. This is the sort of thing that cannot happen in the British parliamentary system – although it has happened in British mayoral politics. Ken Livingstone ran as an independent in 2000 after he was fixed out of the Labour selection contest, and won, before being readmitted to Labour for his second term.
French Presidential Debate: Le Pen and Macron clash over immigration and burkini policy
Although Blair was Labour leader, he appeared to be from outside the party's history. Rubbish, of course, as he was a street fighter in London Labour politics on the "soft left" (although he was really on the party's right) who stayed when the SDP broke away. But he used the party as a foil to present himself as the champion of Middle England. And, as Alastair Campbell said at King's College, London, the other day, "Tony always had a very clear view and if you look at the Labour Party today he's not wrong: if you allow the Labour Party to indulge itself, it doesn't win."
If you think about it, the anti-party model has been followed by Donald Trump, too. He ran against the Republican Party establishment, using its fierce hostility towards him to dramatise the primaries and to define himself as an outsider in the general election. The opposite approach, the pro-party model, has been followed by Theresa May and her opponent, Jeremy Corbyn, and by Angela Merkel and her opponent, Martin Schulz. Corbyn's model is slightly different because he, in effect, recruited a new party to outvote members of the old one. He and Manuel Valls, the former French Prime Minister, are both good examples of when the pro-party model fails.
​Valls, who was France's next Tony Blair before Macron stole the title, tried to become the Socialist Party's candidate for the presidency. But he was beaten by Benoît Hamon, the left-winger, in the primary election in January. Hamon won 1.2 million votes in the open primary, four times Jeremy Corbyn's 313,000 votes in last year's Labour leadership election, and a fat lot of good those "mandates" did either of them. Hamon has now drifted to a distant fifth place in the polls, and is more or less out of the race.
That leaves Macron and Jean-Luc Mélenchon to compete for the left-of-centre vote. Mélenchon, an anti-EU leftist, is also a non-party candidate, having left the Socialist Party to co-lead the Left Party in 2008, but who is now running as a candidate of a movement called La France insoumise, usually translated as "Unsubmissive France", which I assume doesn't sound so terrible in French. Like Le Pen – although her view is now a bit unclear – he is opposed to the EU and advocates a referendum on France's membership.
In pictures: Orly airport shooting, Paris

Show all 10
Mélenchon's surge in the polls has come at just the right time, and a big question about the polls over the next seven days is whether it continues. A second question is whether the wounded François Fillon, the centre-right candidate beset by financial scandal, continues his modest recovery. (The publication of election polls used to be banned in France in the week before elections, but sense has prevailed: French legislators realised this meant financial traders would commission private polls and keep the results to themselves. Polls are now banned only on election day and the day before.)
Even if Macron loses, however, I doubt that this would mean the centre-left is in crisis worldwide. That seems like a grand theory built on special cases and near misses. Yes, the Labour Party is in a desperate state in Britain, but Hillary Clinton nearly won in the US (and won three million more votes than Trump, after all); Schulz for the German Social Democrats is competitive in this autumn's contest against Merkel; and Macron, whatever his weaknesses, is still the favourite in France.
But I would feel more comfortable about my theory that centre-left politics is alive and well if Macron makes it through to the final two next Sunday.
Join our new commenting forum
Join thought-provoking conversations, follow other Independent readers and see their replies