If beautiful old women like Jane Fonda annoy you, then they are doing it right
'Yes, yes,' I hear some of you say 'But what do their hands look like up close? I bet they have liver spots!'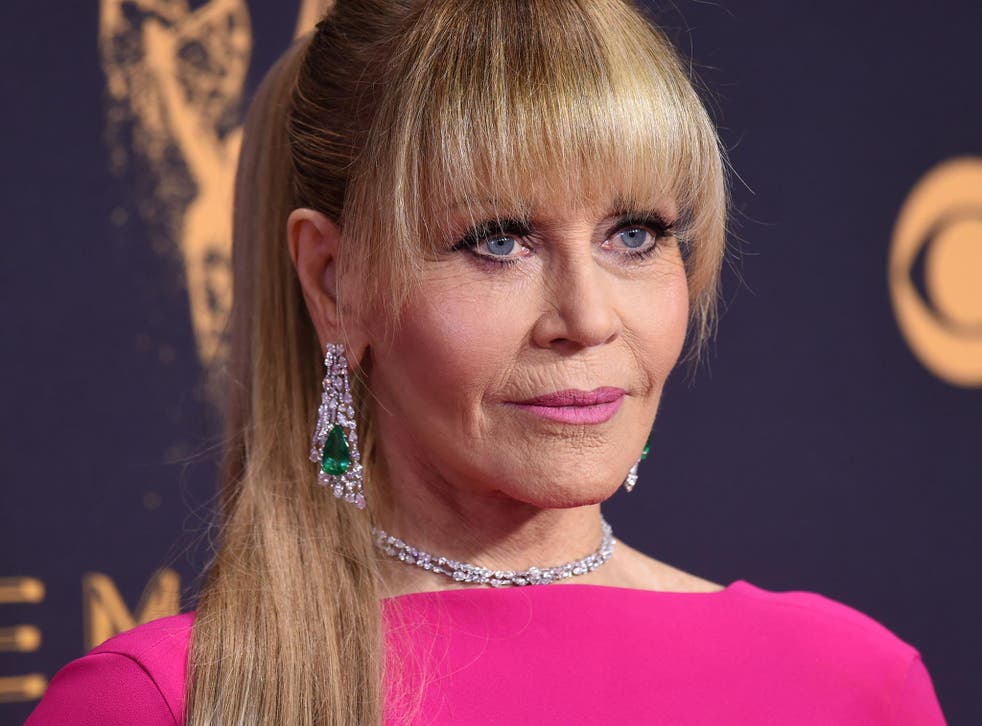 Age has not withered Jane Fonda, 79. Or at least it hasn't tangled roughly with the parts on view at Sunday night's Emmy Awards, where Fonda was nominated for her hit Netflix show Grace and Frankie.
Fonda will be an Octogenarian come December, but I class the actress as Queen of "The New Old". Susan Sarandon, Joan Collins, Jayne Seymour and Christie Brinkley are hot, sexy Dowager Countesses of this court, yet Fonda reigns supreme.
This Sunday on the red carpet, via her sleek waist in a neon pink gown; her long blonde ponytail with coquettish fringe; as well as her neat neck and radiant high cheekbones, Jane Fonda would pass for 30 years younger.
Obviously, any casual appreciator of this will be knocked sideways with a rabid chorus of "No she wouldn't, look at her claw hands!" Always the hands, I find. Back in your box, bitch, this clapback says. The one thing society loathes more than a wrinkly, wind-battered old bird trying to keep a high-profile career afloat is the famous woman who refuses to age.
Emmys 2017 red carpet fashion
Those women over 60 who keeps their eye on the prize: the stadium tour, the sell-out musical, the high ratings Netflix show. The women like Fonda who keep their regime tight, employing every modern magical trick available.
Those with the glossiest balayage hair dyes, the earliest AM Pilates appointments, the flattest stomachs, the most switched on wardrobe stylists, the best non-invasive retinol treatments and the subtlest doses of injectable oomph by the deftest practitioners.
All of this endless, all of this very hard work, on top of the your very hard work, at a time when one should be looking after grandkids, leafing through Yours magazine and collecting Victorian figurines.
There is an argument, yes, that women like Fonda heap pressure on the rest of us to remain youthful for ever. For me, I'll be eternally grateful that we've left behind how women aged when I was a little girl in the 1980s.
Post-40, approaching menopause, a woman was supposed to put on a smock dress, in sludge colours or dog tooth, have big wobbly spam arms, drive a Volvo with a dog grill, and be seen only behind a trestle table at Primary School Blue Peter Bring and Buy Sales selling "Guess the Weight of the Fruit Loaf" tickets.
By the age of 60 it was acceptable to have a walking stick, pernicious anaemia, cataracts, thinning hair and buy clothes only from Sunday supplement pull-out leaflets.
Long live the New Old, I say. Let me live vividly until I drop. Let me drop dead aged 100 against my laptop, still typing this sort of infuriating nonsense, wearing great iridescent primer and my hair roughly the same colour as I wore it in Tenerife in the Nineties.
My grandmother and my mother were both told to stop working and take an anonymous role in society when they got married. Their usefulness had other uses now, they were told. Those days are very much over.
But the New Old merely inspires a new, old type of misogyny. Especially if it's someone like Fonda who gave the world aerobics, doles out sex tips for over-seventies and then appears at the Emmys looking like a 1990s Melanie Griffiths to lay a televised smack down of Donald Trump with Dolly Parton by her side.
Emmys 2017: Best dressed on the red carpet

Show all 25
Parton, aged 71, is still a peroxide blonde pocket-rocket with boobs at eye-line level and stadium-blitzing prowess. She appears to be going nowhere either. Same for Lily Tomlin, aged 78, who aside from her irrepressible comic timing and ability to rock a hot, tailored trouser suit is still incredibly pretty.
The New Old are, indeed, pretty. They've robbed that word back off the young. "Yes, yes," I hear some of you say "But what do their hands look like up close? I bet they have liver spots!"
When someone whines on about older ladies' hands what they actually mean is "Why won't this uppity, vain, self-confident bitch go away?" And they also mean, "Ugh, why is this over-sixties woman being sexy? Women stop being sexual at, 28, tops. The rest is just superfluous, predatory, embarrassing nonsense."
And they, more pressingly, mean "I have read one copy of a low-rent woman's weekly in my doctor's surgery which informed me claw-like hands are the tell-tale sign of try-hard ageing women and I shall trumpet this fact loudly every time I see photos of Madonna, 60, jet skiing in Martinique, as I myself resemble a bollock stuffed into Primark Reduced rail items, and by turn, I am steeped in impotent bile."
I couldn't see Jane Fonda's hands at the 2017 Emmy's as they were holding a $2,000 Tyler Ellis diamante statement purse, to offset her lurid-pink Brandon Maxwell gown. If all this annoys you, well, The New Old are doing their thing quite, quite beautifully.
Register for free to continue reading
Registration is a free and easy way to support our truly independent journalism
By registering, you will also enjoy limited access to Premium articles, exclusive newsletters, commenting, and virtual events with our leading journalists
Already have an account? sign in
Register for free to continue reading
Registration is a free and easy way to support our truly independent journalism
By registering, you will also enjoy limited access to Premium articles, exclusive newsletters, commenting, and virtual events with our leading journalists
Already have an account? sign in
Join our new commenting forum
Join thought-provoking conversations, follow other Independent readers and see their replies