McVey's resignation won't change the political situation but Dominic Raab's will – he's positioning himself for leadership
Others among the 11 ministers who criticised the deal at yesterday's five-hour cabinet meeting – such as Penny Mordaunt and Andrea Leadsom – will now come under intense pressure from Eurosceptic backbenchers to follow suit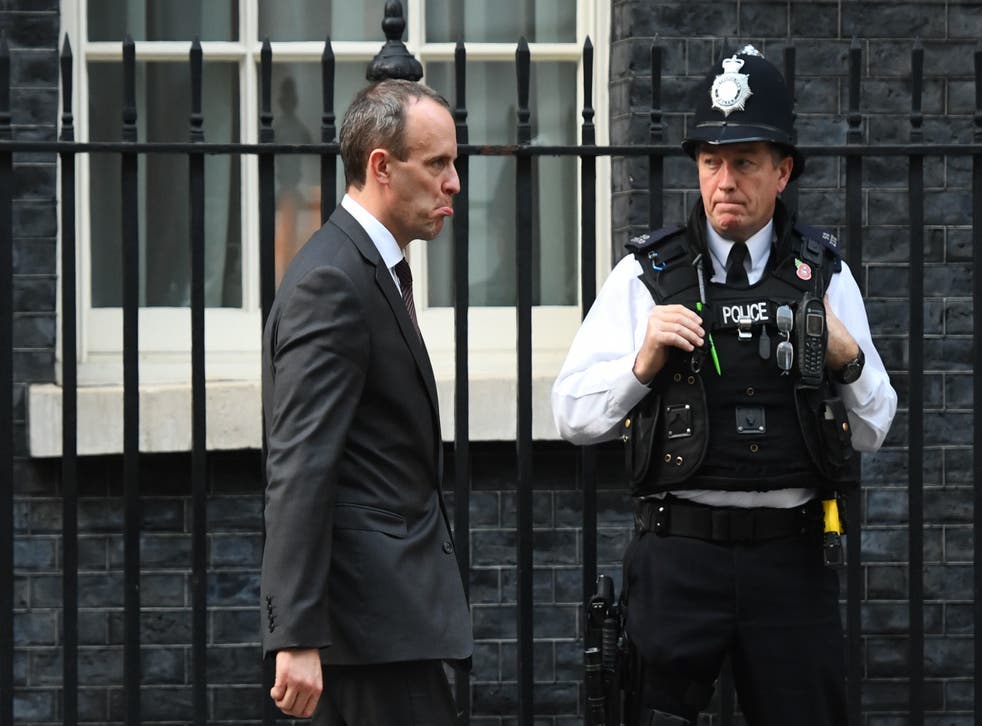 Winning the cabinet's approval for Theresa May's proposed Brexit deal was supposed to create a precious political ingredient – momentum – that would end with the Commons approving it next month.
Instead, only 14 hours after the cabinet gave its grudging approval, today's resignations by Dominic Raab and Esther McVey have stopped May's momentum in its tracks. Her strategy could yet hit the buffers. She has now lost two Brexit secretaries in five months; David Davis, the previous one, quit in July in protest at her Chequers blueprint. It is a reminder that the deal on the table is really May's deal, not the government's.
McVey's departure, after an unhappy time defending the indefensible on universal credit and rarely appearing in public since the Chequers agreement, will not move the political markets. But Raab's decision will.
Others among the 11 ministers who criticised the deal at yesterday's five-hour cabinet meeting – such as Penny Mordaunt and Andrea Leadsom – will now come under intense pressure from Eurosceptic backbenchers to follow suit. Suella Braverman, a Brexit minister and Shailesh Vara, a junior minister at the Northern Ireland Office, also quit this morning; other junior members of the government may join him, creating a snowball effect against May's plan.
Raab's stinging criticism of her deal from someone with inside knowledge of the Brexit process will damage May. He said he could support an "indefinite" backstop to prevent a hard Irish border and that the agreement posed "a very real threat to the integrity of the UK."
Raab, now a likely runner in the next Tory leadership contest, has been unhappy with May's direction of travel for some time; he was among those ministers privately hoping to steer it towards a Canada-EU style free trade deal. The Withdrawal Agreement published last night showed that battle had been lost.
His dramatic move makes a humiliating defeat for May in next month's crucial Commons on the deal even more likely. It could also encourage a vote of confidence in May as Tory leader among Tory MPs very soon. May's critics are already close to the 48 MPs needed to force one. If it happens, it would become a referendum on the prime minister's deal. If a majority (159) of Tory MPs vote against her in the secret ballot, she would have to resign, and a Tory leadership election would be held.
Support free-thinking journalism and attend Independent events
But if May won the vote, she could not be challenged again for a year – a rule that could yet deter critics from forcing a confidence vote. May might survive, feelings on the Tory benches are running so strongly against the draft agreement that the result could be uncomfortably close for her. If more than 100 of the 316 Tory MPs voted against her, it would make the task of winning Commons approval for her deal impossible.
Some Eurosceptics are already saying that today's events make a no-deal exit next March more likely. They should not celebrate just yet. There is no Commons majority for that, and MPs would surely find a way to prevent it. In fact, today's developments have made a Final Say referendum much more likely. It increasingly looks likely the only way out of the Brexit maze.
Register for free to continue reading
Registration is a free and easy way to support our truly independent journalism
By registering, you will also enjoy limited access to Premium articles, exclusive newsletters, commenting, and virtual events with our leading journalists
Already have an account? sign in
Join our new commenting forum
Join thought-provoking conversations, follow other Independent readers and see their replies