Six big reasons for women to vote Remain in the EU referendum
Shared parental leave, equal pay, anti-discrimination laws, special funding for women-led projects and protection against harassment and human trafficking: it's all enshrined in EU law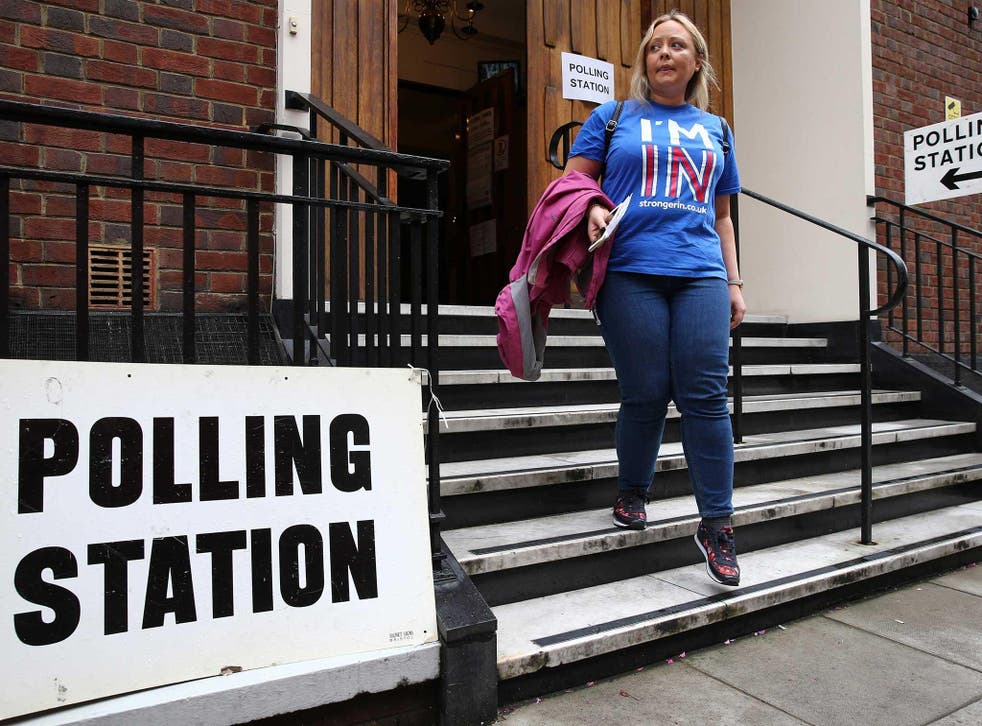 The European Union referendum has finally arrived. While the majority of voters are ready to cast their vote, many voters are still undecided on whether to vote leave or remain. According to a ComRes poll last month, one in five women voters are undecided, in contrast to 14 per cent of male voters.
Women have largely been underrepresented in Brexit debates. Research by Loughborough University published on 23rd May found that just16 per cent of TV appearances on EU issues had been by women. Harriet Harman MP, Labour's long time champion for women's rights, also has had enough. She complained to media watchdog Ofcom on 24th May calling for action from the regulator to ensure gender balance during the debate.
Another bone of contention is the content of debates. Brexit debates have focused on a narrow range of issues to the exclusion of subjects that disproportionately impact on women's lives, such as maternity leave, gender-based violence, and gender parity in male-dominated professions. And yet, the European Union has been influential in changing women's position in society. It has encouraged the UK to take great strides towards achieving gender equality.
Here are six reasons why women should vote to remain:
EU Funding for gender equality
As a progressive body the European Union seeks to achieve gender equality across European Member States and this is a key objective of the European Commission. Along with several other sources of EU funding, the European Commission's Strategic Engagement for Gender Equality: 2016-2019 allocated EU funding of €6.17 billion between 2014-2020 to achieve gender equality targets and objectives - these include reducing the gender pay gap, and promoting equality between women and men in business decision-making.
Equal treatment and anti-discrimination
Equal treatment is a founding principle of the European Union. Equal pay has been enshrined in Treaties since 1957, before the Equal Pay Act 1970 ever came into force in the UK. The EU Equal Treatment Directive made it illegal to discriminate against women in the labour market, education and training and Member States have a duty to pay women the same wages as men for work of equal value.
Maternity and parental leave
Maternity leave is enshrined in EU law. It guarantees women the right to at least 14 weeks' maternity leave and protection from maternity-related discrimination. Self-employed women in the EU are entitled to social protection, including maternity leave. The EU also recognises parental leave rights which gives each working parent the right to at least four months' leave after the birth or adoption of a child. At least one of the four months cannot be transferred to the other parent – meaning it will be lost if not taken – offering incentives to the father to take leave.
Violence against women
Violence against women is widespread in the UK, and the rest of Europe. On average police receive an emergency call relating to domestic abuse every 30 seconds in the UK. To prevent violence against women, the EU introduced a Victim's Directive guaranteeing specialist support and protection from repeat victimisation for women; the Equal Treatment Directive sets high standards on preventing and prohibiting sexual harassment; the European Protection Order and mutual recognition in civil matters mean women are protected from perpetrators when they travel anywhere in the EU; and the Anti-trafficking Directive creates a comprehensive framework for prevention, victim support and police cooperation on trafficking (80 per cent of victims are women). Earlier this year Mary Honeyball MEP authored a European Parliament report which raised a number of concerns over the treatment of women refugees entering European Union countries. Her recommendations about how to best support and protect these women were raised with the European Commission who were asked to take swift action.
Gender parity in decision-making
The European Commission is vocal in highlighting the need for gender parity, which is high on its political agenda. The Commission has been strong on collecting data and analysing trends. There are 8 per cent more women MEPs than MPs. 37 per cent of MEPs are women in the European Parliament, compared with only 29 per cent of women MPs in the British Parliament.
Women's economic independence
A number of EU initiatives have been set up strengthen women's entrepreneurship, including funding for specific programmes, and measures to encourage women's take-up of STEM and research, through the Horizon2020 Agenda. Cohesion funds like the European Social Fund make funding available for projects which get women into the labour market, reduce the gender employment gap, and alleviate poverty.
The European Union like most institutions isn't perfect, but the work to improve the lives of British citizens is most effective if led from inside the EU. Voting to remain in the European Union ensures women receive far greater support and protection.
We will continue to highlight the disparities women face on a daily basis: the disparities in pay, the (lack of) support for the family, and helping victims of gender-based violence including trafficking and Female Genital Mutilation to ensure they can live lives free from violence and intimidation.
We are more powerful, and able to achieve far more significant change, leading European legislation for the benefit of millions of women.
Join our new commenting forum
Join thought-provoking conversations, follow other Independent readers and see their replies