Every novelist's greatest nemesis? His or her photographer
The photographer has seen all of your other pictures and doesn't like any of them – his way of saying he doesn't like you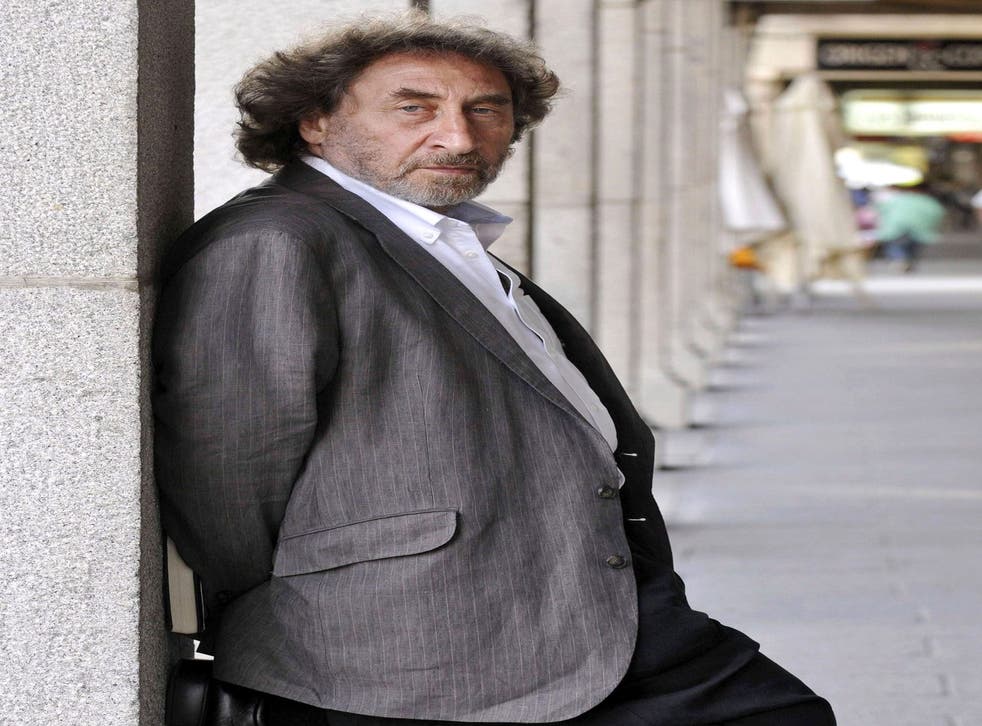 This week: my life as a photographer's model. The chances are that readers won't immediately associate me with Annie Leibovitz or Mario Testino. This isn't surprising as I haven't posed for them. I don't say I wouldn't, I only say I haven't.
I did, though, once allow Italian Vogue into my house. They arrived – photographer, dresser, make-up artist, set designer – with a rack of clothes they must have borrowed from the Italian punk band Tre Allegri Ragazzi Morti. If I say so myself, I looked good in every outfit: mad, bad, dangerous to know. I never found out if they published the photograph – it's unsophisticated to ask – but one of them turned up years later on the cover of a Russian edition of one of my novels. No mystery why the Russians liked it. I was Raskolnikov, Ivan Karamazov and Stavrogin rolled into one. For which reason I liked it too.
But my wife laughed when she saw it. So did my son. So did my mother. It's hurtful to discover that, while you're the hero of The Devils in your own eyes, you're the hero of A Bear Called Paddington in the eyes of others.
Vogue excepted, I have never liked being photographed. I put it down to a bad experience I had with a photographer when I was a small boy, done up in a soldier's uniform identical to my father's and carrying a ball. A studio portrait, they called this, though the studio was no more than a garage with a rag hanging from the door. The photographer was called Lawrence – Lawrence of Stockport – and he wore a check suit with a revolving bow tie.
"Let's have a smile from you," he said, which happened to be a locution I especially disliked. "Let's have you dead on the floor," I thought. Things deteriorated from there, with Lawrence of Stockport pulling faces, bursting balloons, spinning his bow tie and finally telling me in a whisper that boys who won't smile go to hell. I smiled at that, but inwardly.
These reminiscences are not random. They come about because I am once again having to find a smile from somewhere and once again failing. It's publication time – every author's witching hour when graves open and the sheeted dead arise to shriek and gibber their disapproval of your living words. With publication comes an obligation to give interviews and with interviews comes the obligation to pose for a new photograph.
It's a mystery to me why they don't just use old ones. I could find them one in which I'm the spitting image of the Underground Man. With Tolstoy on the telly, you'd think they'd like Dostoevsky on their books pages. But no. I must pose again.
The interviewer finishes with you and the photographer turns up. He's seen all those other photographs and doesn't like any of them – his way of saying he doesn't like you. He is peevish at having had to wait, at having been given the wrong venue, at being, as he or she sees it, second best to the interviewer.
Whoever has made a television documentary will recognise this power struggle, though in television it's the cameraman who's the big cheese and the sound recordist who's the dogsbody. As a rule, cameramen are taller, stronger and better looking than sound recordists, which does little for the sound recordist's spirits.
But this isn't a documentary, it's a photo-shoot and there's no sound recordist for the person holding the camera to lord it over, only the interviewer who's kept him waiting – but she's gone now, back to a sushi lunch in Canary Wharf – and you, the fancy-pants writer who thinks he looks like Ivan the Terrible and is too grand to smile. So it's you he goes for.
There are several ways he does this. The most common is telling you where he's just been and whom he's just been photographing. If it wasn't the White House to shoot the Obamas, it will have been seven Jacobean manors knocked together in the West Country to shoot the Clooneys. (So don't think I'm excited to be photographing you!) "How are they?" you ask, implying that you're close but haven't see them in a while, hoping they've sorted out their problems. "Who – the Obamas or the Clooneys?" "Both, both."
But what's the point of upsetting the photographer further? He has already decided he can't get the shot of you he wants in the venue you are already in, and so leads you around the city looking for light reflected in rain, or crowds, or loneliness, or something that might wipe that look of irritated boredom off your face, before returning to the place you started from, which suits how he's feeling about you, after all.
By which time, cold and tired, you look like shit. The sentence, "No, you look great," as he points his camera, is the sign that power has shifted and you're the dogsbody now. You ask not to be photographed from below, or leaning aggressively into the camera, or left profile, so he shoots you from below, leaning aggressively into the camera – he even says, "Let's have you looking aggressively into the camera" – and left profile. The photographer's revenge.
Once, in Spain, a photographer asked me to climb into the boot of his car. In Germany, I was told to run down an alleyway and imagine the Nazis coming after me. In Australia, I was shot underwater with one leg in the air between two synchronised swimmers. So why didn't I refuse? Too well brought up. But at least I didn't flash any of them a smile.
I have said that I've only enjoyed being photographed once. In fact, it's twice. The second time was in Amsterdam. The photographer, who was running late, hung a sheet on a wall outside the hotel, told me to look away and pressed her shutter twice. Best two photographs of me ever. She made me look like Rasputin. Goes to show. You don't need all the palaver. Just know who it is you're photographing.
Howard Jacobson's new novel, 'Shylock Is My Name', is published by Hogarth next Thursday
Register for free to continue reading
Registration is a free and easy way to support our truly independent journalism
By registering, you will also enjoy limited access to Premium articles, exclusive newsletters, commenting, and virtual events with our leading journalists
Already have an account? sign in
Join our new commenting forum
Join thought-provoking conversations, follow other Independent readers and see their replies