Fallon's resignation means May's government risks being tainted by 'sleaze'
'The Defence Secretary's impression of solidity in defending the government on TV and radio meant that the person in the street would have had him low down on the list of those likely to engage in sexual misconduct'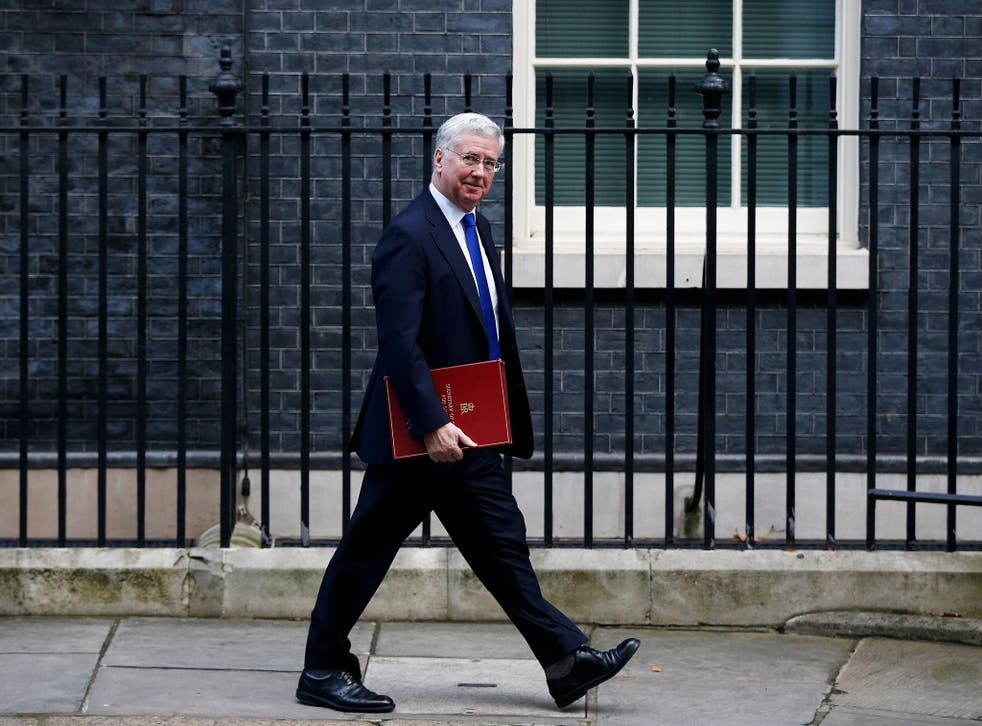 Michael Fallon had a reputation as a safe pair of hands – which now seems as if the gods were mocking him. His hands wandered unsafely some time ago onto the knee of Julia Hartley-Brewer, a journalist. She told him to keep them to himself and says she was not upset by the experience, but his resignation suggests more serious allegations may become public.
The surprise is that he gave an impression of solidity in defending the government on TV and radio, which meant that the person in the street would have had him low down on the list of of those likely to engage in sexual misconduct. The assumption would have been that it would have been the more flamboyant characters, such as Boris Johnson, who were more likely.
Yet the history of sex scandals in politics ought to warn us against such assumptions. For every apparent charmer such as Cecil Parkinson there is always David Mellor, Robin Cook or John Prescott to even the score.
Still, we shouldn't confuse our surprise at Fallon's fallibility with the opposite assumption that they are all at it and everyone in the Cabinet is on the verge of resignation. Just because one minister has accepted that his past conduct has "fallen below the high standards" required and resigned does not mean that another will. Damian Green, the First Secretary of State, has denied claims by Kate Maltby, a Conservative activist, of sexual advances, and if there are no further allegations against him might be able to survive.
It did feel, however, after Mark Garnier, the junior international trade minister, admitted he had sent his PA to buy sex toys, as if the Prime Minister was just waiting to see how many other ministers she would have to sack. She might as well do them all at once and use it as an excuse to promote some of the young talent who think that her survival in No 10 proves that none of the rest of the Cabinet is up to much.
If it does go beyond Fallon, however, it would be bad for the Government's image. "Sleaze" proved utterly destructive of the reputation of John Major's administration, and it could easily infect this lot too. It would be no use Theresa May insisting, as she did at Prime Minister's Questions today, that this is a problem that goes across parties. It does – as the awful allegation by Bex Bailey, the Labour activist, of rape by a senior party official demonstrates – but it will be the governing party that bears the brunt.
If she loses Green, who is in effect her deputy, that would be bad for her. I doubt if Boris Johnson would have to resign unless something worse than infidelity came to light – his complicated private life is a known quantity. But to lose two ministers from the experienced centre of her Cabinet would look terrible.
Even so, the buttresses holding up her Government are still in place. The Democratic Unionist Party will do nothing to make a Jeremy Corbyn government more likely. The Fixed-term Parliaments Act makes it harder to bring a government down, because a vote of confidence has to be separated from questions of policy.
But thoughtful Conservatives must worry about the analogy with the Major years: a government that seemed morally tainted, politically exhausted and divided on Europe struggled on for five years, losing ground day by day until its eventual destruction at the hands of the voters.
Register for free to continue reading
Registration is a free and easy way to support our truly independent journalism
By registering, you will also enjoy limited access to Premium articles, exclusive newsletters, commenting, and virtual events with our leading journalists
Already have an account? sign in
Join our new commenting forum
Join thought-provoking conversations, follow other Independent readers and see their replies