Flood defences: We must not miss the boat on using nature to reduce peak flooding
Schemes which grow trees to keep down water levels are gaining support but other natural methods should not be forgotten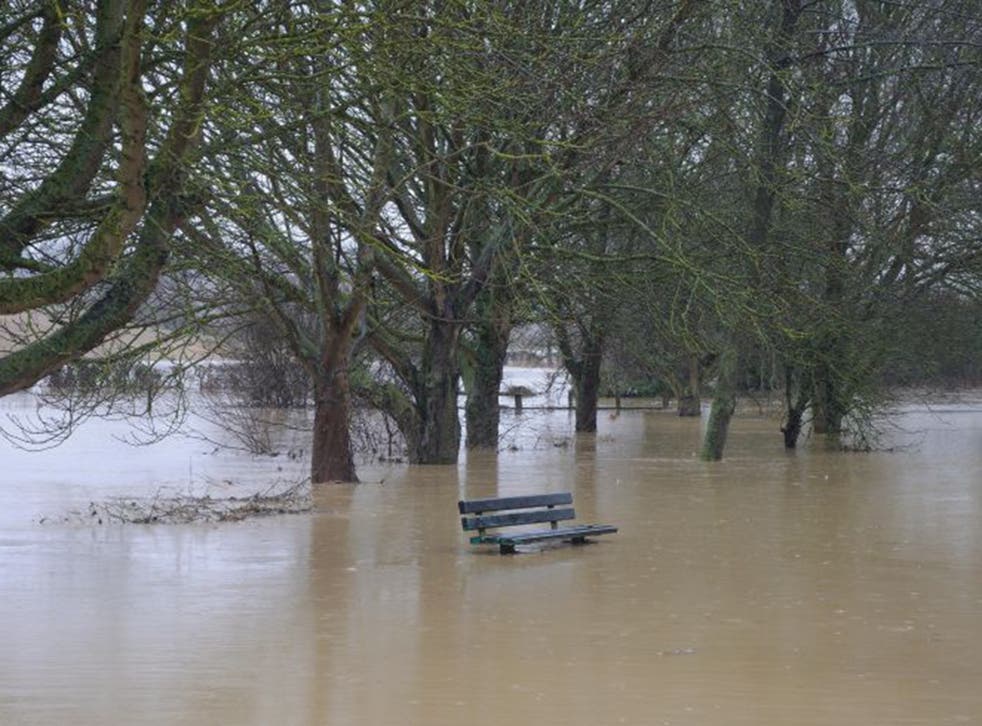 "The best time to plant a tree," runs an old Chinese proverb, "is 25 years ago. The next best time is today." Or so says Liz Truss, the Environment Secretary. She should know. Britain would be much better placed to face almost annual flooding if it had preserved, and strengthened, natural defences a quarter of a century ago.
The Government, which, like its predecessors, once scorned ways of working with nature to hold water back in the hills and lessen the inundation of flood plains, is now actively looking at using agricultural subsidies to help farmers plant trees, block drains and slow rivers. It is joining a consensus that such measures can be vital in reducing peak flooding.
New research from Birmingham and Southampton universities, published in the journal Earth Surface Processes and Landforms last week, showed that planting trees around rivers could reduce the height of floods in downstream towns by a full 20 per cent, since they help retain rainwater. Even beavers, once blamed for causing flooding, are now being hailed as part of the solution. The catalyst for the change of heart seems to have been the success of a scheme which kept the flood-prone Yorkshire town of Pickering dry over Christmas, even as much of the North was submerged, as reported in The Independent on Sunday.
Denied conventional concrete protection as too expensive, Forest Research's "Slowing the Flow" project built 167 "leaky dams" and 187 smaller obstructions in local becks and drains, planted 71 acres of woodland and built a large bund – modelled on one pioneered centuries ago by monks at nearby Byland Abbey – to store, and gradually release, excess water for a fraction of the cost.
The story caught the public's imagination but also attracted extraordinary hostility from conventional flood engineers and other commentators. It was even claimed that "it didn't rain much at Christmas in Pickering", though local measurements show the town received two inches in 24 hours – less than the record amounts that fell in some other places, but quite enough to have flooded the town in the past.
At any rate, ministers seem to have taken note. Within days Ms Truss said that the official Natural Capital Committee would "look at catchment management and upstream solutions to flooding, learning from innovative programmes like Slowing the Flow in Pickering". She and Cabinet enforcer, Oliver Letwin, also want to institute such measures as part of the Government's National Flood Resilience review, due to report this summer.
Rory Stewart, the floods minister, citing "the recently opened scheme at Pickering", announced that "we are working closely with the Environment Agency to explore the roles that trees and vegetation can play in flood risk management", while a Forest Research mapping exercise is to identify places to create woods to alleviate inundations.
Other fans range from Jeremy Corbyn to Prince Charles, who last month visited the scheme, initiated by academics from Oxford, Newcastle and Durham universities and implemented by official bodies alongside local people. In addition, the Country Land and Business Association, the Wildlife Trusts, Angling Trust and Royal Institution of Chartered Surveyors have all called for more measures to "slow the flow".
In Pictures: Floods hit the UK

Show all 17
The scheme has been … inundated, with approaches from people and councils across the country wanting to emulate it, while a Cumbria Floods Partnership and an ambitious new programme on the River Ure are both to institute natural ways to "manage river catchments" in a similar manner.
The Ure scheme also includes plans to restore, and "re-wet", peat in the uplands. Nearly 95 per cent of Britain's peatlands have been damaged, aggravating flooding and hastening climate change: in their harmed state they emit as much carbon as Britain's entire transport system.
Beavers are also likely to be encouraged. Stirling University reported last month that the animals, accused last year of causing flooding in Perthshire, actually reduced it: much the same seems to be happening in Devon.
None of this, however, should reduce the need for further new, conventional defences or excuse ministers for cutting back on them. The coalition government slashed spending by 27 per cent on taking office in 2010, postponing schemes in many areas that have subsequently flooded, and has still not returned to the levels it inherited (although Environment Agency boss Sir James Bevan made light of this on the radio on Friday), even though building them achieves a return of £8 for every £1 invested and – as even the Treasury admits – "helps drive growth". And last week it emerged that funding on research to improve flood warning and defences has been chopped by almost two thirds since 2009.
Brexit, moreover, threatens the new approach. The subsidies that ministers plan to give farmers to set up natural defences comes from Europe. Leaving the EU, as a report by the Institute for European Environmental Policy pointed out last week, would release Britain from its birds and habitats directives, which have long driven conservation in this country, and lead to increasingly intensified agriculture, the main agent of destruction of wildlife and the countryside. The consequence would be even more flooding, especially as climate change takes hold.
The new moves should, of course, have all got under way at least 25 years ago. It would be doubly tragic if Britain also misses its second best option – acting today.
Join our new commenting forum
Join thought-provoking conversations, follow other Independent readers and see their replies