Unsafe and unfair: The truth about covering football as a female journalist
Women in football deal with so much silently every day – we brush it off, despite fearing for our safety on the job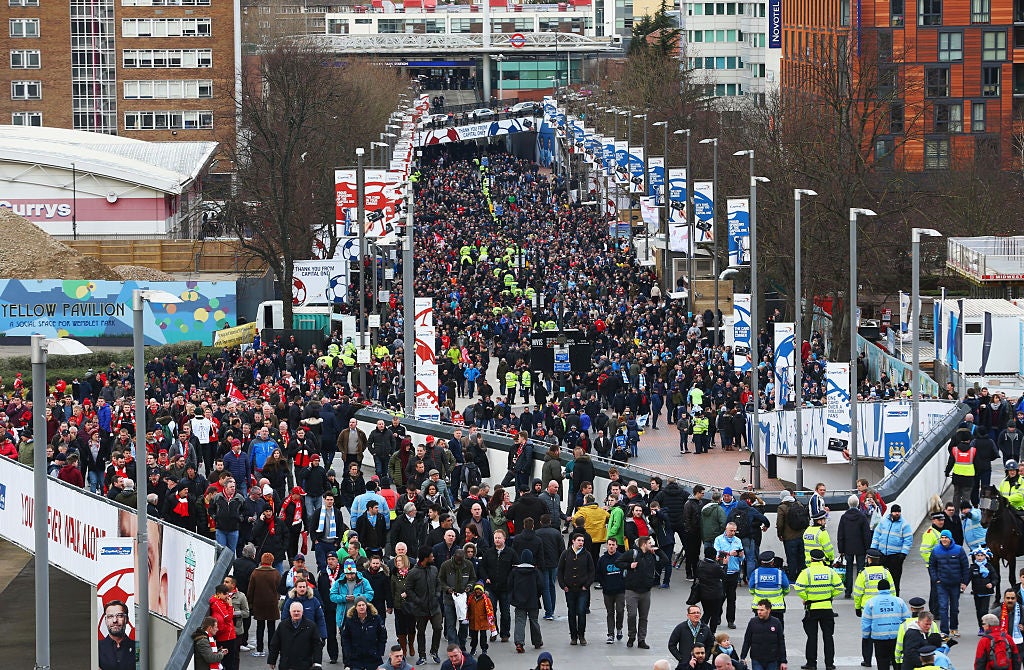 Wembley, 28 February 2016. The day of the League Cup final between Manchester City and Liverpool. As part of my coverage, I have been asked to "capture the atmosphere" with a self-shot video.
I'm a minute into my visual preview when it happens. He leans in – and kisses my cheek. "Have a bit of that," he says, laughing, then jogs on to catch up with his friends.
A picture of that moment exists. I don't need to dig it out, because my recollection of those seconds is photographic: the wind; my inadequate woolly lilac turtleneck and blush coat; the unwelcome man in a black T-shirt with indigo jeans.
But at the time, I can't be sure I'm not imagining it. The aftermath is a blur shaped by shock and a series of questions. Did that just happen? Wow. How has that happened?
I stop the recording, rewind it and pause. There! It's real. It happened. I screenshot the frame and send it to colleagues. They ask if I am fine. I am. I mean, it's... nothing? A guy invaded my space – despite it being a public spot, with people around, while my camera was rolling – to kiss my cheek and have some banter about it with his mates.
I laugh about it. They laugh about it. Humour: that great navigator of things that make us fiercely uncomfortable. The photo – my face altered with a startled filter, my hands lifting up, my body leaning away as his lips make contact – becomes a private meme. I even celebrate its first anniversary.
I do not mention the incident to the office. I delete the video, do another take, upload it and get to the business of reporting on the football. A draw; a shootout. City are champions and not too long after, the press box closes.
I still need to do a post-match analysis video. "At least it won't be as eventful as earlier," I tell myself. It's a lie.
I set up between the hotel and the stadium. Wembley's arch is blue and the shot looks superb. I walk backwards to get into the recording spot and a loud, "Hey!" interrupts me. I turn around to see five men. One, approaching me, asks: "Do you want to see a firework?" before pulling out his penis and wildly pissing, getting urine on his trousers and trainers.
I do not want to admit I'm shaken. I pack up, make sure they have gone far enough away and then walk the 50 or so steps into the hotel. I send my manager a WhatsApp, explaining why no video will be forthcoming tonight. He is aghast at what has happened, but I tell him it's "just one of those". Part of the job – and life as a woman.
Read more:
But I feel guilty for not finishing my work; and stupid. I'm angry that an idiot pissing on himself has put me off doing a job I've sacrificed so much for and I'm ace at.
I'm undecided about telling a superior. My inner monologue goes: "There's already so few female football writers. Do you think not completing your coverage because of this helps that at all?"
But these mental gymnastics have driven me to write this piece. I'd almost forgotten about "Wembley 2016", as with all the others: "Train to Watford", "Jerk outside Selhurst Park", "Pervert at Manchester Piccadilly". These "moments" fade into the landscape of being a woman in football – or, of being a woman, period.
And now, our safety is ­in the spotlight following the heart-wrenching news about Sarah Everard. It has sparked so many personal experiences, and while I feel uncomfortable about sharing them – not wanting to insert myself into the national conversation, or draw more attention to being a woman in sports media, which is taxing enough – it's important to be honest.
I mentor aspiring female journalists, and while we discuss the toxicity of social media as it is in the public domain, they need to be aware of the private strains, too. Choosing not to drive, and taking a taxi to and from some stadiums to avoid long walks through parking lots in the dark. Upgrading to first class on night trains after games; sitting with headphones on to avoid unwarranted conversation, but the volume off to remain alert.
These things are automatic. We don't flag it, because too often women are advised to modify our behaviour: "Don't drink too much on European trips, because you know how men are!" or, "Why don't you stop doing night matches if it isn't safe?"
It's tiring in the greater equation of XD – Expected Differences. Our entire existence in the field is questioned: whether we know the offside rule; who we "shagged" to get an interview; and how much we're paid, versus our male counterparts.
Some of what we're subjected to is insane: a post-award presentation picture from 2017, of me with Sadio Mane, has been used as "proof" we're in a relationship. Google it. A tabloid editor wanted to write about this fictional love story in their entertainment pages. Seriously!
We already deal with so much silently in this field that it's no wonder we don't make a fuss about our safety.
Inevitably, this piece will welcome the "not all men" massive, but truly, we know it's not – and we cherish the incredible males in our lives: partners, family, friends. I am fortunate to have colleagues that check on me during trips: Paul Joyce, Neil Jones, Rob Dawson, Dom King, Mark Ogden, Gareth Roberts, to name just a few.
Miguel Delaney spent four hours with me at a Madrid police station after my wallet was stolen, so I didn't have to be alone; and when I was Liverpool FC correspondent, the men in the club's media, press and travel teams looked out for me on European away trips, conscious that I was the only female in the press pack.
There are also some amazing advocates for us in football: Hector Bellerin, Jordan Henderson, Marcus Rashford and Ian Wright – it's definitely not all men.
But all women in this industry have had their credentials questioned and heard the implication that we've managed to get so far based on sexual favours. We've been told not to be "distracting", labelled "too emotional" or "difficult to work with", and faced a tirade of sexist online abuse.
All of this happens while we continue to operate on an uneven playing-field financially. And we have our safety regularly compromised on the job.
My mentions on Twitter can be poison and I've been creepily stalked on Instagram. But nothing compares to the physical invasion of my space. "Wembley 2016" is notable not because it was unique, but because it was more overt than normal – and happened twice in a few hours, in a busy place, marshalled by police.
I brushed it off, then. But I don't want to any more.
No, I don't want to "have a bit of that." No, I don't want to "see a firework".
This shouldn't be part of my job or my life, simply on account of being a woman.