After a teenage girl was almost forced to wed at gunpoint, we have to tackle forced marriage at the root
When investigations and trials are handled well, the legal system really can protect and empower survivors. But support services need to reach out to those at risk before the worst happens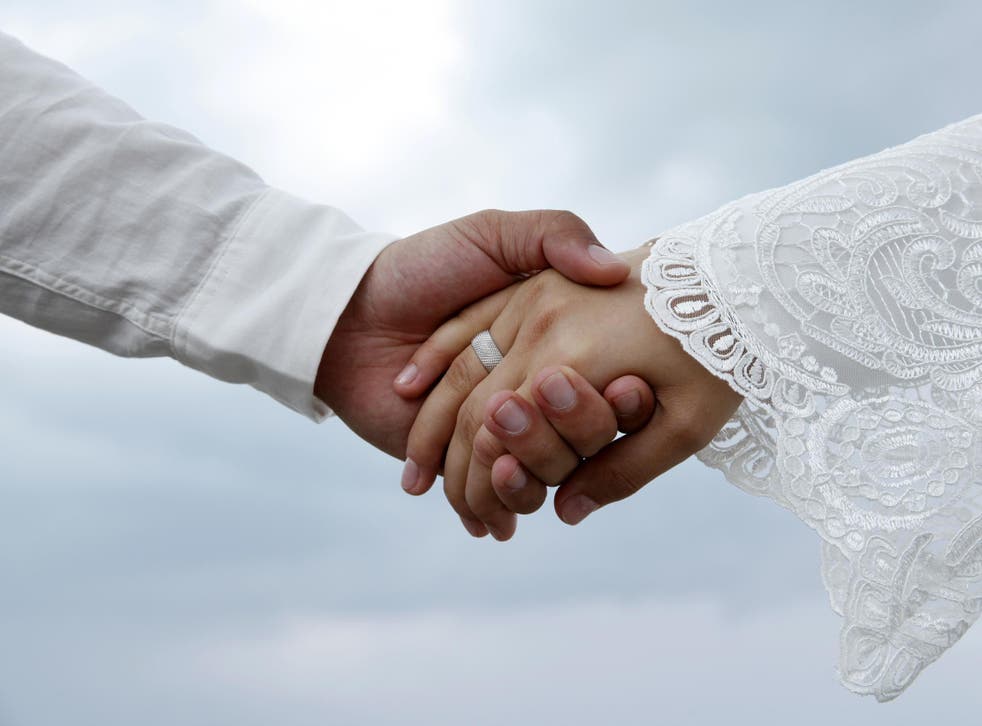 Measures designed to counter forced marriage and bring to justice those who seek to force others into marriage are becoming increasingly visible in British criminal justice. And there is evidence that they're beginning, finally, to bear fruit.
On 31 January 2020, a 55-year-old man was found guilty of forced marriage and of two counts of child cruelty at Birmingham Crown Court. He was sentenced to seven years' imprisonment. The man, who cannot be named for legal reasons, had attempted, at gunpoint, to force his 18-year-old niece into an arranged marriage while in Pakistan. His 43-year-old wife was also found guilty on one count of child cruelty and given a 12-month sentence, suspended for two years. Prior to the attempt to force her into a marriage in Pakistan, the young woman had suffered years of abuse and humiliation in the UK at the hands of her uncle and his wife.
One of the main challenges for prosecutions such as this one lies in overcoming the substantial barriers that prevent victims from reporting both forced marriage itself and their concerns about being at risk of being pushed into it. These barriers can take the form of patriarchal power systems, threats, and familial and community pressure and opprobrium.
For instance, in her powerful impact statement at the sentencing hearing, the Birmingham victim explained that the trial had been "extremely difficult" for her because she "feared for the safety of her family in Pakistan." She also said that she had been pressured to drop the case and that expectations "from the community" to do so had continued even during the trial. She admitted that at times she had feared that the case would stop and that she would "never get justice."
While the Birmingham case shows how a conviction can be secured by creatively using the forced marriage legislation in relation to coercion, it also illustrates how important it is to understand the integral role that cultural and family dynamics, traditions, and values play in these cases, crucially, by indicating how new legislation can empower victims to seek justice.
It is vital that professionals are able to recognise indicators of and risk factors for forced marriage. Given the ways in which the risks of forced marriage manifest, the ability to effectively evaluate potentially disparate, incomplete and even inconsistent evidence is imperative.
Forced marriage cases rely on victims' feeling empowered to come forward. Therefore, in order to bolster the likelihood of further successful forced marriage prosecutions, providing specialist intermediaries to support victims, police investigations and criminal proceedings can be critical to securing successful prosecutions. In this sense, the Birmingham case also underscores the point that a stronger understanding of the importance of all of these factors is key to developing best practice that can assist victims more effectively.
However, in order to develop best practice, a number of issues still need to be addressed. First, proper awareness of and effective responses to forced marriage reports must become the norm.
The system also needs to tackle the fact that survivors without access to support services – those with complicit family and community members and people whose lives do not intersect with statutory agencies – are unlikely to be identified by third parties. As part of such efforts, they must also acknowledge that in these cases, victim disclosure offers the only realistic prospect of assistance.
As forced marriage can also be committed by British citizens and residents who travel to another jurisdiction to marry, serious questions arise as to how the people they "marry" may be identified and informed of their fundamental right to choose their marriage partner.
Support services need to become more attuned to the coercive aspects of forced marriage in order to adequately assess and address risk factors. Understanding it and the contexts in which it is most likely to occur will better equip services with the means to offer victims or potential victims the support they require.
Finally, moving forward, best-practice guidelines must be developed to improve statutory agencies' recognition of risk factors and warning signs. It could, at best, increase the rate of forced marriage prevention or at least bring about early intervention.
UK news in pictures

Show all 50
When an investigation and subsequent trial are handled well, the legal system really can protect and empower women. Successful prosecutions such as the recent one in Birmingham send a strong message that victims who are subjected to deception and coercion in the process of being forced into an unwanted marriage will be supported if they feel able, or are enabled, to challenge these practices. But we have to improve victims' awareness of, access to, and confidence in the protections of criminal and civil law first.
Nevertheless, while successful prosecutions are vital, the best outcomes are when forced marriages are prevented in the first place. Reporting by the media of successful prosecutions can also help immensely in getting across the message that forcing someone into a marriage is wrong. As the Birmingham victim said: "No one should have to go through the type of abuse that I suffered. Education and [the] right to marry of free will are basic human rights and nobody should be deprived of them."
Aisha K. Gill CBE is a professor of Criminology at the University of Roehampton. She was the expert witness for the prosecution in the UK's first successful prosecution for forced marriage in May 2018, the landmark Birmingham case which resulted in a woman jailed for four-and-a-half years for duping her 17-year-old daughter into forced marriage
Join our new commenting forum
Join thought-provoking conversations, follow other Independent readers and see their replies