Francois Fillon and Marine Le Pen are sinking further into populist delusion – and that works out just fine for Emmanuel Macron
The fact that Fillon is now also acting like a deranged conspiracy theorist is hugely significant – it shows that would-be French presidents are sliding into a Donald Trump-style abyss of fantasy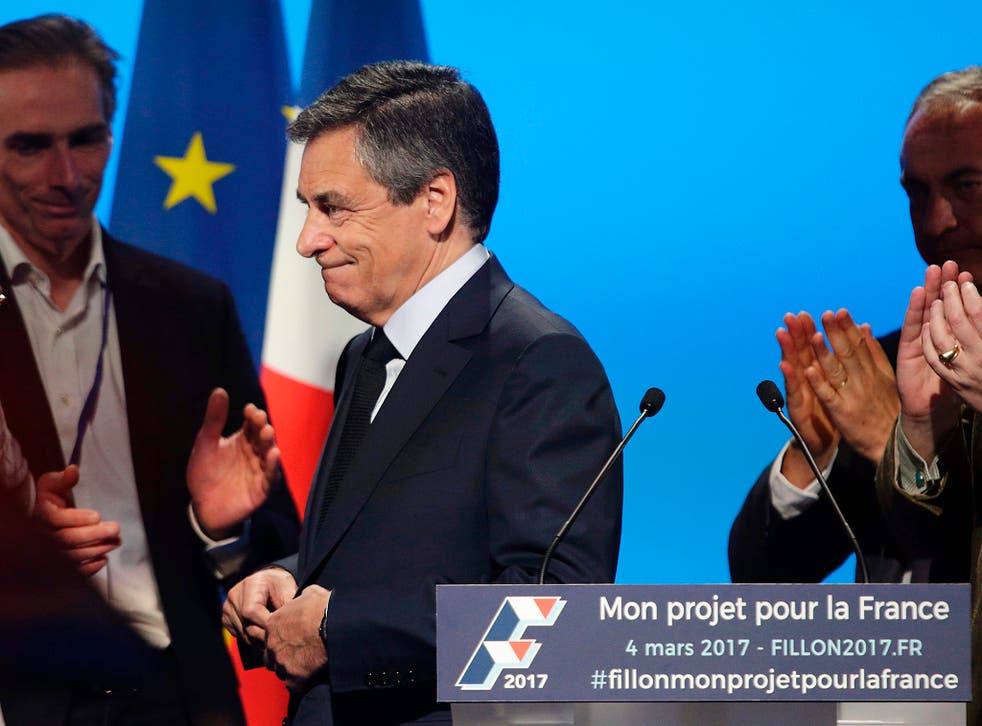 Barring 11th-hour cancellation, an angry crowd will gather in Paris on Sunday to rail against the French judiciary and their police enforcers. Lines of riot control officers wearing body armour and brandishing shields, batons and guns will in turn surround the demonstration. Anti-establishment protests are always the most volatile and, as ever, the authorities will not be taking any chances with public safety.
What makes the potential flashpoint incredibly unusual, however, is that it is in support of presidential candidate François Fillon – a hardline conservative once renowned for his reactionary views about everything, not least of all law and order. Those who will be rallying in the Place du Trocadéro are incensed by what Fillon describes as his "political assassination". He has accused dark forces of banding together to stage an "institutional coup d'état" against him.
Among these perceived enemies are the examining magistrates who have summoned Fillon and his UK-born wife, Penelope Fillon, to charge them with a range of crimes, including embezzlement, which comes with a 10-year prison sentence. The couple are said to have used a fake jobs scam to put more than €1m (£864,000) of unearned cash into the family coffers.
UK news in pictures

Show all 50
Fillon, of the opposition Républicains party, was until late January the outright favourite to become head of state in May. He styled himself as a Margaret Thatcher-type reformer ready to govern with the utmost probity, while liberalising his country's stagnant economy. The thought of the devout Roman Catholic owner of a sizeable country estate having anything to do with urban street protests would have been considered inconceivable at the time. Now it is all part of the French right's despairing plunge into "anti-system" populism.
Allegations of corruption tend to bring out the worst in politicians, as we have consistently seen with Marine Le Pen, the other presidential candidate facing serious criminal charges. Not only is the Front National leader accused of setting up more than 20 fictitious roles for her cronies in the European Parliament in order to milk taxpayers' money out of it, but French prosecutors also want to indict her for distributing gruesome images on Twitter, including one of a decapitated US journalist.
The brash Le Pen's traditional approach to such legal proceedings is exactly the same as her father's, the convicted racist and anti-Semite Jean-Marie Le Pen, who remains honorary president of the far-right FN, and indeed an MEP. She snarls and pretends it is all part of an establishment conspiracy designed to stop her family moving into the Élysée Palace. The deceit is that an extremely rich clan who have built their lives and fortunes around exploiting political institutions can blame those same institutions for everything that they don't like in the world.
Le Pen would be nowhere without the European Parliament. She has never been able to win a seat in the Paris National Assembly, despite regularly trying since 1993. When police summonses started to arrive at one of her four homes in France, she immediately cited the immunity from prosecution offered by her status as an MEP.
Fillon announces he will not be standing down from the French presidential race
Even when the EU parliament voted Le Pen's immunity away last Thursday, she continued her rant against judges in her home country. So it was that this great French nationalist – a self-proclaimed Gallic people's champion – once again relied on supranational privilege to try and escape the consequences of dubious behaviour on her own doorsteps.
This kind of grubby hypocrisy is currently defining the French right. Both Le Pen and Fillon are coming across as grasping megalomaniacs playing the system to their own ends, while leading their respective parties further and further into a deep sewer.
Le Pen's hardcore backers do not care about any of this, of course – they would vote a pig into the Élysée if she wore one of their blue campaign badges. But the fact that Fillon is now also acting like a deranged conspiracy theorist is hugely significant: it shows that would-be French presidents are sliding into a Donald Trump-style abyss of fantasy. This shames a country like France – one built on high-minded principles including respect for the rule of law.
In such circumstances, the sensible and the restrained will flourish, and independent candidate Emmanuel Macron is doing just that. He is laying out his vision for France in a manner that is attracting new supporters from both left and right. When he outlined his manifesto last week, there was not a hint of showmanship.
Note too how Alain Juppé, who is widely tipped to replace the increasingly pitiful Fillon as the Républicains candidate, is being projected as a wise and distinguished statesman, rather than a glitzy, quick-fix substitute. Juppé, a former Prime Minister, has a criminal past – he received a 14-month suspended jail term linked to another employment scandal in Paris – but he has long ago apologised for his wrongdoing. If he stands, the 71-year-old will present himself to the nation as a grand old man who has learnt from his mistakes, rather than one who is trying to exploit them for electoral gain.
With the Socialist candidate, Benoît Hamon, in effect making up the numbers, the contest appears to be between the right and Macron. The pressing issue is whether alt-right extremism or moderate conservatism will prevail. The good news is that there seems to be plenty of opportunity for French voters to sidestep Trump-style lunacy. By rejecting the unsavoury antics of Fillon and Le Pen, they will not only be helping to put their country back on track, but will send a message to the world that extremist chancers are not the only people who can win elections nowadays.
Register for free to continue reading
Registration is a free and easy way to support our truly independent journalism
By registering, you will also enjoy limited access to Premium articles, exclusive newsletters, commenting, and virtual events with our leading journalists
Already have an account? sign in
Register for free to continue reading
Registration is a free and easy way to support our truly independent journalism
By registering, you will also enjoy limited access to Premium articles, exclusive newsletters, commenting, and virtual events with our leading journalists
Already have an account? sign in
Join our new commenting forum
Join thought-provoking conversations, follow other Independent readers and see their replies